If your eyewear is constantly touching your cheeks or hitting your eyelashes, it's time to try Asian fit. Designed to fit a flatter nose bridge and higher cheekbones, many brands label this style for their frames as use to accommodate a wider variety of faces. When it comes to eyewear, how it fits is crucial because an improper fit can be uncomfortably miserable. So to make sure you're nothing but happy in your sunglasses, eliminate that discomfort and maximize the functionality of your eyewear by learning more about Asian fit below.
Table of Contents
1. Standard Fit vs. Asian Fit
1.1. AKA Asian Fit
2. Brands that Offer Asian Fit
2.1. Oakley
2.2. Ray-Ban
2.3. Costa
2.4. Maui Jim
2.5. SMITH
2.6. Wiley X
3. Prescription Asian Fit Eyewear Online at SportRx
---
Sarah from SportRx explains everything you need to know about Asian fit glasses. Watch below or keep reading to learn more.
---
Standard Fit vs. Asian Fit
The main facial features that make your everyday eyewear problematic are flatter nose bridges, high cheekbones, and a wider brow. Asian fit glasses have a few techniques to complement these features rather than complicate them.
Asian fit eyewear has thicker nose bridges. This enables them to be fitted with thick nose mount pads specifically designed to lift the frames off of your cheekbones and allow them to rest comfortably higher on the nose.
The lenses are shorter and wider, preventing them from touching your eyelashes and keeping both the frames and lenses from hitting your cheeks.
The frame curvature is reduced to keep the frames from touching your temples, ensuring they stay straight and upright.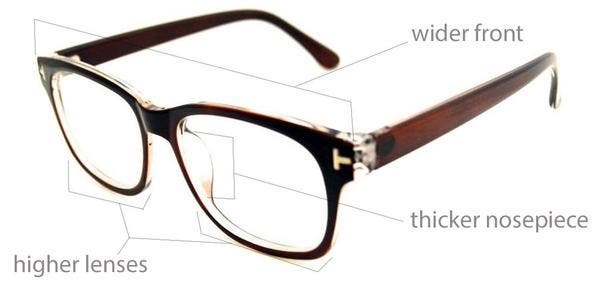 ---
AKA Asian Fit
Some companies find the term "Asian fit" to be controversial because it targets a specific ethnic group's facial features. You may see Asian fit referred to by these names:
Omni fit
Universal fit
Global fit
Alternative fit
Low bridge fit
It's mainly called Asian fit because the issues we mentioned above (glasses hitting the cheekbones and eyelashes) are most common with Asian facial features. However, anyone with a flatter nose bridge or who struggles with glasses slipping down their face should give Asian fit a try.
---
Brands That Offer Asian Fit
One size does not fit all, which is why the eyewear industry challenged the traditional fit by tweaking classic designs to flatter Asian features. Let's take a look at some of the brands that optimized their eyewear selection to cater to a more diverse audience.
Oakley
Oakley offers both sunglasses and snow goggles with Asian fit options. One frame we want to especially give attention to is the Oakley Flak 2.0 Asian Fit. Instead of slight modifications, this actually has a different chasse made to accommodate a wider brow.
---
Ray-Ban
Ray-Ban offers some Asian fit options for their acetate and nylon sunglasses. These have variety in lens shapes, frame angles, and nosepieces. Another option to consider is their metal frames with adjustable nose pads (like the Aviator). While not Asian fit, strictly speaking, the nose pads can be adjusted to keep your sunglasses from sliding down your nose or touching your cheeks.
---
Costa
Costa's OmniFit allows their exceptional quality of sunglasses to be worn by a wider variety of face types. This technology modifies the fit for higher cheekbones, longer eyelashes, and flatter noses by using thicker nose pads, wider lenses, and shorter temples.
---
Maui Jim
Maui Jim characterizes their Asian fit collection by having wider and flatter frame fronts, thicker and more built-up nose pads, and longer temples, all to improve comfort and performance. You'll never want to take these off!
---
SMITH
SMITH Asian fit snow goggles have extra padding around the nose bridge to ensure better fog protection and an overall improved fit. After all, if your goggles aren't sealed properly your anti-fog coating won't do much.
---
Wiley X
If you're in need of safety glasses or goggles that fit your face, Wiley X has a couple of Asian fit options for you. Like all Wiley X frames, these are ANSI-certified and perfect for more risky activities.
---
Prescription Asian Fit Eyewear Online at SportRx
Need prescription Asian Fit Eyewear? Done. When you shop with us, you'll find video guides and tooltips throughout the build process as you customize the perfect pair. An answer to all your questions is at your fingertips, and if you want to chat with an expert, Contact Us. We'll put you in touch with one of our friendly in-house opticians who can help you build your prescription Asian Fit Eyewear.
Ditch risky online shopping with the See Better Guarantee. Try your Asian Fit Eyewear for 45 days. If you're not satisfied, send them back. Get a full refund, exchange, or credit towards a better pair. And return shipping? Covered. Get your pair of prescription Asian Fit Eyewear at SportRx today!