3 tints, 1 lens, 0 hassle. Spy has introduced a new goggle that aims to ease your experience on the mountains through these 3 steps leading these goggles to win 5 awards in 2018. The Ace EC goggle allows you to never take out your lens and stay focused on whats in front of you on the mountain.
3 Different Tints, 1 Goggle
In most goggles you find on the market you are forced to choose 1 lens that fits the time of day and weather. That all changes with the Spy Ace EC where you will never have to worry about switching lenses out due to the dark, medium and light persimmon lenses each accessible with a simple click.
Dark Persimmon
The Dark Persimmon lens is best for bright and sunny days. It offers a VLT (visible light transmission) of 17% which is the lowest of the 3 lenses offered.
Medium Persimmon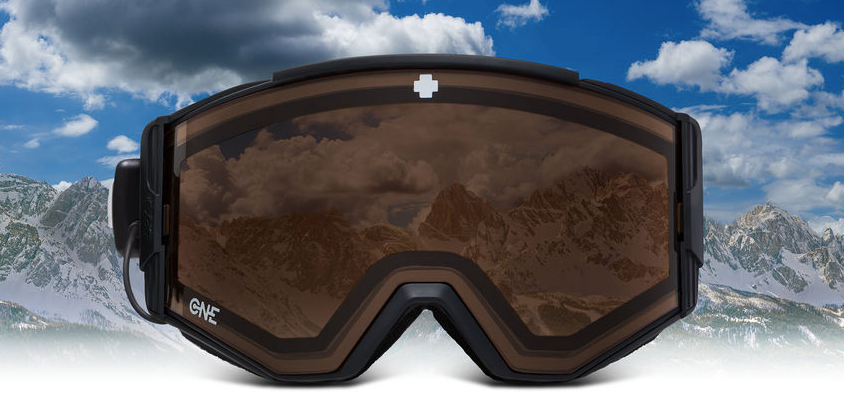 To stay at a good middle level when on the slopes use the Medium Persimmon. It offers a VLT of 31%, a 14% increase from the dark persimmon. These lenses work great for the partly crowded days that you may encounter or when you may be going in and out of shadows.
Light Persimmon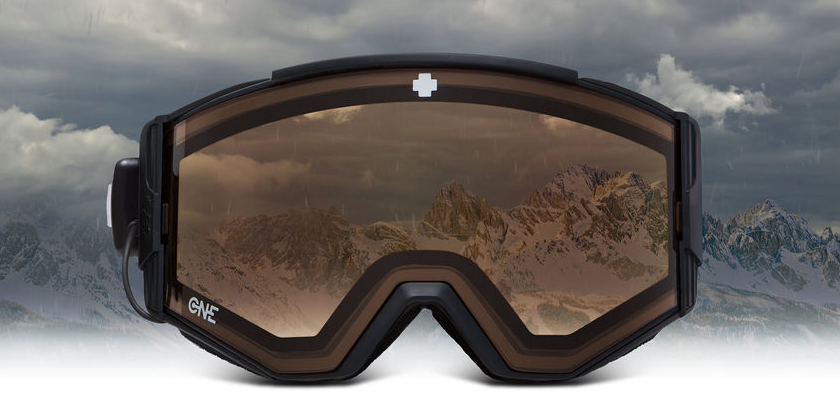 To help you out when skiing or snowboarding at night or during completely overcast days use the light persimmon. It offers a VLT of 55%, a 24% increase from the medium and 38% increase from the dark.
ONE Lens Technology
The Ace EC is the first goggle to feature Spy's new lens technology that helps take your experience to the next level. This is Spys electrochromic technology that with one touch has an electronic pulse sent through an invisible filament sandwiched between an injected cylindrical dual lens to instantly change the tint of the persimmon-based lens. Three settings, discussed above, are controlled by a lightweight battery pack allow you to instantly adjust for any light condition—sunny, mixed, or flat in a quick and easy manor.
With each click you make to change the tint, the battery pack that is located on the right side of the strap will buzz to confirm your action. Doing this requires only a 3 second hold of the button to activate the change. To offer you even more, the battery pack will keep you informed of where its battery life stands with an LED indicator that will change as the battery life drops. All of these great features sound as if they should be heavy and weigh down your goggles, but instead the power module comes in at a weight of 25 grams, similar to the weight of a AA battery.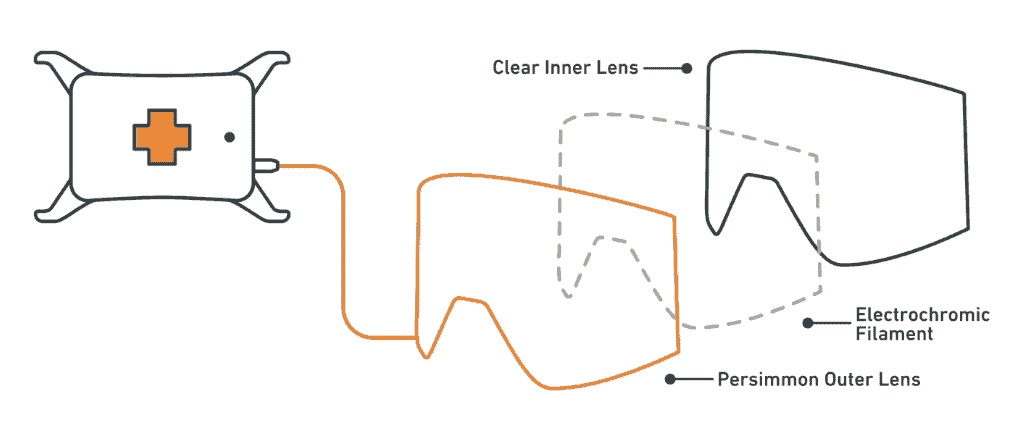 Battery Pack
The lithium ion battery pack included in the Ace EC is unlike any other, guaranteeing up to 5,000 tint changes while being able to last 20 days. This should be more then enough to get you through a trip to the mountains unless you can't stop showing your friends how cool your new goggles are! On top of this, the battery pack has a USB cord with it, an addition that allows you the ability to keep your other devices charged at all times as well from your GoPro to your phone. Whether recording great footage of your runs or needing to send a text from the slopes this battery pack has you covered.
Get the SPY Ace EC Snow Goggles in Prescription at SportRx
Don't miss your chance to get these 5 award winning goggles. The Spy Ace EC comes in at a price of $275 and is offered in a black frame color. SportRx specializes in quality prescription lenses for all our brands. Our fantastic prescription goggle inserts are the best choice for your next shred session. Ditch over-the-glasses solutions and get the best prescription goggle inserts instead.
Contact Us to speak with a certified in-house optician over email or phone who can answer all your questions and help you complete your order. Expect great service, leave with the perfect goggles at SportRx!