Is skydiving on your bucket list? For many it is. There's an unparalleled exhilaration in the free-fall. Once you conquer the fear of heights and realize there is no turning back, you trust the training of your tandem instructor and make the jump.
Whether you're a seasoned skydiver or a first-timer, you want goggles that you can see clearly out of. For the avid diver, prescription goggles mean a safe, successful landing. For the beginner, it means making the most of this once in a lifetime view. So what do you look for in prescription skydiving goggles? Read on to find out!
What to Look for in Skydiving Goggles
1.Frame Technology
2. Lens Technology
3. Top Skydiving Goggles
3.1. Bobster Bravo 2
3.2. Bobster Touring II
3.4. Bobster Cruiser 3
3.4. Bobster Bugeye 3
4. Get Prescription Skydiving Goggles at SportRx
Frame Technology
The frames of your skydiving goggles should be functional, durable, and comfortable. The best frames for skydiving are made of a nylon compound like Grilamid that is both durable and lightweight. No matter what altitude you jump from, the goggles need to be firmly in place so you can fully see and experience the astounding view.
The last thing you want is to feel your contacts moving out of place and your vision starting to blur. The rush of air is very strong when you're falling through the sky, so you need frames that refuse to budge.
Lens Technology
Correct lenses allow you to wear your skydiving goggles throughout your experience. This is important because lenses that aren't optically correct cause a headache or blurred vision because your eyes are constantly refocusing. Optically correct, impact-resistant, polarized lenses give you optimum, unobstructed vision.
Optically Correct
"Optically correct." What does that even mean? Simply that the lenses are constructed to prevent headaches that come from extended wear. If you have to constantly refocus due to distortion, that contributes to dizziness and nausea. You may have already dealt with that before just from the thought of being 13,000 feet above the surface of the earth! The best lenses are ones that allow you to be free of worry, rather than add to it.
Impact Resistant
Polycarbonate lenses are up to 10 times more impact resistant than glass and plastic. On top of that, they provide excellent protection from the sun's harmful UV rays. If your altitude puts you closer to the sun, this is definitely a benefit.
Polarized
Polarized lenses help filter out intense, reflected light. Additionally, it helps reduce glare and haze. The objective of a polarized lens is to eliminate eye strain so you can see better. What good is having the heart to make the jump if you can't see and enjoy the whole experience? Read on to see the best goggles for Skydiving.
Top Skydiving Goggles
Too many options causes inertia. It is best to have them distilled to the best ones available. The following list will help you get started in selecting the right skydiving goggles for you. Each pair on this list checks off all the boxes (both in frame construction and lens quality).
Bobster Bravo 2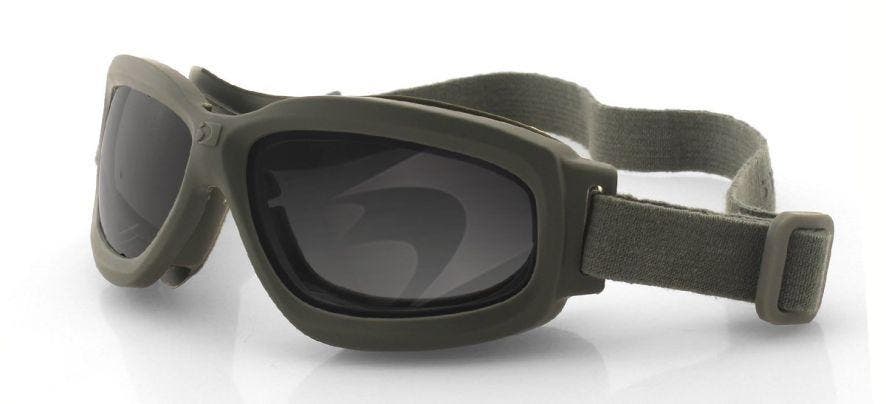 Bobster's Bravo 2 is built for skydivers though they can be used for other sports. The frame is constructed from a nylon compound called Grilamid TR90 which offers increased durability and flexibility. You can have comfort and strength without sacrificing either!
Bobster Touring II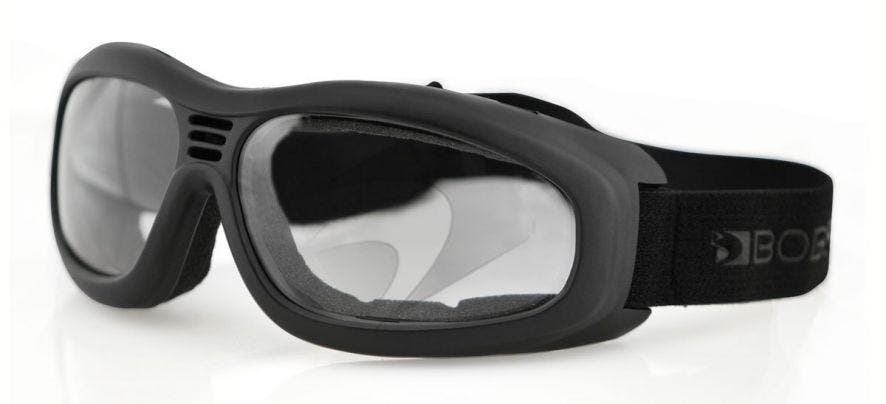 Bobster Touring II in Black Anti-fog /Clear
The Touring II goggles by Bobster are constructed with the parachuting enthusiast in mind. Made with the same Grilamid TR90 Polymer Elastomer frame, these flexible and durable goggles have vented slots on the front of the frame. This increases airflow and prevents unwanted fogging, while the low profile, open-cell foam stops the sweat from entering your eyes. Also available in prescription.
Bobster Cruiser 3
Bobster Cruiser 3 in Matte Black - Smoked / Clear / Amber / Smoked Grey / Smoked with Blue REVO Mirror
Bobster's Cruiser 3 is an update on their Cruiser 2 frame, with updated lenses. All of Bobster's frames are constructed with the same polymer elastomer material, so strength and flexibility are a given. Furthermore, the polycarbonate lenses add to their functionality. Again, functional, durable, comfortable, and prescription-ready.
Note: This item is no longer available.
Bobster Bugeye 3
Bobster Bugeye 3 in Matte Black - Photochromic
The Bobster Bugeye 3 frame is for the extreme sports enthusiast (including skydiving). The open cell foam around the frame absorbs sweat and blocks out debris. The vented frame encloses its polycarbonate lenses for durability and visual clarity. It is an update on their Bugeye 2 frame with the addition of flat, edge-to-edge removable and prescription ready lenses.
Get Prescription Skydiving Goggles at SportRx
Need prescription Skydiving Goggles? Done. When you shop with us, you'll find video guides and tooltips throughout the build process as you customize the perfect pair. An answer to all your questions is at your fingertips, and if you want to chat with an expert, Contact Us. We'll put you in touch with one of our friendly in-house opticians who can help you build your prescription Skydiving Goggles.
Ditch risky online shopping with the See Better Guarantee. Try your goggles for 45 days. If you're not satisfied, send them back. Get a full refund, exchange, or credit towards a better pair. And return shipping? Covered. Get your pair of prescription Skydiving goggles at SportRx today!