Both safety glasses and safety goggles are designed to protect your eyes, but your work environment determines which style will better suit your needs. As eye injuries become increasingly common in the workplace, it's more important than ever to take the preventative step of wearing safety-certified eyewear. You not only need eye protection, but the proper eye protection for your specific job and vision needs. Read on to discover the differences between glasses and goggles, and visit The Ultimate Safety Glasses Buyer's Guide to know exactly what to look for in safety eyewear.
Safety Glasses
Safety glasses are sufficient for general working conditions. Although they have a lifestyle look, they have stronger lenses and frames than normal dress eyewear and are impact resistant. Most commonly construction workers, electricians, and plumbers opt for safety glasses over goggles. If you're exposed to flying particles or dust in the air at work, you'll want to be sure your safety glasses have a wrap frame or side shields. Even with these options, safety glasses still leave your eyes vulnerable to certain hazards that can make it through small gaps around the lenses, and that's when you'll want to slip on your safety goggles instead.
You can visit our site if you have further questions about side shields for your glasses or getting your prescription in wraparound frames.
Oakley Industrial Det Cord ANSI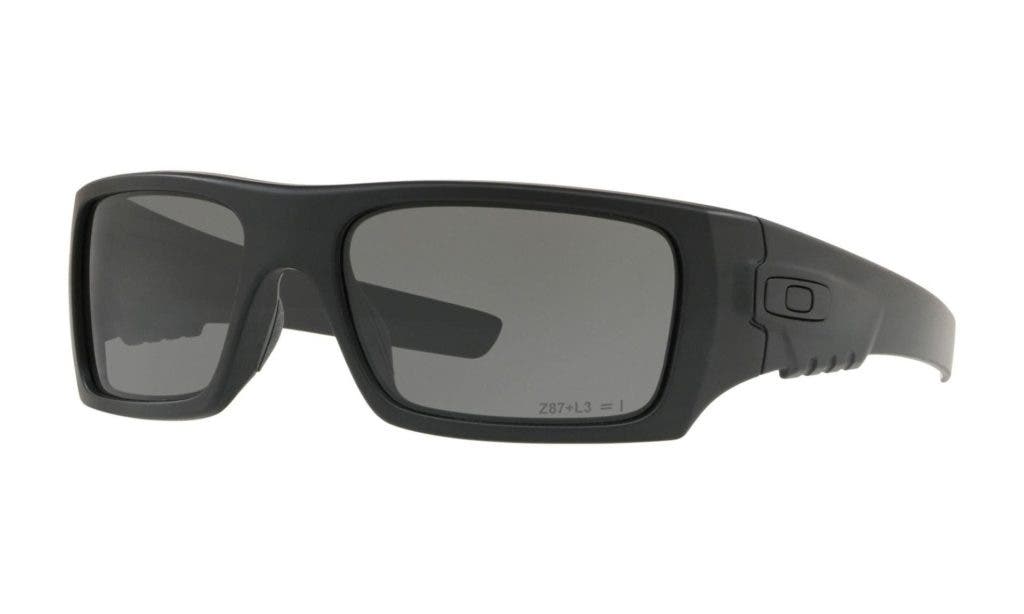 Oakley Industrial Det Cord ANSI with Matte Black Frames & Grey Lens
For style and protection in safety sunglasses, check out Oakley Industrial Det Cord ANSI. These safety glasses are not only the coolest in the room, but packed with performance features like rubber Unobtanium nosepads, compatible ear stems, and an anti-fog coating.
---
Safety Goggles
As stated above, there are certain hazards that require the form-fitting facial protection of a safety goggle. Start with evaluating your situation at work; is there a high chance of a foreign object making contact with your eyes? Are there splashing liquids, or high-velocity debris? If so, it may be the best decision you ever make to choose 360-degree eye protection. Safety goggles are a must when working with chemicals, corrosive vapors, or with equipment that causes unpredictable debris. Even though goggles aren't always the most fashionable option, it's better to preserve your vision than to risk it. You only get two eyes.
Here are some examples of jobs that require safety goggles:
Medical lab assistant
Welder
Automotive shop worker
Assembly line worker
Wiley X Nerve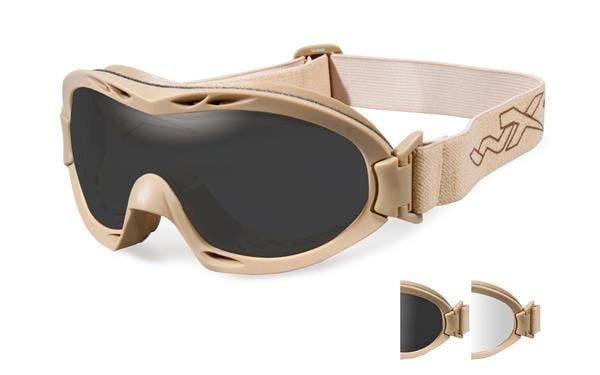 Wiley X Nerve with Tan Frames & Smoke Grey & Clear Lens
Wiley X Nerve is a safety goggle fit for a badass. The rubber temples and foam eyecups make for a comfortable, secure fit. These goggles are one-size-fits-all and have interchangeable lenses and come with a bonus clear lens.
Prescription Safety Glasses and Goggles at SportRX
Need prescription safety glasses or goggles? Done. When you shop with us, you'll find video guides and tooltips throughout the build process as you customize the perfect pair. An answer to all your questions is at your fingertips, and if you want to chat with an expert, Contact Us. We'll put you in touch with one of our friendly in-house opticians who can help you build your prescription safety glasses or goggles.
Ditch risky online shopping with the See Better Guarantee. Try your safety glasses or goggles for 45 days. If you're not satisfied, send them back. Get a full refund, exchange, or credit towards a better pair. And return shipping? Covered. Get your pair of prescription safety glasses or goggles at SportRx today!