Oakley TruBridge: A Personal Fit
Oakley continuously revolutionizes the eyewear industry with an unending supply of new technologies. The latest technology in Oakley prescription glasses comes in the form of a frame that's optimized for a truly perfect fit. Oakley TruBridge Technology was created as the key solution to the issue of differing face features. Sunglass Rob and SportRx Marketing Director Steph Kimberling discuss why TruBridge is the preferred fit solution.
Oakley TruBridge promises a better fit than ever before thanks to the interchangeable nose pads, otherwise known as MNP, short for Modular Nose Pad. With four MNP sizes to choose from, the perfect nose pad is guaranteed to deliver optimal vision, a centered line of sight with maximum pad contact for superior comfort, and a fit that eliminates cheek contact. This innovative feature is making its debut in four Oakley glasses - some new, some tried and true.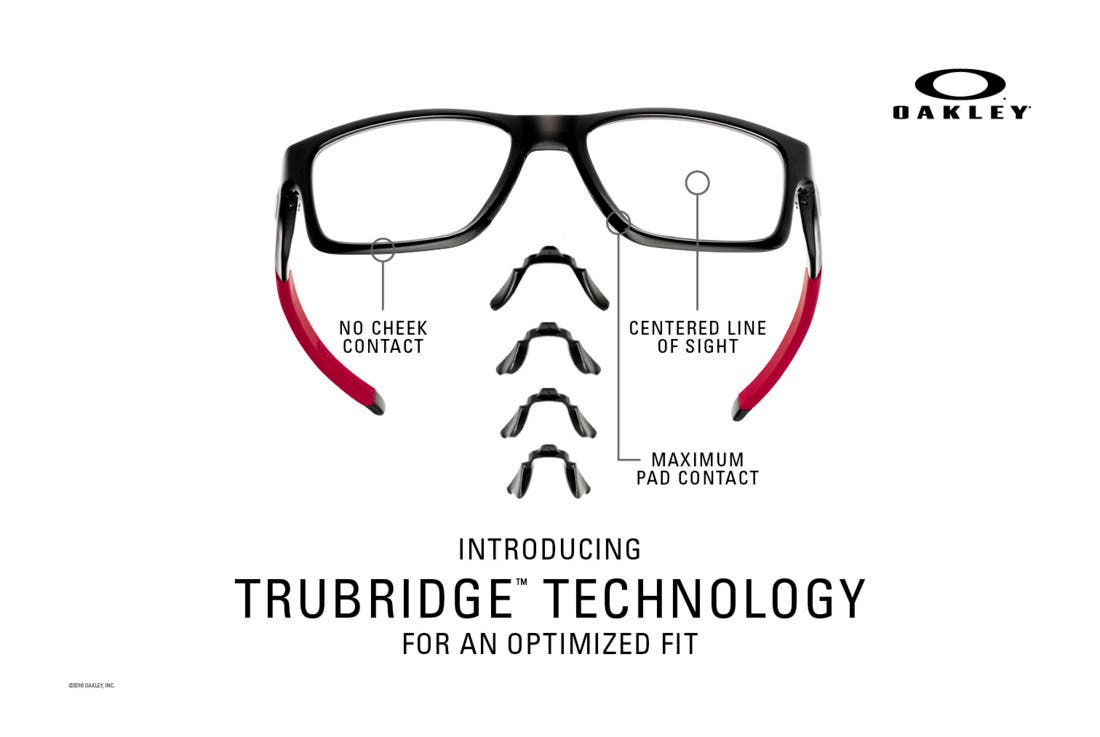 Oakley Crosslink MNP Prescription Glasses
Just when we though the best active sports frame couldn't get better, Oakley upgraded the original crosslink to fulfill a truly universal fit. The Oakley Crosslink MNP takes true crossover design to a whole new level with its sporty lifestyle look that now caters to an even wider variety of faces. Take your optical clarity, fitness and optimized comfort to greater heights with a pair of Oakley Crosslink MNP prescription glasses.
Oakley Marshal MNP Prescription Glasses
A classic, Oakley best-seller now delivers a truly custom-made fit. This interchangeable icon design is built with the adaptable fit of the MNP, a thinner profile, and updated finishes that work to highlight the improved look of beveled edges. Oakley Chamfer MNP prescription glasses provide a fit that feels entirely custom-made and a design that represents fresh style with sculptural details.
Oakley Chamfer MNP Prescription Glasses
Uncompromised style and personal fit come together in the Oakley Marshal MNP to deliver an everyday look with long-lasting comfort. These Oakley glasses feature a truly customized fit with both Oakley TruBridge and adjustable wire core temples. The Three-Point Fit and Unobtainium properties work together to maintain the most secure visual alignment possible. The Oakley Marshal MNP is a true breakthrough in durability and design.
Oakley Cloverleaf MNP Prescription Glasses
The Oakley Cloverleaf MNP features the perfect blend of retro and intellectual cool. Clean, straight lines are paired with smoothly rounded lenses to deliver a standout look. The combination of this frame design and the MNP features enables a unique look that both compliments and caters to a variety of styles and face shapes. The two-tone and tortoise renditions add an element to the Cloverleaf's distinctive style, a look you don't want to miss out on.
Oakley Prescription Glasses at SportRx
Pick your favorite style from these four frames and expect nothing but a made-for-you fit. If you have any questions about the new Oakley TruBridge Technology / Modular Nose Piece, we've got answers. Give the friendly SportRx opticians a call and we'll be happy to answer your questions and help you find the ultimate solution to the best custom pair of Oakley prescription glasses.