PRIZM lens technology is a revolutionary innovation that dramatically enhances contrast and visibility. Oakley PRIZM snow is engineered to help you perform over a wider range of lighting conditions in your favorite snow environments. The mad scientists at Oakley went the extra mile to create 6 unique snow lenses, catering to every vision needs on the slopes. On any given day, in any given condition, see with unbeatable clarity every time you ride.
How Oakley PRIZM Lens Technology Works
Oakley designed PRIZM snow lenses for every environment mother nature throws at us on the slopes. Be it a blue bird day or a white out, see the ruts and bumps ahead with the clearest vision possible. Oakley PRIZM snow reduces the need to switch lenses as lighting conditions change from one to the next.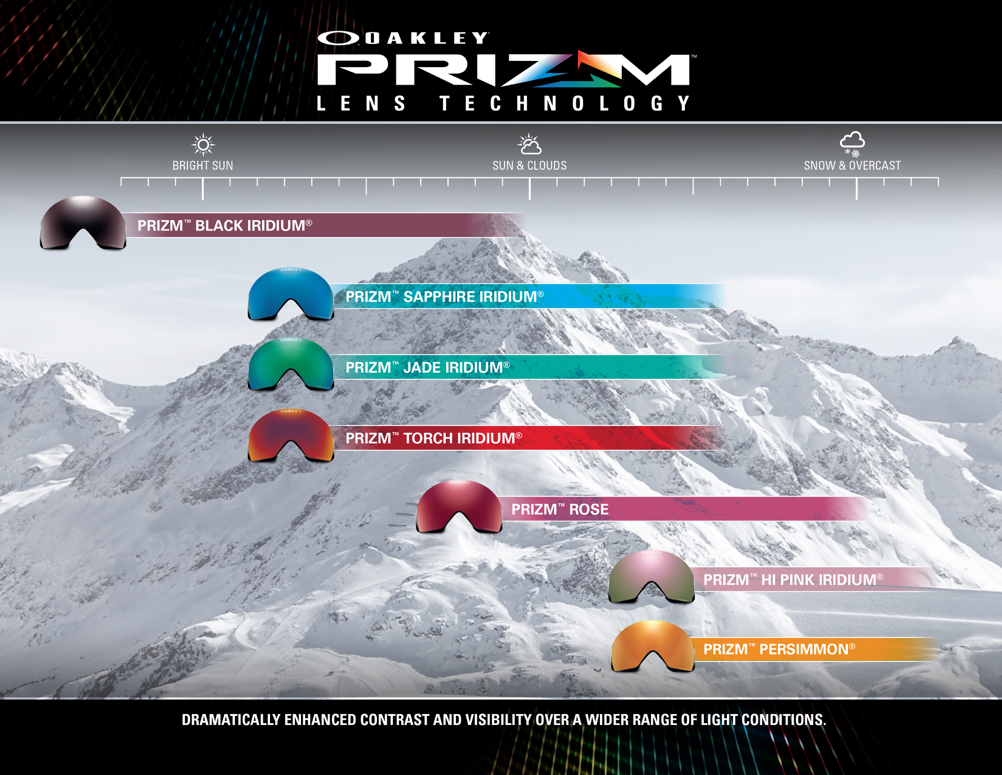 The Science Behind Oakley PRIZM Snow
PRIZM snow is an innovation in snow that's built on years and years of color science research. PRIZM snow lenses provide detailed control of light transmission, resulting in the necessary definition and clarity contrast on the mountain.
Key Benefits of Oakley PRIZM Snow
Dramatically enhances visual clarity and contrast
Fine-tunes colors to improve visibility
Improves performance and reaction time in every light condition
And the Best Part Yet? All Oakley PRIZM Snow Goggles are Available in Prescription!
The SportRx optical experts and snow fanatics alike have worked together to create perfectly customized prescription goggle inserts, designed to fit Oakley PRIZM snow goggles. See detail, clarity and contrast as well as you would if you had perfect vision. Questions about prescription goggle inserts? We've got answers! Give us a call or take a look at our collection of prescription goggle blogs. We're always here to help!