Elevate Your Game with PRIZM Golf
Oakley has revolutionized the world of golf sunglasses with the innovative Oakley PRIZM Golf and PRIZM Dark Golf lens. Oakley PRIZM is fine tuned to enhance textures, colors and light conditions that are specific to sport environments, and the golf course is no exception. In order to play your best game of golf, you need to do more than just see the greens. You need to be able to spot transitions between the fairway, fringe and rough. You'll want to be able to gauge distance and grass conditions with accuracy and increased depth cues. With Oakley PRIZM Golf Sunglasses, you can enhance your game and experience in more ways than one.
6 Ways Oakley PRIZM Golf Lenses Will Improve Your Game:
1 | Helps you spot grass textures you might otherwise miss
2 | Improves contrast between the greens of healthy grass and the yellows, oranges and reds of unhealthy grass
3 | | Differentiates grain direction to help predict ball speed
4 | Separates shades of green to make it easier to spot fairway, fringe, rough transitions
5 | Provides separation of colors which gives you more depth cues to gauge distance for wedge shots
6 | PRIZM Golf and Dark Golf have you covered in any lighting condition
PRIZM Golf vs. PRIZM Dark Golf
PRIZM Golf was first introduced to the greens and works well for just about any golf condition. However, like always, Oakley saw further opportunity for improvement. Many golf courses are located in primarily sunny environments, causing a need for an even darker lens. PRIZM Dark Golf is designed to meet and exceed expectations in bright light conditions. Our very own Sunglass Rob and USD Varsity Golfer, Alvaro Escalada, hit the greens to compare the two lenses. See what they have to say about the similarities and differences between PRIZM Golf and PRIZM Dark Golf in the video below.
Similarities:
PRIZM lens technology for boosted contrast
Designed specifically for playing golf
Available in prescription
Differences:
PRIZM Golf is ideal for low to medium light with a VLT of 25-35% and has a lighter tint
PRIZM Dark Golf will excel in bright and sunny conditions and has a darker tint with VLT 16-25%
PRIZM Golf
Great for low to medium light
Visible Light Transmission: 25-35%
Available in prescription!
PRIZM Dark Golf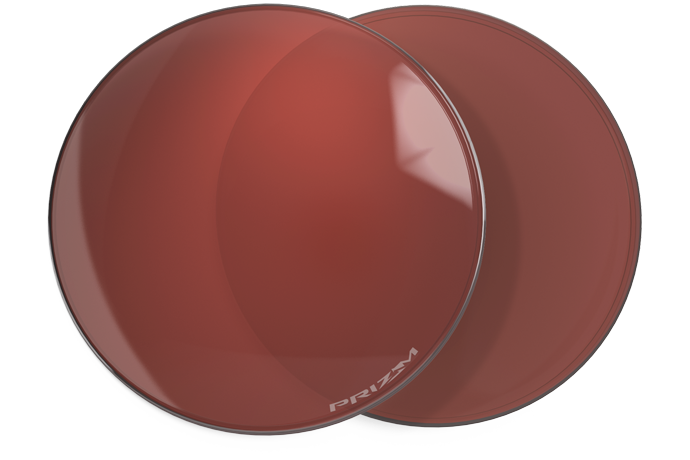 Great for medium to bright light
Visible Light Transmission: 16-25%
Available in prescription!
*VLT(visible light transmission)- the amount of visible light that passes through the lens to your eyes. A lower VLT is a darker tint since less light is passing through. A higher VLT is a lighter tint because more light is transmitted through the lens.
Top 4 Oakley PRIZM Golf Sunglasses
Oakley Targetline is a sport performance frame with lifestyle appeal. The goal in designing the Targetline was to mix a curved, sporty frame with a flatter, lifestyle frame. The Targetline is just that which makes it an ideal choice for ultimate versatility. Sleek temples allow the temple arms to easily fit under a hat without any discomfort. A taller lens for an extended visual range gives you the edge when focusing on teeing off or putting. A secure fit is crucial with any sport frame. The Unobtanium saddle bridge provides maximum nosebridge contact to keep the frame in place even if you break a sweat on a hot day. This frame even features dips in the edges on the front of the frame so it can better fit under a curved brim hat. There is truly nothing that Oakley left out when engineering the Targetline.
Oakley Flak 2.0 XL make for an exceptional pair of golf sunglasses with its unbeatable optics and frame design. These half-rim Oakley sunglasses are ideal for playing golf because they provide an unobstructed field of vision when looking down at the ball. The Oakley Flak 2.0 XL offers enhanced coverage and specialized lens curvature for the ultimate protection from the sun, Unobtainium earsocks and nosepads that work to keep your frames in place, and O-Matter frame material for a comfortable, lightweight fit. Oakley Flak 2.0 XL PRIZM golf sunglasses are designed to cater to the demands of optical clarity and contrast on the course. Play your game of golf like never before in a pair of Oakley Flak 2.0 XL PRIZM golf sunglasses.
Just as the name implies, the Oakley Crossrange gives you versatility that is seldom seen in sport sunglasses. An interchangeable temple system allows you to switch between the casual and sport temples to bridge the gap between a lifestyle and sporty look. Unobtaniumon nose pads keep the frames from slipping when you are looking down to tee off or make a putt. O-matter frame construction and Plutonite lenses make worrying about sunglass durability a non-issue. Add in a pair of PRIZM Golf lenses, and you will be the envy of all your friends on the course.
Oakley Half Jacket 2.0 XL is another pair of best-selling golf sunglasses with its semi-rimless frame design and expansive lens coverage. These Oakley golf sunglasses are equipped with Unobtainium earsocks to better grip when you sweat and lightweight O-Matter frame material for long-lasting comfort. Get the best of protection, superior contrast and vision enhancement when you couple the ever-so-popular Oakley Half Jacket 2.0 XL with PRIZM golf lenses.
Play Like a Pro with Oakley PRIZM Golf Lenses
Take your pair of Oakley Golf sunglasses to the next level with PRIZM Golf lenses. If you need a little help in the vision department, you're in luck. Oakley PRIZM prescription is a real thing and the SportRx opticians are the real deal. Once you find your favorite pair, we'll get to work on crafting the best Oakley PRIZM prescription golf sunglasses. If you have any questions pertaining to Oakley PRIZM lenses, Oakley golf sunglasses, or prescription sunglasses in general, we're here for you, every day of the week! Contact us via phone, email or LiveChat and we'll be sure to help you out.