When safety is of the utmost priority, don't let subpar lenses hold you back on the bike. After all, your vision is the key ingredient to a safe ride. Join SportRx as we answer a popular motorcyclist question and reveal if you can get safety lenses in motorcycle glasses.
Table of Contents
A. Are There Lenses to Avoid for Motorcycle Riding?
B. Can You Get Safety Lenses in Motorcycle Glasses?
C. Lens Recommendations for Motorcycle Safety Glasses
1. Wiley X
2. 7Eye
3. Oakley
D. Prescription Motorcycle Safety Glasses Online at SportRx
---
Are There Lenses to Avoid for Motorcycle Riding?
Before we get into the do's, let's go over the don'ts.
While glass and plastic are great options in your everyday pair of glasses, these lens materials do not belong on the bike. They shatter easily, pose a safety risk during a fall, and one small piece of debris can easily bring them to the end of their days.
Instead, you'll want to select impact-resistant lenses. Available in polycarbonate or Trivex, both of these materials are shatterproof and can withstand potential collisions.
---
Can You Get Safety Lenses in Motorcycle Glasses?
Yes. And you should.
Enjoy your time on the road with complete confidence. Accidents happen in milliseconds, and it only takes one perfectly angled flying debris to risk the integrity of your vision. Let's review the two types of safety-rated lenses available for motorcycle glasses.
ANSI
American National Standards Institute (ANSI) oversees the design, performance specifications, and marking of safety eyewear. ANSI-rated eyewear passes rigorous safety testing to meet high-impact and industrial safety standards. ANSI motorcycle glasses will have safety markings on both the frames and lenses, so you have proof that you're protected by the best.
Ballistic
Ballistic-rated eyewear offers a military-grade level of protection that surpasses typical civilian safety glasses. In addition to meeting all ANSI requirements, ballistic eyewear must also pass high-impact fragmentation standards. This is the highest level of protection available.
ANSI vs Ballistic
An important distinction to make is that all ballistic eyewear is ANSI-rated, but not all ANSI eyewear is ballistic-rated. To learn more about the differences between these two safety ratings, visit our blog on ANSI vs Ballistic.
Prescription Note: Ballistic frames are available with prescription; however, the prescription lenses have an ANSI certification, and NOT a ballistic rating. If you need ballistic-rated lenses, you will need to wear the original (non-prescription) lens that comes with the original frame.
---
Lens Recommendations for Motorcycle Safety Glasses
When shopping for motorcycle safety glasses, it's easy to feel overwhelmed by all the lens options. That's why our Sports Opticians have done the work for you. We've curated the best safety-rated lenses for your motorcycle glasses, so you can spend less time on research and more time on the bike. Continue reading for our top picks for ANSI-rated or ballistic-rated lenses.
Wiley X
Leave it to Wiley X to create ANSI-rated motorcycle glasses that look as good as they perform. Founded on providing maximum protection for anything life throws our way, all Wiley X frames, and lenses, are ANSI-certified. Whether you want CAPTIVATE™ lens technology for sunny days, or crystal-clear optics for night rides, you'll get safety-rated protection at any hour of the day.
Wiley X Motorcycle Glasses Key Features
All Wiley X frames & lenses are ANSI-rated
Available with tinted CAPTIVATE™ lenses or clear prescription lenses
Rx-able
---
7Eye
Another reliable option for safety-rated lenses comes from none other than 7Eye. Designed with motorcycle riding in their DNA, all 7Eye lenses are shatterproof and made in the USA. In addition to incredible optics, their ANSI Z87.1 safety eyewear also protects you during the most vulnerable moments. Select from tinted, photochromic, and clear options to get the perfect level of tint depending on your riding conditions.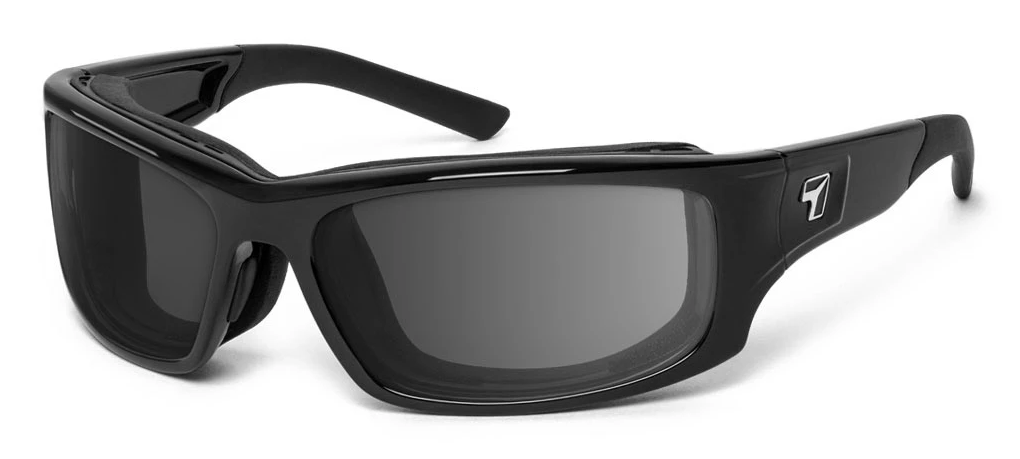 7Eye Panhead in Glossy Black with Sharpview Polarized Gray Lenses
7Eye Motorcycle Glasses Key Features
Many 7Eye frames & lenses are ANSI-rated
Tinted & clear lens options are available for any riding conditions
Rx-able
---
Oakley
While you may already be familiar with Oakley sunglasses, did you know they offer ANSI and ballistic-rated eyewear? Popularly known for their sports performance styles, Oakley doesn't let it up when it comes to taking your safety seriously. They also make it easy shopping for Oakley motorcycle glasses online since their frame names reveal their safety ratings. For example, the Oakley SI Shocktube Ballistic. This ballistic-certified frame can take on the most intense of situations, so you can focus on the road ahead. Select from a variety of safety-rated lenses like PRIZM™, Transitions®, or clear.
Oakley Motorcycle Glasses Key Features
Oakley has ANSI & ballistic-rated options*
Available with safety-rated PRIZM™, Transitions®, or clear
Rx-able with ANSI-rated prescription lenses
*NOTE: For the lenses to be safety-rated, you MUST select a safety-rated frame. Not all Oakley sunglasses are ANSI-certified.
---
Prescription Motorcycle Safety Glasses Online at SportRx
Need prescription motorcycle safety glasses? Done. When you shop with SportRx, you'll find video guides and tool tips throughout the build process as you customize the perfect pair. For even more lens recommendations, visit our blog on the Best Lenses for Motorcycle Riding and our Motorcycle Sunglasses Buyer's Guide. An answer to all your questions is at your fingertips, and if you want to chat with an expert, give us a call! We'll put you in touch with one of our friendly in-house Sport Opticians who can help you build your motorcycle safety glasses with prescription.
Ditch risky online shopping with our See Better Guarantee. Try your motorcycle safety glasses for 45 days. If you're not 100% satisfied, send them back. Get a full refund, exchange, or credit towards a better pair. And return shipping? Covered. Get the best motorcycle safety glasses online at SportRx today!