Fishing is the perfect sport to catch (no pun intended) some relaxation and excitement all at once. Add sun, abundant wildlife, a stop at Florida Keys Brewing Company, and you got yourself an epic day of fishing the flats in the Florida Keys. This area stands out from the rest because of the tremendous variety of saltwater fish (not to be confused with salt water taffy). Flats fishing makes for a great family trip due to the calmer waters. If you decide the flats because you're just scared of the deep blue sea-that's cool too. I've seen JAWS, Deep Blue Sea, and Titantic. Trust me, the ocean is scary, I get it. However, this blog isn't about my inner fears, it's about having the best fishing trip in the Florida Key flats.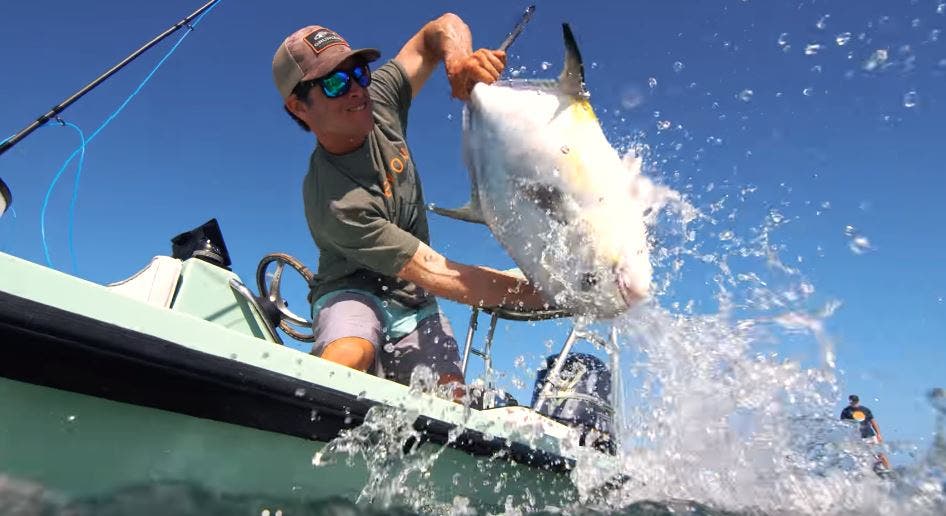 FIRST STEP FOR A SUCCESSFUL FISHING TRIP.
Grab some coffee! If you're in Key West, head to Keys Coffee Co. This local family owned business knows what they are doing and is all about the details. From using home made coconut milk in their coconut breve's to coffee ice cubes in the cold brew. Add on the fact that they serve breakfast all day and this place will have you hooked. (BOOM! PUN INTENDED)
NEW TO THE FLATS? CHECK OUT FISHING CHARTERS.
Do yourself a favor and get your own fishing charter. Even if it's for the first day of your excursion, having a guide will save you lots of headaches. These locals have the knowledge to show you the best spots to fish as well as advice on fishing when on the Flats. Fishingbooker is a great site to find a knowledgeable charter. The type of fish you want to catch will also determine where you go. Which leads me to my next question.
WHAT KIND OF FISH TO CATCH IN THE FLORIDA KEYS?
Both, the month in the year and water temperature will affect what type of fish you catch. No need to worry though or as Yoda would say, "worry not young fish catcher, fish a plenty all year round".
Permit- What's that?! No need for a fishing permit here
Snook- H

ang out by the mangrove roots, and very tasty might I add. *Always check fishing regulations
Bonefish

-

Fish picture worthy
Barracuda (Love that song!)
Shark Fish-

Blue Fin *Grab a strong fishing rod, and get ready to lay the smackdown
The most challenging, yet thrilling catches on this list is the Bonefish. These fish are constantly on the move, always aware of their surroundings, and with their camouflage like scales, they are extremely difficult to see. Definitely don't forget to bring a reliable pair of polarized sunglasses. I love my pair of Costa 580 Polarized sunglasses. These are a must on your fishing gear checklist, especially since sight fishing is so common in the Florida Keys. Sight fishing entails casting your line out to a targeted area where you see your fish. This makes wearing the right sunglasses very important! Depending on the time of day, you may also want to factor in the right lens color. In shallow waters, a good lens color is vermilion or brown. On cloudy days or early mornings, yellow-tinted lens are best for brightening up your world. When it comes to sportswear sunglasses, SportRx is great about giving you plenty of options while offering most with prescription.
FISHING MAKES YOU HUNGRY. WHERE TO EAT IN KEY WEST?
After a long day of fishing the flats in the Florida Keys, you're probably craving seafood. If that's the case you definitely want to grab a lobster roll at DJ's Clam Shack, which was featured on Diners, Drive-Ins and Dives. I know, you would think Lobster rolls and the Florida Keys aren't a thing, but this spot is making it a thing. If you prefer something more fancy, or maybe even romantic, check out Seven Fish in Key West. They offer entrees that include locally caught fish delivered daily as well as their most popular dish; snapper with vegetable Thai curry sauce. YUMMY-YUMMY!
WHAT BEACHES TO GET SUNBURN AT? (Let's be real)
Whether you are just focused on fishing for 1 day or your entire stay in the Florida Keys. You definitely want to take some time to lay on the sandy beaches. The coral reefs here provide a tropical paradise like no other and will make you feel like your a finalist on The Bachelor.
Key West Beaches:
Higgs Beach

Dog Beach

South Beach

Fort Zachary Taylor Beach
Besides having plenty of options in Key West, I also highly recommend taking a trip to Marathon in the middle of the Florida Keys, to find the best beaches.
Curry Hammock State Park

Coco Plum Beach

Sombrero Beach
After getting a sweet cinnamon tan from hanging out at the beach, or a painfully hot pepper sunburn. Head to Duval St. for some feel good refreshments and bass shaking music. Cheers to an incredible trip, fishing the flats in the Florida Keys.
Don't forget to take pictures with the fish!