On your way to buy fishing sunglasses? Be sure to know our top 7 tips before you do!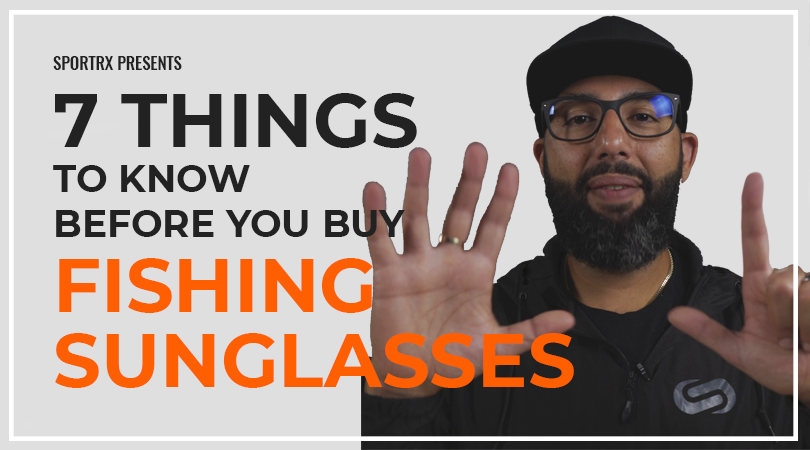 1. Polarization
First off, polarized lenses are a must! Polarization cuts out glare to let you see beneath the reflective surface of the water. You'll be able to find the best place to cast through the use of polarized lenses. Learn more about polarized lenses by reading our blog post here.
2. Proper Tint for the Conditions
Next, your sunglasses need to have the best tint for the weather. Light tints (such as rose or copper) work best for cloudy days, while darker tints (like dark grey) work better on bright, sunny days. Plan accordingly!
3. Coverage & Fit
Full coverage is important to block out sunlight from above and your peripheries, especially on the ocean because of all the light reflecting off the water. You could damage your eyes if your sunglasses don't have proper coverage, so look for a wrap frame! Make sure these fit comfortably to stay on your face all day long as well—long days will feel less long if your sunglasses are comfortable.
4. Non-Slip Grip
Non-slip grip, especially on the nose and temples, helps a lot with keeping your fishing sunglasses steady even if you get a mighty tug. You don't want to lose another pair to the unforgiving ocean!
5. Durability
Salt water corrodes certain materials (such as acetate) over time. Look for a durable frame type—nylon or Grilamid are best! As a bonus, these materials are flexible to let you get the most customized fit.
6. Contrast-Enhancing Lenses
Distinguish the fish from what's around them with contrast-enhancing lenses. Light tints (like the rose and copper mentioned above) are great for boosting contrast. Get rose if you know you'll have a lot of cloudy weather, or brown if you're expecting sunnier days.
7. Prescription Lenses at SportRx
Need prescription fishing sunglasses? You've come to the right place! Customize your new favorite fishing sunglasses to your liking at SportRx, or call an optician if you'd like help or some recommendations. We're happy to help! Ditch risky online shopping with the See Better Guarantee. Try your sunglasses for 45 days. If you're not satisfied, send them back. Get a full refund, exchange, or credit towards a better pair. And return shipping? Covered. Get your pair of prescription fishing sunglasses at SportRx today!