How to Choose the Best Motorcycle Sunglasses or Prescription Motorcycle Sunglasses for You
Motorcycle sunglasses and prescription motorcycle sunglasses are the key component to enjoying those long rides on the bike. Check out our updated buyer's guide for motorcycle sunglasses and goggles.
There's a lot to think about when riding motorcycles. What's the best solution to protect against wind, light, dust and debris? How do you ride? Do you wear a full face helmet, do you wear an open face? If you do ride with a full face helmet, is your shield tinted or is it clear? Let's dive into the details of nonprescription and prescription motorcycle sunglasses to help guide you with more information.
Motorcycle Eyewear Features and Tints - Best Frame for your Helmet
The first thing to consider when getting a pair of motorcycle sunglasses or prescription motorcycle sunglasses is the type of helmet being used. Open faced helmets and full faced shield helmets require different types of sunglasses for optimal fit and comfort. Here is a short guide of the ins and outs of ideal sunglasses selection based off whats best for each helmet type to ensure you can have a safe and comfortable ride!
Open Face Helmet
If you ride with an open face, you're going to want something with more wind protection, making full wrap around glasses ideal. Wiley-X has some great options to choose from, like the Wiley-X Arrow and the Wiley-X Gravity are great options for both open and full face helmets!
These are wrap around frames and comes with a foam eye cup to seal your eye sockets and keep the wind out. The foam eye cup seal is conveniently removable for those wanting a cooler ride on a hot day, and for versatility. With these Wiley-X motorcycle sunglasses, you'll be able to easily transition from ride mode to civilian mode without changing shades.
As far as optimal motorcycle sunglasses fit and prescription motorcycle sunglasses fit, straight back temples are the way to go. The straight back end allows for the sunglasses to easily slide on and off while wearing a helmet, and leaves enough room to prevent the glasses from uncomfortably inserting themselves in your temple. Glasses that have a deeply hooked end that curve with your ear don't leave enough room inside the helmet. The Wiley-X Gravity, Arrow and Tide are built with ANSI-rated safety stamped lenses and come readily available as prescription motorcycle sunglasses.
Full Face Helmet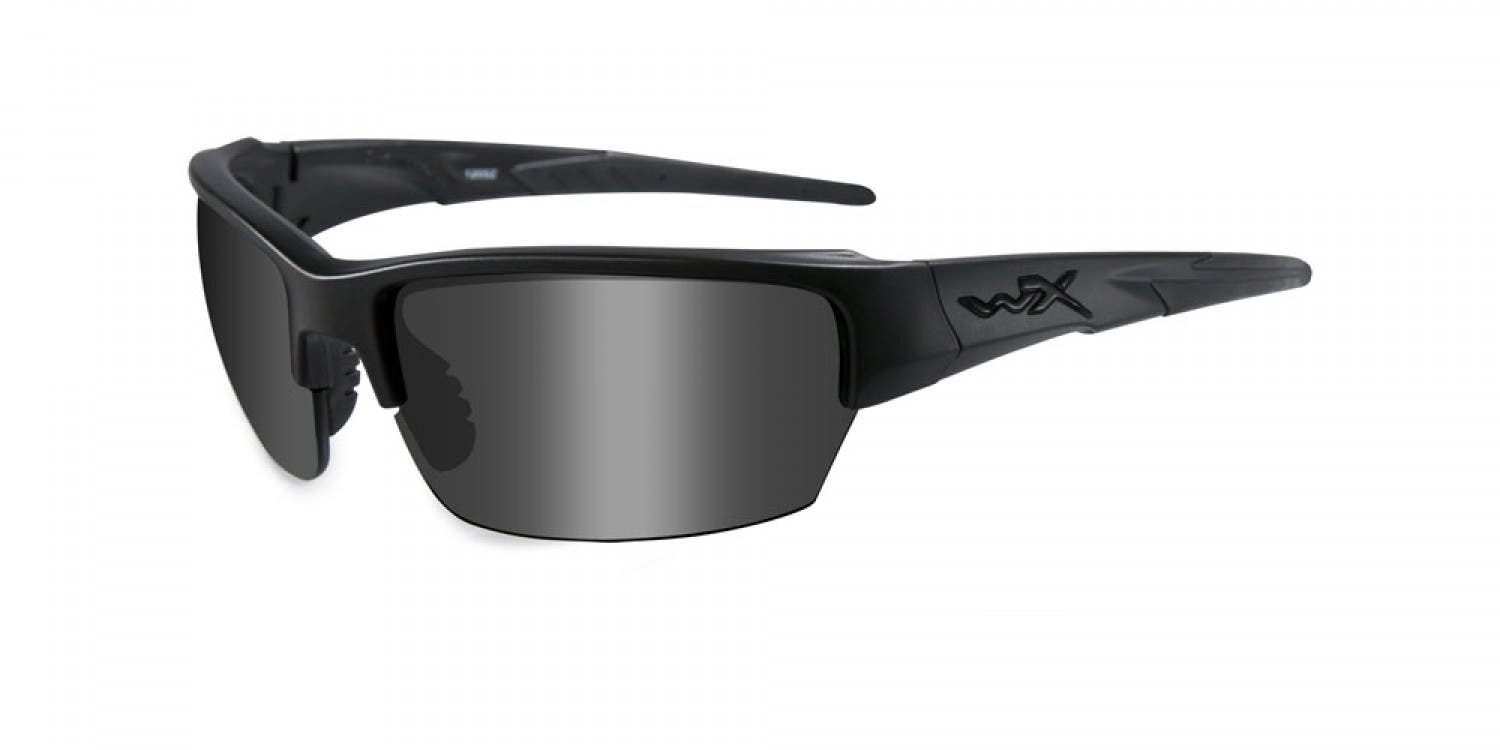 Wiley-X Saint - This pair of motorcycle sunglasses works well under a full face helmet for more reasons than one. The straight back, thin temples makes is easy to get on and off, and they provide a comfortable fit under the helmet. These motorcycle sunglasses feature an open bottom frame, which provides good ventilation for those hot days on the blacktop. The Wiley-X Saint are versatile in a variety of light conditions, and the best part about the Wiley-X Saint motorcycle sunglasses is that they're a tough, durable frame that you won't have to baby. We also recommend the Wiley-X Moxy motorcycle sunglasses which are similar to the Saint and great in more ways than one for Full Shield Helmets. These Wiley-X motorcycle sunglasses are ANSI safety rated and can be easily transformed into prescription motorcycle sunglasses with the help of our awesome opticians.
Best Lenses for those Days on the Bike:
Our most popular lens for motorcycle sunglasses is the Day and Night Lens. This lens is perfect for the no non-sense rider, the one who wants to hop on the bike and go, without thinking about lens features for certain light conditions. It's one lens, one frame, it doesn't need to be interchanged, and it's transition capabilities go from an almost clear lens during bad weather and nighttime, to a full dark sunglass during the daytime.
If you're looking for a really dark lens to keep out as much sun as possible, a grey polarized option will suit you well. Our Blackout lens sports a dark mirror coating to reflect the sun's rays, allowing your vision, safety and experience to flourish. The Blackout Lens is great for people that go on long day rides on the open road because the lens works to reduce the direct, harsh sun and cut the glare off the open road.
We know there is a lot to take into consideration when shopping for your perfect pair of motorcycle sunglasses or prescription motorcycle sunglasses. Hopefully after reading a bit of this guide, you have a more clear understanding of the important features to consider while you shop for your motorcycle sunglasses online at SportRx!
If you have any questions, please don't hesitate to give us a call or shoot us a LiveChat. We have an awesome team of opticians, and we're here to help!