For the latest and greatest safety glasses from Wiley X in 2019, Sunglass Rob and Renee from Wiley X tell us everything we need to know. Wiley X specializes in crafting safety-rated glasses that have a cooler, more unique look than typical safety glasses.
Safety glasses not only protect you, they're a performance-enhancing tool. Your work will always be better when your vision is optimized, rather than compromised. So let's take a look at some of the best-selling Wiley X favorites of 2019:
Boss
Wiley X Boss with Matte Black Frames
Wiley X Boss has everything you want in your safety glasses. It's constructed to exceed ANSI industrial standards for high-mass and high-velocity impact protection and the lenses are made with shatterproof selenite polycarbonate. Wiley X Boss has a removable foam facial cavity to seal your eyes from pollen, dust, and peripheral light. This frame has a bigger fit and thin temples.
Gravity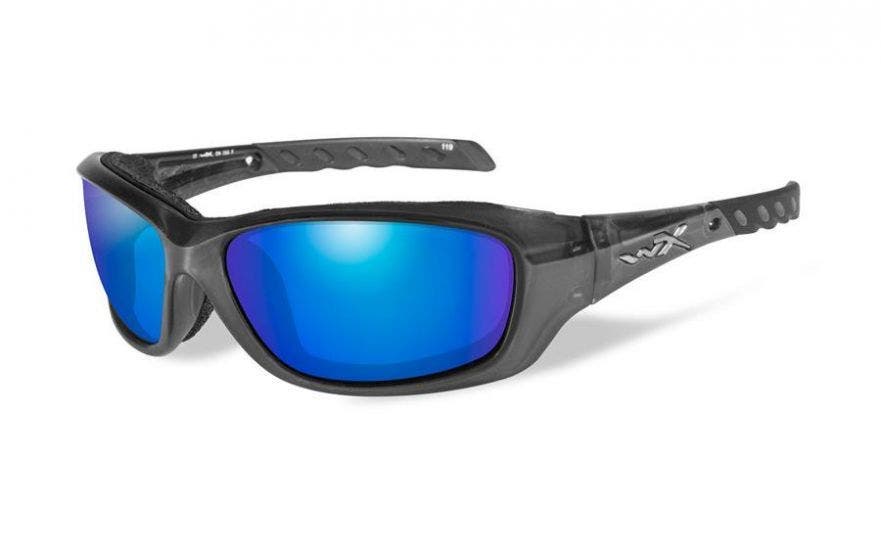 Wiley X Gravity with Black Crystal Frames
Part of Wiley X's Climate Control series, Gravity is a medium to large fit that works for about 80% of people. The frames are made with durable, flexible nylon and they're equipped with rubber nose pads, temple accents, and removable foam eyecups for a comfortable and solid fit. The foam eyecups are vented to reduce fogging and protect your eyes from irritants in the air and peripheral light. Don't let the sleek look fool you, Wiley X Gravity lives up to ANSI and OSHA standards and the lenses are made with shatterproof selenite polycarbonate.
Valor
Wiley X Valor with Black Ops Matte Black Frames
For glasses that are as sporty as they are safety, Wiley X Valor is for you. The semi-rimless frames create a very cool look and feel that isn't very common in the safety world. These unique glasses not only pass ANSI and OSHA safety ratings, but can be done in prescription as well. The rubber temples are double-injected for unbeatable non-slip comfort and the T-Shell lens coating makes them highly scratch-resistant.
P-17
Wiley X P-17 with Gloss Black Frames
Wiley X P-17 has stood the test of time as it remains a number-one best-seller even though it's been around for 700 years. These safety glasses are a staple because they're versatile, lightweight, and have a clean look. The various lens tints are specifically designed to enhance color contrast and definition and optimize your vision in any light condition. Wiley X P-17 exceeds ANSI industrial standards for high-mass and high-velocity impact protection and can even take on the high speeds of a motorcycle.
Axis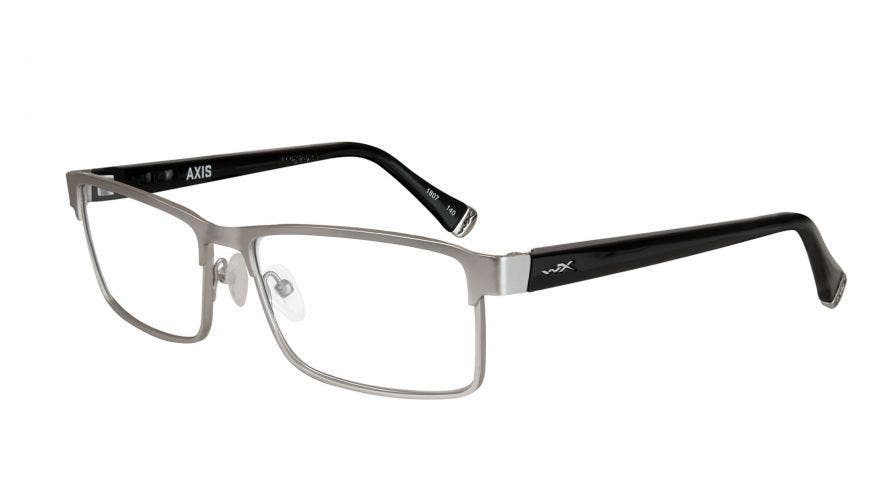 Wiley X Axis with Matte Silver/Gloss Black Frames
For a work-site look that's more ophthalmic, there's Wiley X Axis. They have metal frame fronts and temples made from durable Triloid nylon. For a customized fit, they're equipped with adjustable wire core temple tips and removable or permanent side shields (permanent sold separately). Wiley X Axis lenses are constructed with shatterproof Selenite polycarbonate and they meet ANSI and OSHA standards with the side shields.
Fusion
Wiley X Fusion in Matte Black Frames
Since Wiley X Axis is a larger fit, Wiley X Fusion is created for those who require a smaller fit. It has all the same features as Axis, in a smaller package.
Note: This item is temporarily unavailable.
Contour
Wiley X Contour with Gloss Black to Brown Stripe Frames
Wiley X Contour has chunky, more colorful frames than most safety glasses. The stylish, hand-polished frames are made with durable Triloid nylon, and they have a five-barrel hinge and adjustable wire core temples for a perfect fit. When equipped with removable or permanent side shields, they satisfy ANSI and OSHA requirements.
Get Wiley X Prescription Safety Glasses at SportRx
Need prescription safety glasses? Done. When you shop with us, you'll find video guides and tooltips throughout the build process as you customize the perfect pair. An answer to all your questions is at your fingertips, and if you want to chat with an expert, Contact Us. We'll put you in touch with one of our friendly in-house opticians who can help you build your prescription safety glasses.
Ditch risky online shopping with the See Better Guarantee. Try your safety glasses for 45 days. If you're not satisfied, send them back. Get a full refund, exchange, or credit towards a better pair. And return shipping? Covered. Get your pair of prescription safety glasses at SportRx today!