Looking for the best women's sunglasses from Nike? You came to the right place. Whether you're on the move or rejuvenating by the pool, Nike has you covered. We'll be breaking down the top 5 Nike sunglasses for women and what features set Nike apart from the competition.
Top 5 Women's Nike Sunglasses
1. Nike Tailwind S
2. Nike Trainer S
3. Nike Sentiment
4. Nike Essence
5. Nike Breeze
---
Join Stephanie in the video below or continue reading to find out which sunglasses made the list.
---
Top 5 Women's Nike Sunglasses
Each frame was hand selected by our sport opticians and is a tried and true favorite of our customers. Which frame will you choose?
Tailwind S
The lightweight & contoured frame design​ of the Tailwind S blends together a comfortable fame and great sport features. Airflow is the name of the game in the Tailwind S with ventilation details throughout the frame's design, fogging is kept to a minimum. Interchangeable, polycarbonate lenses ​combined with a semi-rimless frame equals impact resistant coverage with an unobstructed view from all angles. Swap out lenses specific to different sport environments to fine-tune your vision. Super lightweight, Rx-able, and a secure fit make the Tailwind S a great sport performance option.
Key Nike Tailwind S Features:
Ventilation – nose piece, temples and Flying Lens Tech
8-base curve full wrap and coverage
Rubber temples and floating nosepads
Rx-friendly
SFW – 125 mm
---
Trainer S
With similar features and frame design as the Tailwind S, the Trainer S brings same the sport performance and all-day comfort but in a slightly larger fit. The Trainer S's lightweight & durable 8-base nylon frame gives great coverage & security​, while the interchangeable lenses let you customize your vision to the environment.
Key Nike Trainer S Features:
Ventilated nose bridge and temple tips
Rubber Nose Pad
Interchangeable Lenses
Rx-friendly
SFW – 127mm
---
Sentiment
The Nike Sentiment is designed to capture the best of both worlds. You get the style-driven design features of a full-rim frame and the hidden functional sport features such as rubberized grip along the temple tips and nosepads. Lightweight and durable, the Nike Sentiment keeps your vision optically aligned throughout your entire day.
Key Nike Sentiment Features:
Athleisure frame with hidden sport functionality
Subtle side shields keep out light
Rubber nose pads and temple tips
Rx-friendly
SFW – 136mm
---
Essence
The Nike Essence falls more on the lifestyle side of the Nike brand. With stylish full-rim frames and all-day comfort and wearability, the versatility of the Essence shines through. Excess peripheral light is kept out with a subtle side shield while the impact resistant polycarbonate lenses keep your eyes protected.
Key Nike Essence Features:
Lifestyle frames
Texture on interior of temples
Subtle side-shield
Rx-friendly
SFW – 137mm
---
Breeze
Last but certainly not least we have the Nike Breeze. The Breeze is reminiscent of the Sentiment as it is also a crossover frame blurring the line between lifestyle and sport performance features. With a 6-base wrap frame, the Breeze is both versatile in activity and accommodates a range of prescriptions. Soft, comfortable rubber nose pads & temples keep your vision optically aligned no matter where your day takes you.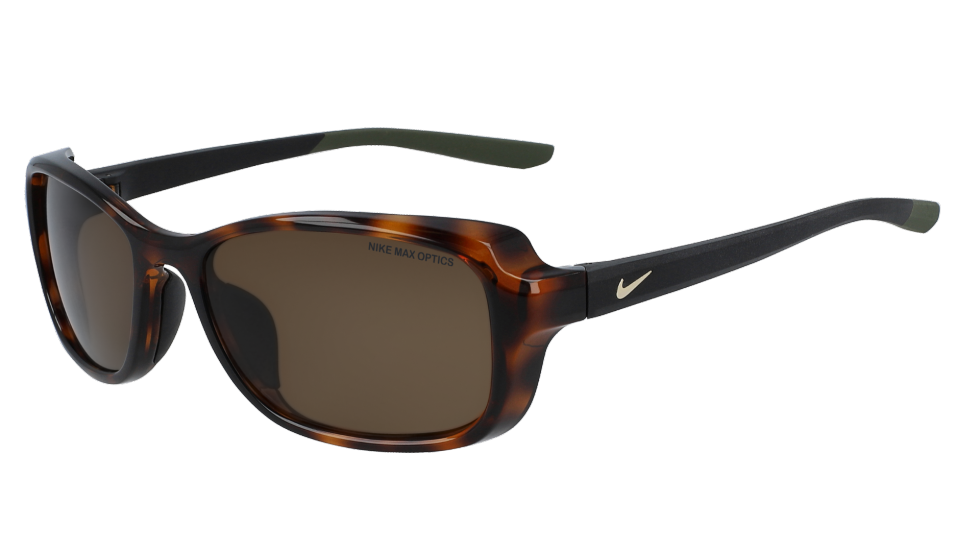 Nike Breeze in Tortoise/Gold & Dark Brown
Key Nike Breeze Features:
Hybrid frame – stylish with hidden sport features
Rubberized temples and nose pads
Flexible temple tips
Rx-friendly
SFW – 138mm
---
Shop Nike Sunglasses for Women at SportRx.com
Need prescription Nike sunglasses? Done. When you shop with us, you'll find video guides and tooltips throughout the build process as you customize the perfect pair. An answer to all your questions is at your fingertips, and if you want to chat with an expert, Contact Us. We'll put you in touch with one of our friendly in-house opticians who can help you build your prescription Nike sunglasses.
Ditch risky online shopping with the See Better Guarantee. Try your sunglasses for 45 days. If you're not satisfied, send them back. Get a full refund, exchange, or credit towards a better pair. And return shipping? Covered. Get your pair of prescription Nike sunglasses at SportRx today!