See More with the Best Baseball Sunglasses of 2019
Many people consider sunglasses an accessory but to baseball players it is a crucial piece of equipment. Having a pair of sunglasses with baseball-specific features can improve your on-field play. The frame shape, fit, and lens color all factor in to making the perfect pair of baseball sunglasses. But even then there are personal preferences that enter the decision making process. Consider this guide a source to help you track down exactly what you are looking for in a baseball sunglass.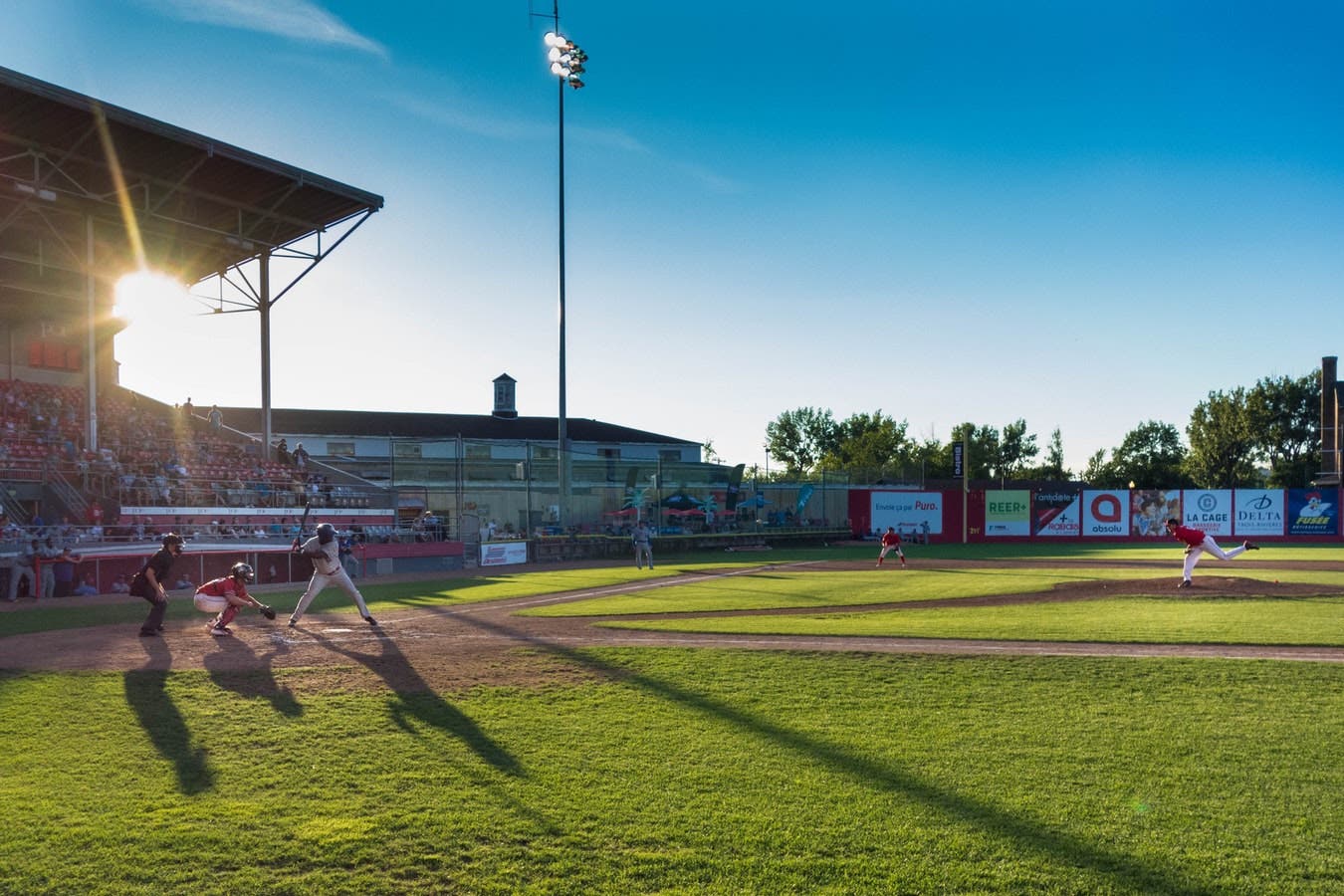 Table of Contents
What to Look for in Baseball Sunglasses
The Best Baseball Sunglasses of 2019
1. Oakley Flak 2.0 XL
2. Oakley Radar EV Path
3. Oakley Half Jacket 2.0 XL
4. Nike Show X2
5. Nike Skylon Ace XV
6. Under Armour Octane
Get the Best Prescription Baseball Sunglasses of 2019 at SportRx!
What to Look for in Baseball Sunglasses
Frame Technology
The frame shape, materials, wrap, and fit help to keep the sunglasses in place on your face. Having a frame that is both lightweight and durable is ideal so you can wear it for extended periods of time and not have to worry about breaking it on every play.
Lens Technology
Having a high-contrast lens can make the ball easier to track against the the other colors present in a baseball environment. Lens color for night games will differ from day games. Transition lenses and interchangeable lenses are also an option.
We have more thorough guide of what to look for in baseball sunglasses but for now, here are some things to keep in mind.
The Best Baseball Sunglasses of 2019
Oakley Flak 2.0 XL
Oakley is known for incorporating cutting edge design and technology into sport driven sunglasses. The Oakley Flak 2.0 XL is no exception. PRIZM Field lens technology provides enhanced contrast to make the ball easier to track. Full Unobtanium temples and nosepads give you grip exactly where you need it to keep the frames in place even if you break a sweat. The semi-rimless design and extended lens gives you added coverage with no bottom part of the frame getting in your way when fielding ground balls. If Joe Kelly wears it then you know its a worthy contender. This sunglass is available with prescription Oakley authentic lenses.
Oakley Radar EV Path
If full coverage is what you are looking for the Oakley Radar EV Path is the frame for you. Unobtanium earsocks and nosepad work by getting stickier and tackier the more you sweat. The shield lens gives you ultimate coverage and an unobstructed view of the field so you don't miss a beat. O Matter frame construction creates a lightweight and durable frame that will hold up to any of your physical demands. This sunglass is available with embedded rx lenses but the PRIZM lens options are more limited. For those reasons this frame is generally recommended as a non-rx sunglass with PRIZM Field lenses to increase contrast.
Oakley Half Jacket 2.0 XL
The Half Jacket 2.0 XL shares many of the same features as the Flak 2.0 XL in a slightly smaller package. Semi-rimless lens design offers extended coverage without a frame getting in the way of your vision. Unobtanium grip on the temples and nosepads keep these sunglasses optically aligned so you can perform your best on every play.
Nike Show X2
Interchangeable lenses, adjustable temples, and Nike Max lens technology make the Nike Show X2 hard to beat. The Show X2 also features and adjustable nosepad for an even more customized fit. Nike Max Optics technology is available in a number of tints that are suitable for baseball. This sunglass has everything you need for the ultimate baseball sunglass.
Nike Skylon Ace XV
The Nike Skylon Ace XV has a lightweight build with plenty of coverage and grip to be your new favorite baseball sunglass. The fully vented secure wrap temple arms with rubberized grip zones and fully vented nosepad will keep these sunglasses in place when you are hustling to make a play. The nylon frame construction creates a comfortable fit that can be worn for extended periods at a time.
Under Armour Octane
The Octane delivers a wraparound fit for coverage desired by any baseball player. Adjustable nosepads give you a more customized fit and the Three Point Grip means ultimate comfort on the field. ArmourFusion frame materials is built with a high grade injected polyamide for a great strength-to-weight ratio. You can play at your best with the Under Armour Octane.
Get the Best Prescription Baseball Sunglasses of 2019 at SportRx!
Need prescription baseball sunglasses? Done. When you shop with us, you'll find video guides and tooltips throughout the build process as you customize the perfect pair. An answer to all your questions is at your fingertips, and if you want to chat with an expert, Contact Us. We'll put you in touch with one of our friendly in-house opticians who can help you build your prescription baseball sunglasses.
Ditch risky online shopping with the See Better Guarantee. Try your sunglasses for 45 days. If you're not satisfied, send them back. Get a full refund, exchange, or credit towards a better pair. And return shipping? Covered. Get your pair of prescription baseball sunglasses at SportRx today!
Best Baseball Sunglasses of 2018
Baseball players spend endless hours in the sun. It is essential for them to wear sunglasses to maximize their performance and protect their eyes from sun damage. Below is a list of the top 5 baseball sunglasses of 2018. The brands include Oakley, Nike, Under Armour, and Kaenon. Get the best baseball glasses to help you make an incredible catch or hit a home run out of the park. Keep reading to learn more about the individual frames.
The Latest Trends
Oakley Radar EV Path
The Oakley Radar EV Path sunglasses are lightweight and extremely durable. They are impact resistant and have non-slip earsocks and nose pads. The Radar EV Path sunglasses are equipped with an extended view so the top of the frame doesn't block your vision. This model is available with PRIZM Lens Technology to give you enhanced contrast and improve your play. This style is one of the most popular with MLB players.
Oakley Flak 2.0 XL
The Oakley Flak 2.0 glasses are the ultimate baseball sunglasses. The frame is constructed using Oakley's patented O-Matter for durability and comfort. These sunglasses also have Unobtainium earsocks and nose pads, which means that the more you sweat, the stronger the grip becomes. Red Sox pitcher, Joe Kelly, wears his Oakley Flak 2.0s with clear lenses but they are also available with PRIZM Field lenses for ultimate contrast on sunny days.
Under Armour Core 2.0
The Under Armour Core 2.0 features a wrap around frame, three-point grip, and cushioned hinges to ensure full coverage. These glasses also have adjustable nose pads and temples for a custom fit. The Core 2.0 can be purchased in an ANSI Z87.1 safety certified model.
Nike Show X2
The Nike Show X2 sunglasses have taken athletic eyewear to the next level. These glasses feature a lightweight, nylon frame and adjustable, rubber nose pads and temples. They are also helmet compatible, making them perfect for you when you are smashing a home run. These glasses have two additional styles: the Show X2 Pro and the Show X2 XL.
Kaenon Hard Kore
The Kaenon Hard Kore sunglasses are not the average baseball glasses. These sunglasses have an extra strong resin frame and hypoallergenic rubber nose pads to enhance performance. The Hard Kore lenses have SR-91 Glare Guard Technology that will protect from glares and intense light. Justin Turner from the LA Dodgers and Adam Jones from the Orioles wear these sunglasses to help them improve their game.
Prescription Baseball Sunglasses at SportRx
If you are looking to purchase prescription baseball sunglasses, you're in the right place! SportRx specializes in prescription sports glasses, which can be customized to fit any needs you may have, such as tints, bifocals, polarization, and more. Contact Us to speak to one of our friendly in-house opticians for any questions. Maximize your performance with the perfect pair of baseball sunglasses.