Let's face it, fog is inevitable! Lenses that fog up, especially in safety glasses, are not only annoying, but dangerous. It's of the utmost importance to have clear, unimpaired vision when you're working with safety glasses. What's the solution? Follow along to discover a few different tips to combat that irritating fog.
Factors that contribute to fogging
Fogging occurs whenever moisture is introduced into the air, like in humid environments. When your eyewear is tight, as safety glasses often are, it impedes air flow and traps the moisture from your sweat, causing your lenses to fog up. If you don't already, consider fog a major safety hazard! The most common work-related injuries involve eyes. Lenses that fog up hinder productivity and violate compliance.
Solutions
When it comes to solutions for fogging, there are several options. You just need to decide which option is most convenient for you! For even more helpful safety glasses basics, head over to the Ultimate Safety Glasses Buyer's Guide
Side shields
There are 2 main styles of safety glasses; one has a wraparound design, and the other looks like eyeglasses. For certain activities, the wraparound design is necessary, but unless it's well vented, it's highly likely to fog up due to restrictive air flow. If you have the freedom to switch up the style of your safety glasses, the eyeglass design allows for more breathability because they sit away from your face. Versatile and stylish, these safety glasses simply need the side shields attached and they are transformed into a safety certified option that is much less likely to fog up.
If you're wondering if your eyeglasses can be safety certified, check out Do You Need Side Shields for Your Safety Glasses?
Wiley X Axis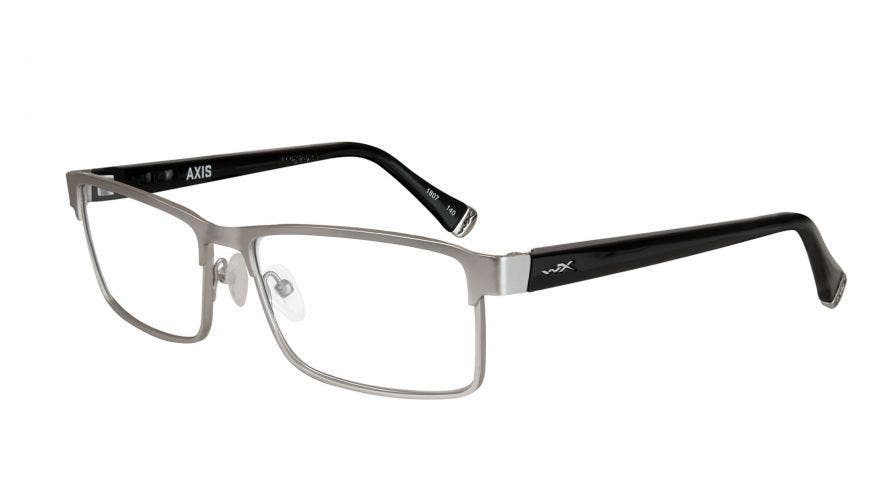 Wiley X Axis with Matte Silver & Gloss Black Frames
Anti-fog treatments
Anti-fog treatments come in many shapes and sizes! There are anti-fog wipes, sprays, and gels all designed to help you overcome the development of fog. Each product has specific instructions in order to work correctly, so make sure to read the directions before use.
Many safety glasses are available with an anti-fog coating that causes water droplets to disperse into a thin sheet, rather than build and fog up the lens. Although this coating should be long-lasting, it will wear off and need to be reapplied.
Soap or shaving cream method
Using soap or shaving cream on your lenses produces a protective barrier. Apply either option directly to the frame, allow it to dry, then gently wipe the residue with a dry, soft cloth. This DIY solution, although not perfect, should make your safety glasses take longer to fog up.
Prescription Safety Glasses at SportRx
Need prescription safety glasses? Done. When you shop with us, you'll find video guides and tooltips throughout the build process as you customize the perfect pair. An answer to all your questions is at your fingertips, and if you want to chat with an expert, Contact Us. We'll put you in touch with one of our friendly in-house opticians who can help you build your prescription safety glasses.
Ditch risky online shopping with the See Better Guarantee. Try your safety glasses for 45 days. If you're not satisfied, send them back. Get a full refund, exchange, or credit towards a better pair. And return shipping? Covered. Get your pair of prescription safety glasses at SportRx today!