Safety Glasses For You
We understand that your job may not require you to dress up, but that doesn't mean you should sacrifice your sense of style. Most of your searches for safety glasses are probably popping up, looking bulky and cumbersome. Often, they are meant to go over your prescription glasses or sunglasses, making it an even bigger nuisance for comfort and style. So while we get that you don't want to sacrifice your safety, you should not have to worry about looking silly. And that's why we've got you covered with a list of cool safety glasses.
With this list of prescription safety glasses and goggles you no longer have to sacrifice your eyes, comfort, or your sense of style. What's even better about this list, and all of SportRx cool safety glasses, is that they're all ANSI-certified and have the certification stamp to prove it. Abiding by the law and staying up to code never looked so great. Now you can have your safety and your looks in check.
Best Stylish Safety Glasses
1. Wiley X Valor
2. SPY Bounty ANSI
3. Oakley Industrial Tombstone Spoil ANSI
4. Smith Prospect Elite
5. Wiley X Gravity
---
Wiley X Valor
You know Wiley X for their signature safety sunglasses. So it should come as no surprise that the Wiley X Valor is certified to ANSI Z87.1-2010, GL-PD 10-12 MCEP, and MIL-PRF-31013 Ballistic Standards, and are rated as OSHA Grade occupational protective eyewear. Clearly they've got safety checked off the box, but there's no double take for how casual and stylish they are either. With their slight grooved temples and frame-less bottoms, these cool safety glasses will ensure the only looks you'll be getting are those of desire.
SPY Bounty ANSI
Prepared and ready for any heavy duty task you're faced with, SPY Bounty ANSI gets the job done. These durable shatter-resistant Grilamid™ frames can take on anything that comes their way. With their sleek and casual style they go with whatever you're wearing or whatever your welding. ANSI Z87.1 certified, impact resistant, and a stamp to prove it, these sunglasses are prepped for protection and to perfection.
Oakley Industrial Tombstone Spoil ANSI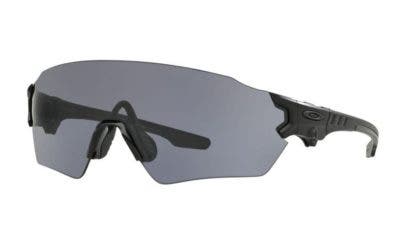 Oakley Industrial Tombstone Spoil ANSI in Matte Black with Grey Lens
Handcrafted by Oakley engineers and top sharpshooters, the Oakley Industrial Tombstone Spoil is designed to perfection. Both knowing that safety is a top priority, they are ANSI Z87.1 rated for impact protection. And while Oakley always knows style is the name of the game, they made sure to incorporate cool when building these safety glasses. Their single release trigger swapping lenses make them a change-the-game style, but unfortunately this means they aren't ballistic or mil-spec rated.
Smith Prospect Elite
Smith Prospect Elite in Black with Carbonic Ballistic Ignitor Lens
Secured with MIL_SPEC lenses that meet ANSI Z87.1 standards the Smith Prospect Elite are safe and stylish. With their eco-friendly Evolve frame materials, and hydrophilic megol nose and temple pads, they're comfortable, casual and lightweight. They style in three different lens colors, so no matter what way you're feeling, they'll fashion your style any way you choose.
Wiley X Gravity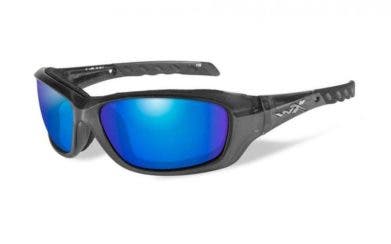 Wiley X Gravity In Black Crystal
Fully loaded with a temple strap, removable foam eyecups, and ANSI Z87.2 approved, the Wiley X Gravity completes this series. Their subtle streamlined frame makes them unique and classic, all at once. The Wiley X Gravity creates a sunglass that suits your style and secures your safety. Their lenses come in clear and numerous tinted shades which makes them ideal for any time of the day and for anything you tackle.
---
Get Safety Glasses for your Protection and Style Online at SportRx
Need prescription safety sunglasses? Done. When you shop with us, you'll find video guides and tooltips throughout the build process as you customize the perfect pair. An answer to all your questions is at your fingertips, and if you want to chat with an expert, Contact Us. We'll put you in touch with one of our friendly in-house opticians who can help you build your prescription.
Ditch risky online shopping with our See Better Guarantee. Try your Safety Sunglasses for 45 days. If you're not satisfied, send them back. Get a full refund, exchange, or credit towards a better pair. And return shipping? Covered. Get a pair of prescription safety sunglasses for your protection and style at SportRx today!