Oakley Inferno Lens Technology | How It Works
Introducing another type of innovation we've come to love and expect from Oakley: the Oakley Inferno Lens Technology. Better understood as a turbocharged window defroster - for your goggles!
The Oakley Inferno is a simple and intuitive 2-button design. One button works to power on the device for the day, while the other is responsible for activating each Oakley Inferno 3-minute heating cycle, in which the device vibrates, heats the lens, defogs the lens as the cycle runs its course before automatically shutting off. When it's flashing it means its on and working. When its solid green, you have at least 25% battery life left. When it's solid red that means you have less than 25% left.
Oakley Inferno Power Module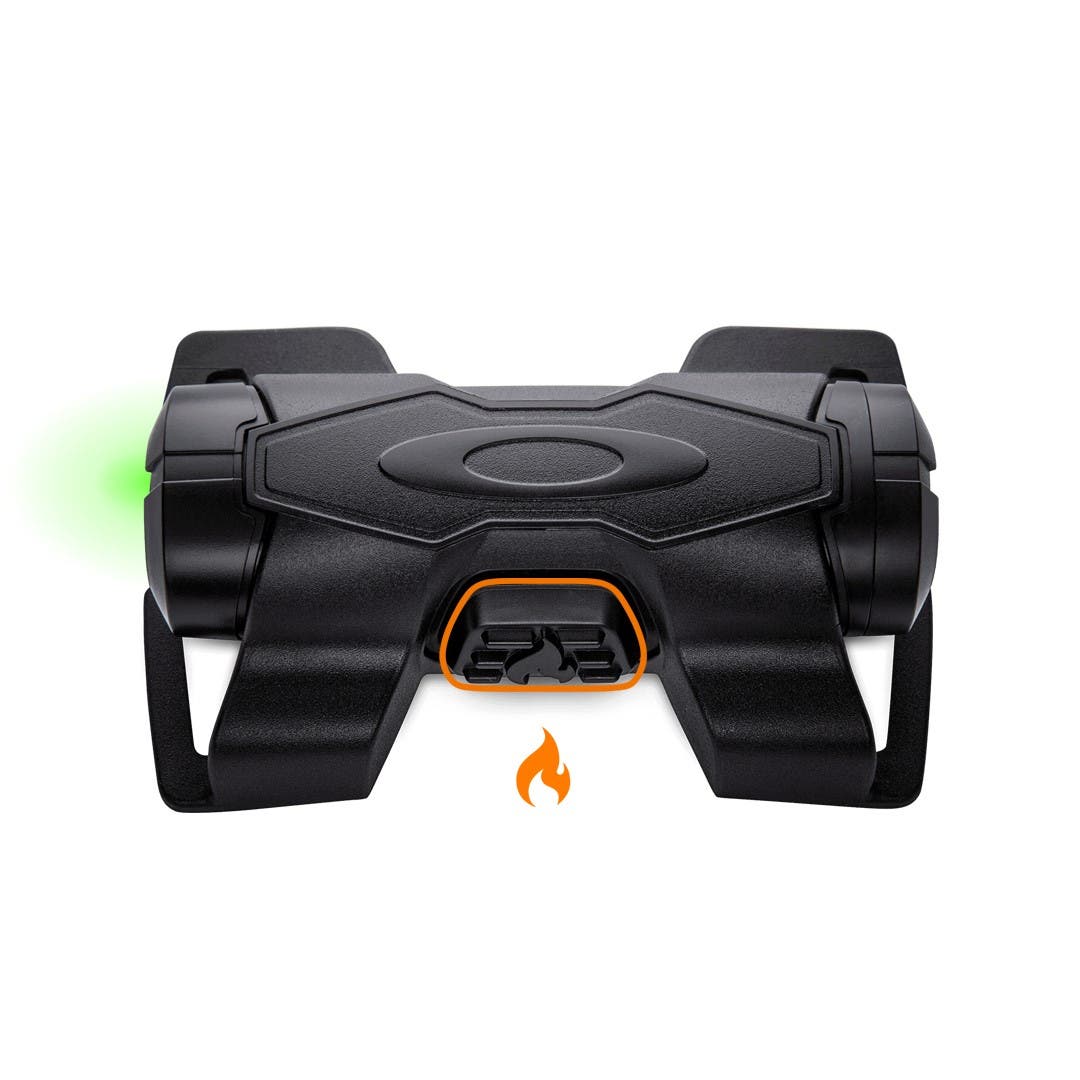 1 button activation - combats inner lens fog with the push of a button
3-minute heating cycle - even heating across the lens causes fog to evaporate and leaves it nowhere to hide
ALL DAY Comfort - Through rigorous field testing, Oakley determined the ideal lens temperature to combat fog, without ever feeling uncomfortable warm on your face and dry on your eyes
Oakley Inferno Tech Specs
An external power module keeps the goggles lightweight so it feels and fits like a traditional Oakley snow goggle. The battery pack is designed to be completely removable when fog is not an issue. The rechargeable, replaceable battery is engineered for excellent performance in cold weather.
Oakley Inferno Features:
Haptic Vibration - when you turn on the heating pack, a slight vibration ensures the heating cycle has begun and ended.
Heating Cycle - each cycle is 3 minutes long, has an active battery life of 25-30 Inferno cycles, and a de-fog time of under 2 minutes from fully fogged.
LED Indicator - When the button is a solid green, it has at least 25% battery life, where as, solid red indicates less than 25% battery life. Blinking green means that the Inferno mode is activated, and while charging, blinking red indicates the charge is in progress and solid green means full charge.
Lightweight - the power module weights 100 grams or 3.5 ounces - comparable to a deck of playing cards.
Lithium Ion Battery - this battery pack features excellent cold weather performance with stability up to -4 degrees F, which is exceptional compared to other consumer electronic batteries commonly used in your phone or camera. Batteries usually stop working successfully when the temperature drops below freezing.
USB Charging - chargeable via any USB outlet, including a wall charger, car charger, computer or USB battery pack.
The Oakley Inferno is only available in the Oakley Line Miner goggles with PRIZM Lens Technology. Line Miner PRIZM goggles work to enhance snow contours, bumps, and textures so you can ride with confidence. Every Oakley Inferno PRIZM Line Miner goggle comes with a power module, USB charging cable, and a quick-start guide. Oakley Inferno snow goggles are also Rx-able with our custom-designed prescription goggle inserts.
Oakley PRIZM Inferno Line Miner Review
*NOTE: This goggle has been discontinued
Oakley Prescription Ski & Snowboard Goggles Online at SportRx!
If you wear a prescription and are fed up with all of the rx goggle options, we have just the thing for you! We have a prescription insert that is available for most any goggle on the market. Contact us to learn more about how the insert works or if you have any other questions about snow goggles.