SPY is a Southern California-based company dedicated to creating exceptional optical products for the outdoor sports community. Founded in 1994, SPY's unconventional approach is evident in their funky designs and future-forward technology. In this guide we will explore features unique to SPY and the 2 most important aspects of choosing fishing sunglasses: lens and frame technologies.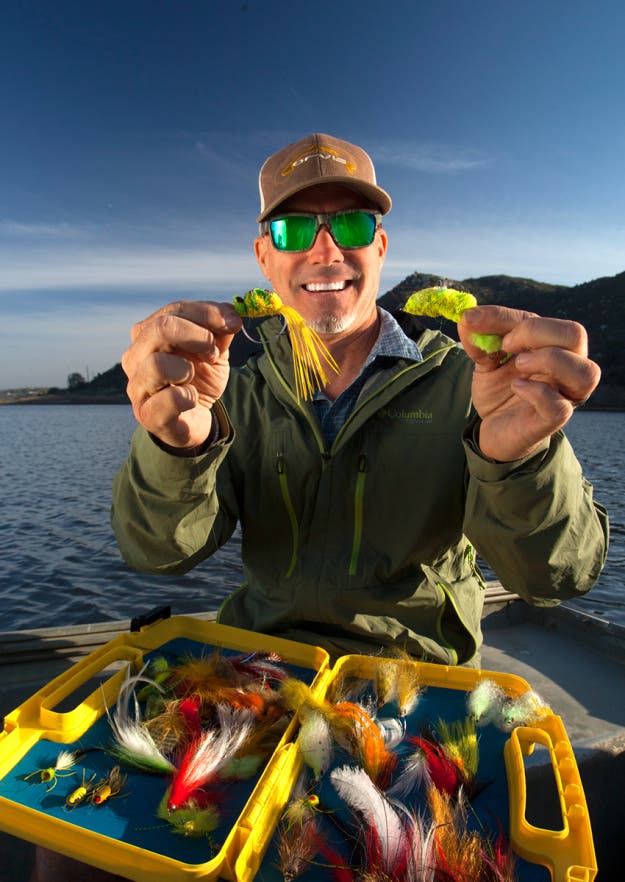 Table of Contents
1. What to Look for in SPY Fishing Sunglasses
1.1. Frame Technology
– Coverage
– Frame Materials
– Fit
1.2. Lens Technology
– Polarization
– Lens Materials
– Color Enhancement
2. Our Pick – SPY Angler
What to Look for in SPY Fishing Sunglasses
The wrong pair of sunglasses leads to distraction and discomfort on the water. Get the most out of your fishing experience by choosing sunglasses designed to enhance your environment, protect your eyes, and keep you on your toes.
Frame Technology
The 3 aspects of frame technology are coverage, materials, and fit. All of these features work to protect your vision, keep your lenses in place, and maintain a level of comfort. Fishing sunglasses are highly innovative because they're a vital piece of equipment out on the water.
Coverage
Fishing is a sport that constantly exposes you to the elements, making eye protection essential. For this reason, SPY uses an 8-base frame, which has thick temples and a wrap-around design. The thicker temples keep out sunlight, wind, and other unwanted particles and the wrap-around design keeps your sunglasses secure when you're on the move. These features make all the difference, shielding your eyes from harsh conditions on the water and allowing you to focus completely on your catch. The last thing you need is to feel your sunglasses creeping down your nose, your eyes getting hit with bright sunlight and splashes of water as you reel in the fish you've been waiting for all day. Give the alternative a shot- frames constructed specifically for this moment.
Frame Materials
Fishermen are often in extremely salty, foggy air, which is conducive to corrosion and rust. For this reason, avoid metal when choosing fishing sunglasses and opt for a lighter, more durable material like a Nylon blend. SPY uses the virtually indestructible Grilamid for their fishing frames, a high-quality material that, although flexible, won't bend in extreme weather and is lightweight. Rather than finding yourself with misshapen, rusty metal or acetate frames, invest in sunglasses crafted specifically to withstand the elements. Don't destroy your favorite pair of sunglasses because they aren't cut out for a fishing trip, prepare ahead of time and wear a pair that's designed to last.
Fit
A fishing trip is your time to relax and have fun- you should be comfortable! Glare is blinding out on the water, forcing you to squint for hours and sunglasses that are too tight instantly invite a headache. SPY took these factors and incorporated several features to combat them. Their fishing sunglasses are equipped with Hytrel rubber nose pads and temple tips that maintain all-day comfort even in wet conditions. Combined with the 8 base wrap, this rubberized material ensures your frames do not slip when you sweat but remain in place. It's also important to consider the proper size frames- the temples should be snug but not so tight that they press into the sides of your head. The more comfortable you are, the better you will perform on your all-day adventure.
Lens Technology
From the color of the lens to the material it's made of, it's crucial to choose the right ones for your fishing sunglasses. They must be polarized, scratch resistant, and adapted to your specific environment. Lenses are a small piece of equipment that make a big impact- a little information goes a long way.
Polarization
Polarized lenses are a must for any pair of fishing sunglasses, and SPY has their own polarization technology called Trident. Aside from the standard 99.9% polarization efficiency, Trident is layered and sealed within the lens rather than placed in a film on the outside. This prevents scratching or hazing over time and guarantees better filtering than the alternative. Polarization is the biggest factor in achieving optical clarity as it diminishes irritating glare.
Lens Materials
SPY sunglasses are constructed from 8-base polycarbonate ARC lenses, tapered to be optically correct and distortion-free. An ARC lens is spherical and built on a base curve in the X and Y axis. It's decentered and thicker in the middle to improve your view from all angles. Polycarbonate lenses are extremely shatter resistant and lightweight.
Color Enhancement
There are so many different shades of blue, green, and brown in the water in addition to the colors of fish underneath the surface. It's valuable to be able to distinguish between those colors in order to better spot and track fish. SPY is known for 3 color enhancing technologies:
HD– digitally mastered at exact specifications to eliminate distortion, increase clarity, and reduce eye strain.
Happy Lens– patented lens technology that protects from damaging short-wave blue light while harnessing long-wave blue light to preserve the natural effect sunlight has on us. By increasing contrast and clarity we're able to see colors more pleasing to our eyes, stimulating the brain and improving our mood and alertness.
HD+– combines the superior clarity of the HD lens with the therapeutic and visual benefits of the Happy Lens.
SPY Lenses
Happy Bronze
Happy Grey Green
Happy Lens with Spectra Mirror- available in blue, green, and red
Happy Polar– highlighted for being a great choice for any water activity
Happy RX

Our Pick for Fishing – SPY Angler

SPY Angler Sunglasses in Matte Black with Happy Bronze Polarized Lens

Designed for the water, SPY Angler is the whole package. Built with Grilamid, it's extremely lightweight, durable, and resilient, so you can take on expected or unexpected extreme weather. The 8-base polycarbonate frame works as a shield to keep out unwanted water and wind, and the full wrap keeps them secure on your head when you're soaring over the waves. It's time to get in your zone, relax, and be comfortable! Angler has Hyrtel rubber nose pads and temple tips for a gentle fit that won't slip when you sweat. Even losing your catch to a seal can't get you down when you're wearing Happy Lenses gradually boosting your mood as you see everything in exceptional color and contrast. The time has come to ditch your average shades and make the most of your fishing experience with sunglasses tailored to help you perform and feel better.

Get Prescription SPY Fishing Sunglasses at SportRx

Need prescription fishing sunglasses? Done. When you shop with us, you'll find video guides and tooltips throughout the build process as you customize the perfect pair. An answer to all your questions is at your fingertips, and if you want to chat with an expert, Contact Us. We'll put you in touch with one of our friendly in-house opticians who can help you build your prescription fishing sunglasses.

Ditch risky online shopping with the See Better Guarantee. Try your sunglasses for 45 days. If you're not satisfied, send them back. Get a full refund, exchange, or credit towards a better pair. And return shipping? Covered. Get your pair of prescription fishing sunglasses at SportRx today!