SPY Happy™ lenses are the only lenses on the market with therapeutic benefits! Stick with us as we explain everything you need to know about SPY lens tech.
Table of Contents
1. Who is SPY?
2. What are SPY Happy Lenses?
3. Which SPY Happy Lens Should I Get?
4.1. Happy Bronze Lens
4.2. Happy Grey-Green Lens
4.3. Happy Polar Lens
4.4. Happy Lens with Spectra Mirror
5. Best SPY Optic Sunglasses
6. Prescription SPY Optic Sunglasses Online at SportRx
---
Sunglass Rob and Shady Brady break down the steps to finding your perfect shades with the Ultimate SPY Optic Lens Rx Guide. We go over who SPY is, what Happy™ lenses are, and the types of Happy™ lenses available to you in prescription!
---
Who is SPY?
Since 1994, SPY has prided themselves on being a happy-go-lucky family committed to providing unbeatable optical products. SPY sunglasses are durable and reliable for any of your adventures, and are also stylish for all-day use. Whatever your day has in store for you, you can rely on SPY sunglasses to provide those good vibes.

---
What are SPY Happy Lenses?
SPY HD+ vs. Happy Lens
You may have heard of Happy, HD+, or some combination of the two. So what's the difference between Happy and HD+? Actually, there is none! SPY has changed the name of their amazing lenses, but the tech stays the same.
SPY Optic Happy Lens Technology Explained
Based on scientific studies about seasonal affective disorder (also called seasonal depression), the science behind Happy™ lenses is simple. A lack of sunlight can cause a decrease in serotonin, a brain chemical that affects your mood. While short-wave blue light is harmful to the eye, long-wave blue light stimulates the brain's level of serotonin to help increase alertness and promote a healthy circadian rhythm. So Happy™ lenses allow in the long-wave blue light (the good kind), while protecting against damaging short-wave blue light.
Other side effects of long-wave blue light, aside from the serotonin boost, are enhanced color, contrast, and clarity. When you go out in the sun in your Happy™ lenses, you'll soak up extra happiness from the sun's rays while also getting a better look at the world.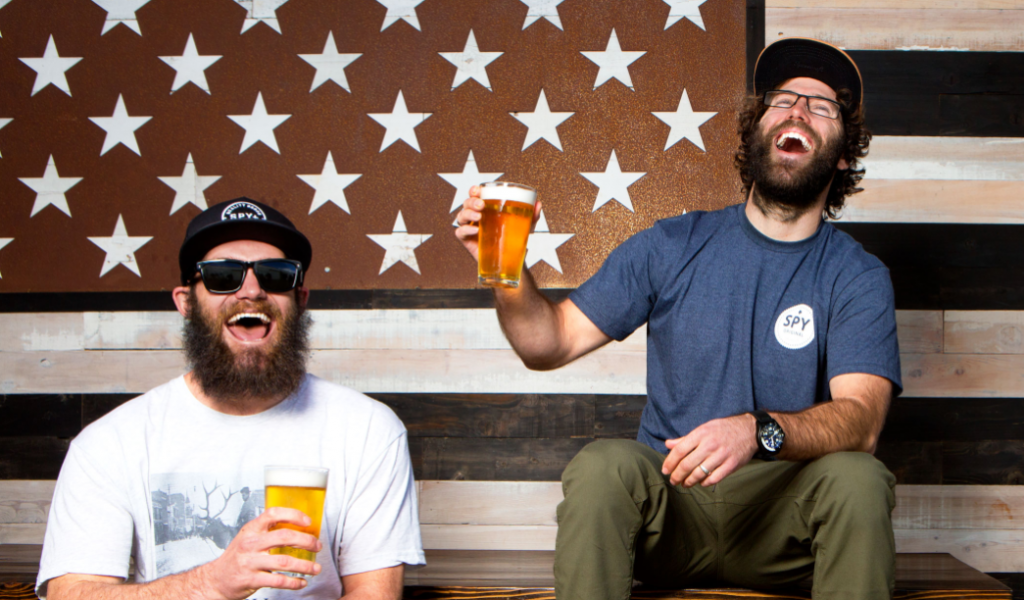 ---
Which SPY Happy Lens Should I Get?
We could all use a little more happiness in our lives. We'll break down the different types of Happy™ lenses SPY has to help you decide which features you need. They are all also available in prescription!
There are 2 main lens tints from SPY, Happy™ Bronze and Happy™ Grey-Green. They are also both available as polarized and with a Spectra mirror finish for extra personality.
Happy Bronze Lens
Happy™ Bronze lenses offer superior color and contrast enhancement in addition to the mood improvement we mentioned earlier. These lenses are best when you want more contrast like for sports, or just if you enjoy seeing brighter colors than normal.
Happy Grey-Green Lens
Happy™ Grey-Green lenses tone down brightness and are perfect for mid to bright conditions. These lenses are true-to-color, making them ideal if you're after dark sunglasses that don't distort colors.
Happy Polar Lens
Happy™ Polar lenses are polarized to block 99.9% of glare. Available in bronze or grey-green tints, these polarized lenses are a great option if you love spending time on the water. However, since polarization can affect your depth perception, we don't recommend polarized lenses for sports like golf or mountain biking.
Happy Lens with Spectra Mirror
Black, blue, and green Spectra mirror coatings are our most popular choices. But if you're after even more flair, you can also get gold, pink, red, or silver. In addition to being a fashion statement, this mirror coating reflects excess light away from the lens. If you want a darker lens, or just to let your personality shine, we recommend adding a Spectra mirror.
---
Best SPY Optic Sunglasses
Now that you know all there is to know about Happy™ lenses, check out one of our top favorite SPY picks. For the full list, check out Best SPY Optic Sunglasses.
SPY Cyrus
We really love the bold, square shape of the SPY Cyrus coupled with that vivid red mirror. It really makes you stand out!
SPY Cyrus Key Features:
Sturdy Grilamid frame
Thick temples block light and add style
Prescription-ready with authentic Happy™ lenses
SFW: 139 (Men's L, Women's L-XL)
---
Prescription SPY Optic Sunglasses Online at SportRx
Need prescription SPY sunglasses? Done. When you shop with us, you'll find video guides and tooltips throughout the build process as you customize the perfect pair. An answer to all your questions is at your fingertips, and if you want to chat with an expert, Contact Us. We'll put you in touch with one of our friendly in-house opticians who can help you build your prescription SPY sunglasses.
Ditch risky online shopping with the See Better Guarantee. Try your sunglasses for 45 days. If you're not satisfied, send them back. Get a full refund, exchange, or credit towards a better pair. And return shipping? Covered. Get your pair of prescription SPY sunglasses at SportRx today!