The Ultimate SPY Optic Lens Guide For Sunglasses
SPY HAPPY lenses are the only lenses on the marketing with therapeutic benefits! Sunglass Rob and Shady Brady are here to help break down the steps to finding your perfect shades and offer the Ultimate SPY Optic Lens Rx Guide!
Since 1994, SPY has been discovering the best lens innovation through experience in optic designs and scientific research. Starting with the game-changing Scoop® ventilation system, SPY engineered fog-free sunglasses and goggles. Just to mention a few more of SPY's innovations, they created Trident® polarization, and the Lock Steady™ fingerprint-free lens changing system.
SPY prides themselves on being a happy-go-lucky family committed to providing unbeatable optical products. SPY Optic sunglasses are crafted to combine the outdoor sporty community with everyday wear. SPY sunglasses are durable and reliable for any of your adventures, and are also stylish for all day use. Whatever your day has in store for you, you can rely on SPY sunglasses to make you happy.

SPY Optic Happy Lens Technology:
SPY named their technology HAPPY Lens because this lens technology actually makes you happy! First and foremost, the clarity and quality of SPY sunglasses will bring you joy. They offer a brighter more crisp vision. On top of making you happy due to your vision, Happy Lens provide a therapeutic benefit in actually uplifting your mood.
SPY has their lenses down to a science...literally. SPY Optic Happy Lens technology is crafted off of scientific studies about Seasonal Affective Disorder and the Usage of Long and Short Wave blue light. Seasonal Affective Disorder is a type of depression that is cause from a reduced level of sunlight during the winter and fall seasons. A lack of sunlight can cause a decrease in serotonin (a brain chemical that affects your mood). After doing essential research, SPY created a lens that not only helps you see better, but feel better.
SPY Optic lens technology is the only lens available to use beneficial long-wave blue light. Happy Lenses allow in the long-wave blue light(the good), while protecting against the eye damaging short-wave blue light. Long-wave blue light enhances color, contrast and clarity offering a more vivid and defined surrounding. SPY Optic Happy Lens technology will provide an unbeatable vision, as well as an improve mood. Long-wave blue light stimulates the brain's level of serotonin to help increase alertness and promote a healthy circadian rhythm.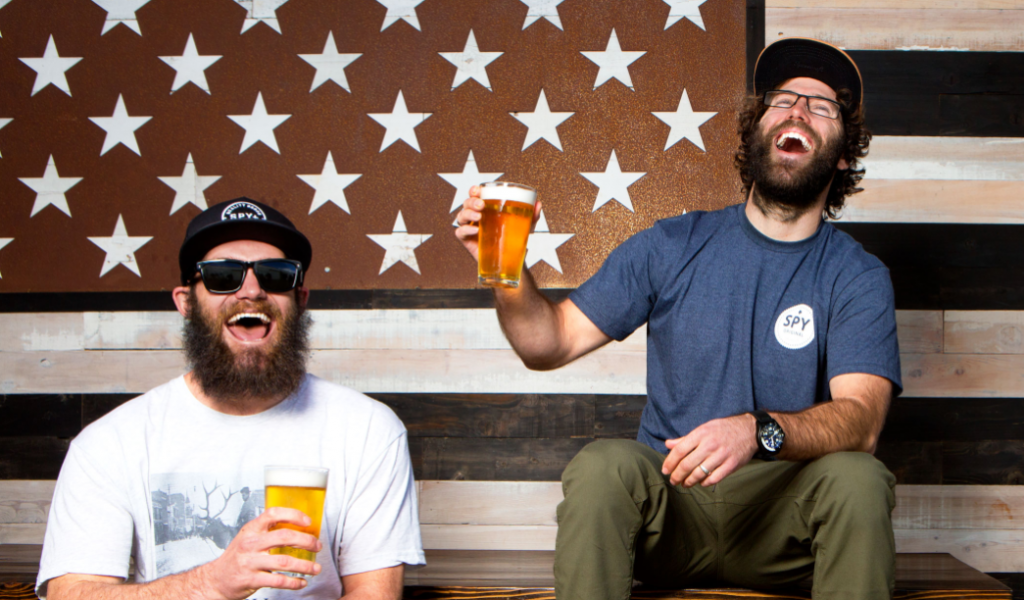 Basically:
Happy Lens let's in the Long-wave blue light (good rays).
Happy Lens blocks out the Short-wave blue light (bad rays).
Long-wave blue light will enhance color, contrast and clarity making you see better.
Long-wave blue light improves mood and increases alertness making you feel better.
Picking Out Your SPY Optic Lens Happy Rx
Happy Bronze
Happy Bronze Lenses offer superior color and contrast enhancement. Happy Bronze Lenses also improve mood and increase alertness.
Happy Grey Green Lenses
Happy Grey Green Lenses will tone down brightness and are perfect for mid to high-light conditions. Grey Green Len's color enhancement and increased contrast will help you see changes in terrain better.
Happy Lens with Spectra™ Mirror
Happy Lens With Spectra™ Mirror lenses are available in blue, green and red and are a great pop of color to make the perfect fashion statement.
Happy Polar
Happy Polar Lenses will block glares to provide a clear vision. Happy Polar Lenses will also increase contrast without distorting any colors. Happy Polar Lenses are a great option if you love spending time on the water.
---
---
STEPS TO BUILDING YOUR Rx SPY SUNGLASSES
Happy Polarized
Eliminates 99.9% glares.
Ideal for sunny environments on the water or at the beach.
Preferred for everyday activities.
Happy Non-Polar
Beneficial if you need depth perception.
Ideal for golfers or mountain bikers.
Preferred for sports where glares are not necessary a problem.
Step 2:

Grey or Brown Lenses?

Grey
Provide a darker more natural vision.
Tones down brightness without distorting colors.
Ideal for everyday activities where high contrast is needed.
Brown
Provide a pop and warms up vision, creates more contrast and color.
Offers comfort in a wide range of conditions.
Ideal for outdoor and sport activities.
Step 3:

Mirror or Non-Mirror

Mirror
Add an extra layer or protection.
Non-Mirror
Everyday life activities.
You prefer the normal lens aesthetic appeal.
Step 4:

Pick & Choose your Color
Color options: orange, blue, red, silver, green, black, pink, and yellow.
All the mirror lenses have the same function, just personal preference on color choice.
Let your personality shine through! SPY gives you the opportunity to create your sunglasses the way YOU want them!
Ready to See Better & Feel Better? Put Spy Optic lens technology to the test and first hand experience their lens innovation. If you want to see (a little) better, just contact a certified SportRx optician, and they will help custom tailor your prescription SPY Optic sunglasses. Did we mention the SportRx return policy with SPY Rx lenses? Return the glasses within 45 days and we'll either craft you a new pair until they're perfect, or send a full refund. We'll even cover the shipping...yup that means free shipping! SportRx wants to make sure you absolutely love your new shades, trust us, we know how important sunglasses are.