SPY agent Shady Brady brings the bubbly to Sunglass Rob and Tyler the Optician to toast to SPY Bellows Sunglasses! A member of the premium Crosstown Collection, SPY takes an all-new approach to a throwback style. And there's a lot to be happy about, like Happy Lens™ and the latest and greatest materials out there! In fact, between classic style and amazing durability, Tyler goes so far as to say SPY Bellows Sunglasses will be your "Forever Pair"! Get the lowdown right here:
SPY Bellows Sunglasses ... in a Nutshell
The SPY Bellows are crafted from premium handmade acetate and stainless steel with 3 barrel hinges, making them quite the substantial pair of sunglasses! Not only will you be kickin' an understated cool at that Sunday patio party, you will also find the Bellows extremely comfortable. A standout feature is the unique metal angular bridge that joins the 6-base nylon lenses. And what about those lenses? They are the detail- and mood-boosting SPY Happy Lens™! More on that later. The SPY Bellows also feature anti-reflective coating on the backside of the lenses to banish glare from light sources behind you. Now that's a pretty premium plus in the world of sunglasses!
Did you know that four out of five dentists recommend Trident™ polarization filters for their patients who wear sunglasses? OK, not really. But the good news is, these SPY Bellows Sunglasses have them! And what does that mean for you? Well, Trident™ polarization filters the sun's hyperactive, glared-filled rays into a stream of clean, clear light. So glare from water, pavement, or the reflective car next to you is reduced by up to 99%. Isn't that nice!
What Makes These Lenses So Happy?
The secret to the SPY Happy Lens™ is a unique, proprietary lens curve that transmits a specific maximized amount of "good" rays, while still blocking out the bad rays. The SPY Happy Lens™ amplifies color and contrast, while also tapping these "good" rays that our bodies naturally crave. Not only will you have an amazing sight before your eyes everywhere you look, these "good" rays are said to have a lasting, positive impact on the body that can be felt even after you take off your SPY Bellows! Whoa!
The Specs on the SPY Bellows Specs
If you are looking for a Small to Medium fit, the SPY Bellows are just for you! Check out the specs on these specs below: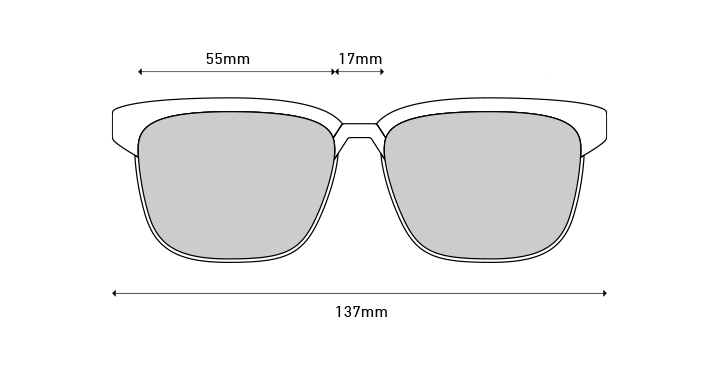 Prescription SPY Bellows Sunglasses
So, what else? Oh, do you have a prescription you'd like to incorporate? Well, SportRx is just the place to help you out! We have a team of opticians ready, willing and able to help you kit out your prescription SPY Bellows Sunglasses 7 days a week! Just call us up or "speak" to a friendly optician online at sportrx.com!