Since 1965, SMITH has focused on constantly improving itself. This drive for innovation has resulted in the SMITH Guide's Choice, a truly top-notch pair of fishing sunglasses that made our list of best fishing sunglasses of both 2019 and 2020. Read on to learn more.
---
Frame Details
With a fit ranging from L to XL, the Guide's Choice makes a perfect fishing sunglass for those with bigger heads. Get these in either a sleek black look or with a matte finish for extra comfort. Speaking of comfort, these sunglasses feature a full wrap with an 8-base frame, and extra-wide temples to block out all sunlight. A better wrap is very important particularly in fishing due to all the reflected light. With the Guide's Choice, you'll be able to enjoy even those long fishing trips without eye strain from hours in the sun.
---
Lens Details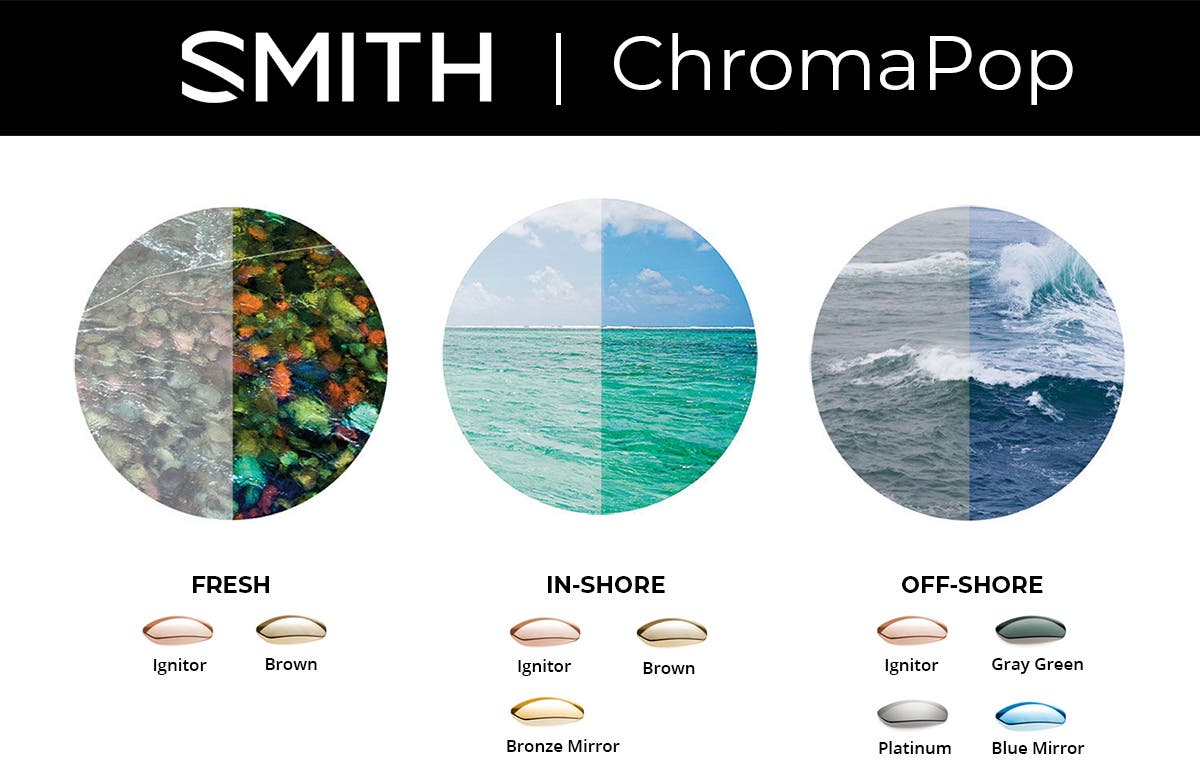 The lenses are just as good as their frame. SMITH's ChromaPop technology corrects color confusion and makes colors pop. Whether you get these in prescription or not, the ChromaPop lenses are so clear you can practically see into the future. All SMITH lenses have their tapered light technology (TLT) as well, which corrects distortion on the outer edges of the lens to give you the widest field of vision possible.
The SMITH Guide's Choice is also equipped with grips on the nose and temples as well as an included detachable leash to ensure these stay on even in rough waters. Simply remove the leash to wear these on calmer days.
Last but not least, you can get the SMITH Guide's Choice in prescription with ChromaPop lenses. If these improve your fishing game and help you haul in your biggest catch yet, be sure to let us know!
Frame Dimensions
Lens Width: 62mm
Lens Height: 42mm
DBL (Distance Between Lenses):17mm
Temple to Temple Width: 136mm
Temple Length: 120mm
---
Prescription SMITH Sunglasses at SportRx
Need prescription SMITH sunglasses? Done. When you shop with us, you'll find video guides and tooltips throughout the build process as you customize the perfect pair. An answer to all your questions is at your fingertips, and if you want to chat with an expert, Contact Us. We'll put you in touch with one of our friendly in-house opticians who can help you build your prescription SMITH Sunglasses.
Ditch risky online shopping with the See Better Guarantee. Try your sunglasses for 45 days. If you're not satisfied, send them back. Get a full refund, exchange, or credit towards a better pair. And return shipping? Covered. Get your pair of prescription SMITH sunglasses at SportRx today!