This season, Smith is introducing 8 new lens tints! This will give you the ability to custom your vision to your particular conditions and environment! SportRx made a trip to Mount Hood to spend some time skiing, snowboarding and reviewing new Smith products just for you. Here is what Sunglass Rob and Graham Sours have to say about Smith ChromaPop Sun Lenses!
Smith ChromaPop Sun Lenses:
Smith ChromaPop Lens technology works by filtering out and distinguishing between blue & green and red & green lights. This will help eliminate color confusion, so your brain can recognize truer color. The results of this are a greater definition, more natural color, and unbeatable clarity. Smith ChromaPop Sun have four lenses and the basic idea of all of them is similar: Dark lenses for really bright days. The Sun lenses are ideal for very bright and cloudless days. This lens technology will help ease any harsh glares from the sun, and even deliver great visibility on the slopes.
What Does VLT Mean? VLT Stands for Visible light transmission. It is the measurement for amount of light transmission. The lower the VLT the darker the lens.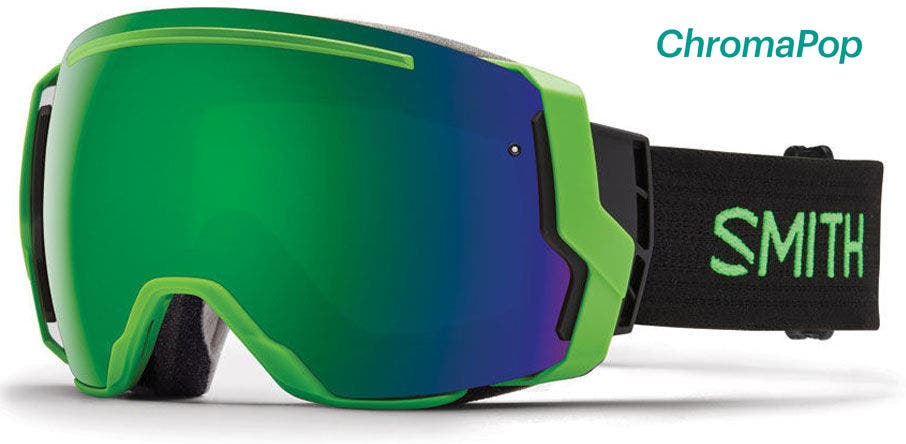 ChromaPop Sun Green
9% VLT,
Sun Green is the darkest lens in the Sun Collection, and is going to let in the least amount of light.
ChromaPop Sun Black Out
12% of VLT.
These are the lenses that you want to go for if you have really sensitive eyes.
ChromaPop Sun Platinum Mirror
13% VLT
If you still want protection but don't want to go that dark; Platinum and Red are ideal for you.
ChromaPop Sun Red
16%.
Even though these lenses are dark, the ChromaPop technology still gives you intense contrast!
Smith Snow Goggles come with Two Lenses!
Many people find that they can still wear dark lenses on cloudy days. That's all thanks to the incredible ChromoPop technology the lenses have. A huge thing we love about Smith is that you don't have to have just one lens. All of these goggles come with two set of lenses. So if you get a dark lens, there is going to be a Stormy conditions lens in the box giving you a lighter lens as well.
If you need some clarity in the mountains, SportRx is here to help you with any prescription needs you might have! Go to our website for prescription goggles or contact one of our expert opticians and we will start working together to find you the perfect match!