Formula 1 fans, Ferrari aficionados, and Ray-Ban enthusiasts, this collection was made for you.
SportRx is proud to introduce the Ray-Ban Scuderia Ferrari Collection. A collaboration of two legendary brands, each with a rich history and a flair for pushing boundaries. The Ray-Ban Scuderia Ferrari Collection highlights a shared pursuit of excellence with a passion for elegant design. For those who embrace this uncompromising attitude towards form and function, you'll achieve superior optics and elegant Italian style with Ray-Ban Ferrari sunglasses. With performance and beauty at the forefront of every design, the Ray-Ban Ferrari Collection proves you can have the best visual experience without compromising on impeccable style.
---
Ray-Ban Ferrari Sunglasses
1. RB2132M New Wayfarer
2. RB4195M Wayfarer LiteForce
3. RB8313M
4. RB3647M
5. RB4297M
6. Ray-Ban Ferrari Collaboration Packaging
7. Ray-Ban Ferrari Prescription Sunglasses
---
RB2132M New Wayfarer
Iconic Ferrari details breathe new life into this Ray-Ban favorite. The Ferrari New Wayfarer boasts the same flattering shape as the Classic with its soft square lenses and lightweight nylon construction. Ultra-comfortable to wear, it's no wonder why this frame continues to be one of the most popular Ray-Ban frames to date. Today, the RB2132M features pops of color to highlight the Scuderia Ferrari brand heritage. Featuring the signature Wayfarer rivets in Ferrari red and the Modena yellow Shield on the left temple, you'll stand out from the crowd when wearing the Ray-Ban Ferrari New Wayfarer sunglasses.
---
RB4195M Wayfarer LiteForce
While there is no question regarding the popularity of the New Wayfarer, the Original Wayfarer was the one that started it all. An icon in the world of sunglasses, this style quickly rose to fame with the help of Hollywood. Frequently spotted in blockbuster hits, the Original Wayfarer has been spotted on a long list of celebrity A-listers and influential musicians. Today, the Wayfarer is better than ever as the Ferrari Wayfarer LiteForce. Built from the same material often used in automotive and aerospace industries, LiteForce provides superior lightness, comfort, and durability. Matte finishes allow Ferrari red accents to pop while metal accents on the temples elevate the look. You'll be in good company with the Prancing Horse as seen on the left lens, temple, and temple tip when wearing your Ferrari Wayfarer LiteForce sunglasses.
---
RB8313M
This Aviator-inspired frame is ideal for those ready to put the pedal to the metal. A member of both the Ray-Ban Ferrari Collection and Ray-Ban Active Collection, these pilot-shaped sunglasses deliver maximum style with performance in mind. Built from Ray-Ban's patented Carbon Fibre, a cutting-edge material that is both flexible and durable, you'll receive ultra-lightweight wear that can withstand your busy days. Comfort is enhanced with adjustable nose pads and flexible temple tips that are wrapped in the striking Ferrari red. A subtle hatched pattern elevates the temple design while featuring the Ray-Ban logo on the right and a Scuderia Ferrari plaque on the left.
---
RB3647M
You'll be ready for the Grand Prix in this Round Metal inspired frame, the Ferrari RB3647M. The Ferrari attention-to-detail is front and center in this unique design. Glossy plastic rims surround the lenses while a minimalist metal frame creates a polished outline. A curved brow line contrasts the structured nose bridge which hovers over the adjustable nose pads in Ferrari red. This pop of color is also seen on the covered temple tips which features a Modena yellow Ferrari Shield on the left. A truly standout frame in the Ray-Ban Ferrari Collection, we guarantee this frame will get you noticed.
---
RB4297M
Sometimes the most impactful looks are delivered with understated style. Embracing the effortlessly cool Ray-Ban aesthetic, the RB4297M is the frame that stands out without having to compete. A classic square lens provides generous coverage while clean lines create a flattering shape. Made from Peek, a high-performance thermoplastic, these sunglasses are flexible, durable, and extremely lightweight. Rubber injected temple tips provide a secure fit while featuring the eye-catching Ferrari red. You'll also get an extra dose of this vivid color on the Ray-Ban signature rivets. A perfect blend of two icons, the RB4297M sunglasses are as refined as their wearer.
---
Ray-Ban Ferrari Collaboration Packaging
In addition to the unique and distinctive look of each Ray-Ban Ferrari frame, you will also receive special packaging unique to the collaboration. Every Ray-Ban Ferrari frame comes with one box, one case, and one cleaning cloth, all of which feature the signature Ray-Ban logo and emblematic Ferrari Shield. From the moment you receive your Ray-Ban Ferrari sunglasses, you'll know you're getting a unique experience that makes you a part of two iconic brands. The best is yet to come–just wait until you put your frames on.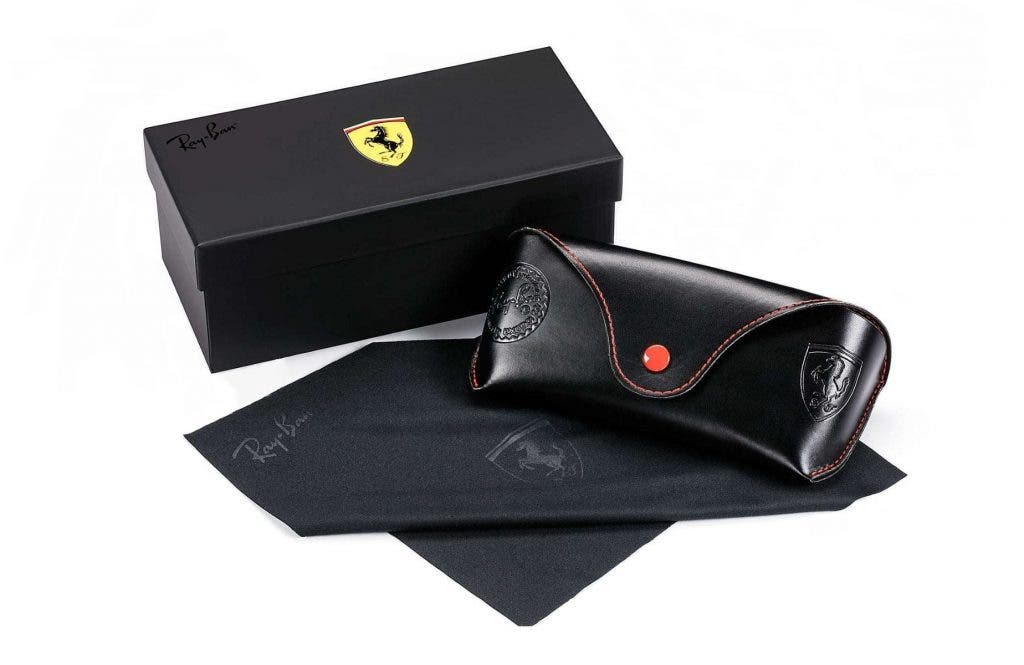 ---
Ray-Ban Ferrari Prescription Sunglasses
At SportRx, our mission is to help you see better while doing the things you love. Whether you're watching your favorite team compete in a F1 race, or you're looking for a stylish frame for your daily commute, we only offer the best eyewear to fit your unique personality and vision needs. All of the frames in the Ray-Ban Ferrari Collection are available in YOUR prescription. Tailor-made for you. By Ray-Ban. We guarantee that Ray-Ban Ferrari prescription sunglasses will quickly become your new favorite eyewear. We have helpful guides and tools throughout the customization process and have a team of friendly opticians ready to help, 7 days a week. Contact us and we'll be happy to help you into Ray-Ban Ferrari sunglasses that will have you seeing clearly in no time.
Ditch risky online shopping with our See Better Guarantee. If you are not 100% satisfied with your Ray-Ban Ferrari prescription sunglasses, simply let us know within 45 days of receipt. We will remake them to perfection, coordinate an exchange, or provide a full refund. Don't let fears of shipping and restocking fees hold you back. We cover shipping-both ways, and never charge restocking fees. Your peace of mind is worth it.