Whether you've been playing racquetball for a while or you're new to the courts, San Diego has plenty of great courts. We rallied the top 3 racquetball courts in San Diego to make your search a bit easier. Check out this blog to find the right place for you.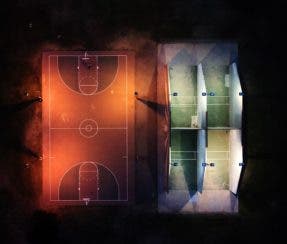 1. San Diego Tennis & Racquet Club

Located right off Interstate 5, in the Bay Park area, the San Diego Tennis & Racquet Club is the local spot. Not only is it a great location for all the beachgoers, but they're loaded with amenities that will satisfy your court cravings. With 22 courts including a stadium court, quickstart, and backboards you'll be sure to get in a good rally. So whether you're a competitive or social player, the SDTRC has access for you.
4848 Tecolote Rd, San Diego, CA 92110
2. Aztec Recreation
A hidden gem of Aztec Recreation membership is their racquetball courts. With all this center has to offer there's no surprise they have quality courts. AR racquetball courts are available for drop-in games for both youth and adults. They even have complimentary equipment to check out systems where you can use racquets, balls, and even goggles. Looking for a pair of goggles to call your own? Check out all our racquetball goggles and glasses here!
Located on the west side of Peterson Gymnasium
55th Street, San Diego State University, San Diego, CA 92182
3. LA Fitness
The sweet spot for all things sweaty. LA Fitness is a great spot for those visiting with membership or players who love to get in their daily racquetball rally. Because LA Fitness is a gym, they're packed with great amenities, including racquetball courts, of course, that will be worth your buck. The beauty about memberships here is that these gyms are located all over the country, so if ever you're in sunny Florida, you can get in your game without missing a step.
4984 Shawline St. San Diego, CA 92111
Now that you've got the insider scoop on the top 3 racquetball courts in San Diego, which one will you choose?