Since 1913, Prada has been a top brand dominating the cosmopolitan women's fashion industry. Founded in Milan, Italy, Prada specializes in luxury fashion accessories for women across the globe. Much of this market is geared specifically towards women who want it all, from professional attire to chic and unique accessories. Start your journey to sophistication with the all-new Prada PR 01OS square sunglasses. Continue reading to learn more about Prada's newest innovation.
Prada PR 01OS Features
Prada's latest design brings out the beauty of your facial features for anyone who puts them on. The PR 01OS square sunglasses are made of acetate and have metal accents on the frame front. Its wraparound temples and saddle bridge allow for a comfortable and durable fit for those with medium to large oval or rounded faces. The plastic lenses are scratch resistant and allow for additional options such as polarization and prescription. Pick out your favorite pair from the several different color combinations of frames and lenses. The lightweight, standard fit and stylish look of the PR 01OS square sunglasses allow them to keep up with your on-the-go lifestyle while remaining chic and poised.
Prada PR 01OS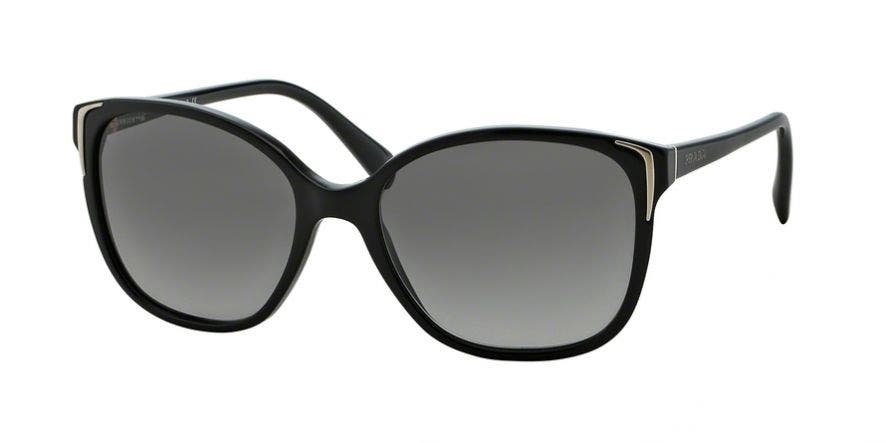 Prada PR 01OS in Black
Frame Dimensions
Lens Width: 55mm
Lens Height: 46mm
DBL (Distance Between Lenses): 17mm
Temple to Temple Width: 129mm
Temple Length: 140mm
Prada PR 01OS Square Sunglasses at SportRx
SportRx has just expanded and partnered up with Prada, one the top brands of the women's fashion industry. Here at SportRx, our expert opticians are standing by 7 days a week to accommodate your prescription needs with the pair of your choice, including the Prada PR 01OS square sunglasses. Contact Us today for any questions you may have or if you're ready to place your order!