Sunglass Rob is back on a beautiful bluebird day to test out the all-new POC Spektris Gold Lens. And with him is Ben of POC Sports, who explains that this lens is a member of the Clarity Collection ... and rightly so! Rob can't get over the unbelievable clarity, contrast and definition the POC Spektris Gold provides. The lens has a highly tuned brown base tint paired with a gold mirror coating, which enhances the light conditions, boosts the contrast and defines the snow below. See it in action right here:
The Science Behind POC Clarity
The sky is blue ... and when reflected onto snow, you get an even bigger overload of the color blue. This has led to the development of "blue blockers". But POC realized if you eliminate all of the blue, you also take away a lot of the possibilities to see the hollows and bumps in a ski slope. So with the Clarity Collection, POC has been able to define the exact blue they want to include, which provides more information for the user. As well, POC has intensified color and contrast by letting through a precise amount of red light and has tuned the light spectrum to enable high contrast throughout the day.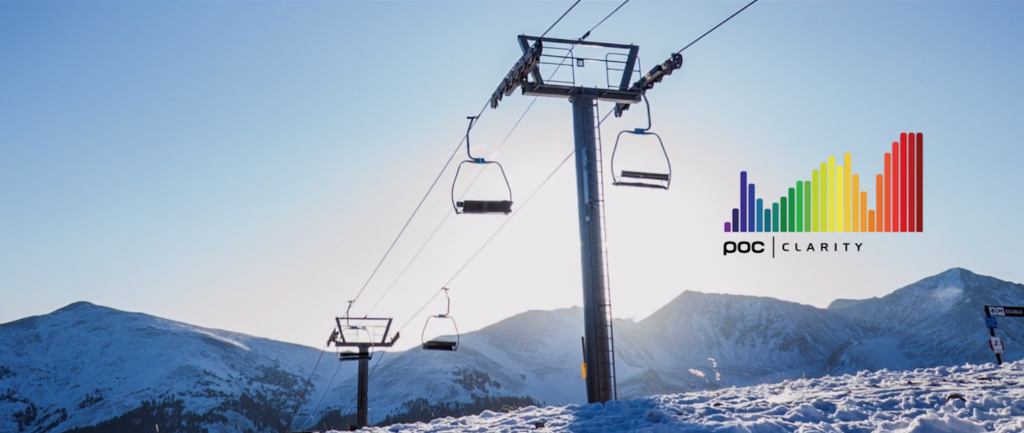 The POC Spektris Gold is a Category 3 lens built for full sun and full days of fun. It is a darker lens that carries 13% VLT (Visible Light Transmission), which is the amount of light that reaches your eyes through the lens. The Spektris Gold Lens has a traditional orange view, but definitely lets the blue come through. And don't forget what Rob said, unbelievable clarity and contrast! Another plus: the Spektris Gold has anti-fog and anti-scratch treatments to keep your lens clear and protected.
Prescription Snow Goggle Inserts
Need a little further clarity by way of prescription inserts? We can help with that, too! In fact, SportRx has a team of opticians available 7 days a week to help you get your prescription insert for your POC Spektris Gold Lens! Give us a call or order online!