Why are Nike Brazen sunglasses great for women? Put simply, these frames are a step above your average everyday sunglasses. While they'll keep you in style as you sip cold drinks at the beach, they're built for adventure and your most hectic of days — from running errands to running a marathon. These shades will offer you the comfort, durability, and distinctiveness you'll love. Plus, they are perfect for high prescription needs.
---
In this post:
1. Nike Brazen Review on YouTube
2. Nike Brazen Sunglasses Features
3. Nike Brazen for Women
4. Shop Nike Brazen Prescription Sunglasses
---
Nike Brazen Review on YouTube
Check out Eyeglass Tyler as he gives a full overview on the Nike Brazen in the video below!
Nike Brazen Sunglasses Features
Frames
First thing's first: these frames are lightweight and comfortable! You'll notice the Nike Brazen sunglasses have a thicker frame style that offers the same benefits of a wrapped frame, but without the extra arm length. That means added coverage against sunlight, dust, or small debris. You'll enjoy the ease with which you can ride your bike, spike a volleyball, or run the stairs without them slipping away.
One note: you'll want close to an exact fit with these frames, since the Nike Brazen doesn't have highly adjustable temples. Not to worry! At SportRx, our team of licensed sports opticians will make sure you receive the perfect fit. We also have a See Better Guarantee, so you can shop with confidence.
Bottom line: The frames are on the thicker side, but still lightweight and comfy.
Speaking of slipping, two additional key features that make these shades ideal for everyday wear are the uber lightweight nylon frames and soft rubber grips. The nose pad is neatly hidden from the outside, but hugs the nose with soft grooves for increased grip. It also boosts air circulation, which helps nix lens fogging during warmer activities. You'll also love the soft rubber temple tips that wrap comfortably behind your ears for keeping your specs in place.
Bottom line: Rubber nose pads and temple tips help the frames stay comfortably put.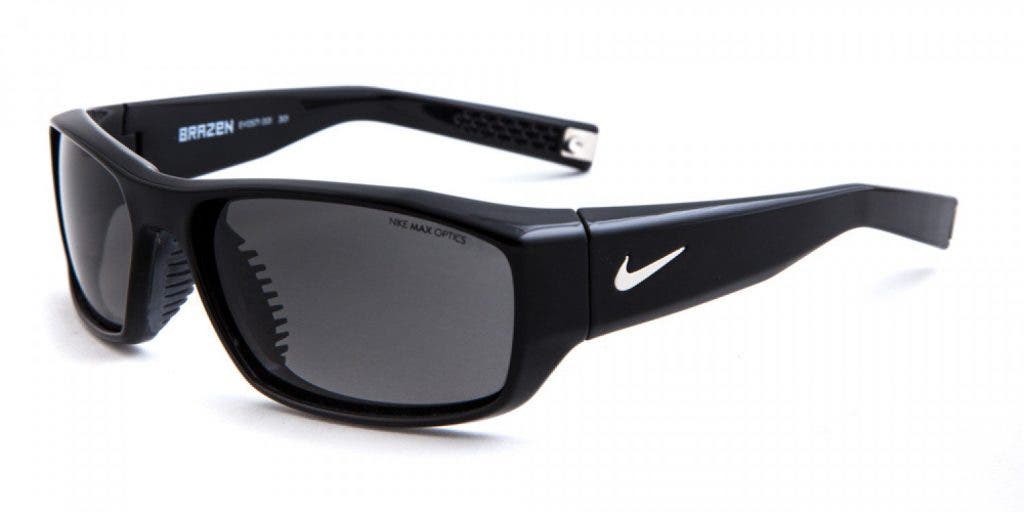 Lenses
We know what you're thinking: how can wrapped frames work with my strong prescription? Even though the frames have a slightly rounded design, the lenses are set flatly into the frames. That makes these ideal for higher prescription wearers.
For lens features, the Nike Brazen sunglasses are durably equipped with lightweight, impact-resistant polycarbonate material. All lenses also come with glare protection and a moisture-resistant hydrophobic coating.
Bottom line: Nike Brazen sunglass lenses are available in both high prescription and non prescription.
Nike Brazen for Women
Ladies, if your head is on the larger side and it's challenging to find a women's frame that works with your dome, give the Brazen a try! These frames measure at a SportRx Frame Width of 132mm, which puts this frame right in between a women's medium and large — but mostly a large.
Bottom line: These frames are a women's large and perfect if your head is on the bigger side.
Shop Nike Brazen Prescription Sunglasses at SportRx
Ready to get started? Have questions? At SportRx, we make it easy to find quality performance eyewear with the lenses you need. You can even chat with a friendly, in-house licensed optician to discuss your unique preferences. Contact us seven days a week.
Get your pair of Brazen Nike sunglasses and wear them for 45 days. If after that time you're not happy with them, send them back to us for a full refund, exchange, or credit towards a pair that works better for you. We even cover the cost of shipping both ways! It's really that easy.