Finding the best high prescription sunglasses doesn't have to be hard. Our all-inclusive guide is your ultimate companion for finding the pair that fulfills your high Rx demands. No more settling for less on lens options or compromising on designs that fail to ignite your passion. Unlock the secrets to effortlessly obtaining high prescription sunglasses customized to your vision needs.
Best High Prescription Sunglasses Guide
A. Best High Prescription Sunglasses
B. Important High Prescription Sunglasses Features
1. Frame Technology
2. Lens Technology
C. Shop High Prescription Sunglasses
---
Best High Prescription Sunglasses
Here's our top high prescription sunglasses for sports and everyday use!
Rudy Project Horus
We're all about sports at SportRx and the Rudy Project Horus is a great choice for prescription-wearing athletes. This sports sunglass frame is a top seller and for great reason. The Horus remains steady during bumpy rides and rigorous runs with rubberized grip on the nose pads and temple tips. These customizable features adjust to your perfect fit, making them ideal for those who struggle to find sunglasses that sit just right. It's made for wear and tear which brings us to the temples and lens system.
The temples are replaceable at a minimal cost and keep cash in your pocket while the lenses are easily removed. Upgrade them as you receive new prescriptions to keep your vision clear and prescise, and navigate your surroundings with confidence and accuracy. Plus, these shades are truly unique in design. The Horus features a classic compact sports frame that seamlessly fits along your eye socket. If you prefer sunglasses with a larger and more oversized appearance, these may not provide the look you long for. Additionally, the brow bar curves upward, making them great for cyclists who need unobstructed vision during aggressive geometry but this unique quality may not align with everyone's preferred look.
Rudy Project Horus Pros:
Rubberized grip holds frame stability during rigorous activities
Adjustable nose pads and temples fit unique face shapes
Replaceable temples offer long-lasting performance
Lenses are easily removed for upgrades
8-base curvature provides wrap around protection
Rudy Project Horus Cons:
Frame may not appeal to everyone's style
8-base curve may not be suitable for the highest prescriptions
---
Rudy Project Rydon + Rx Dock
Introducing the ultimate combo for high prescription sportswear—the Rudy Project Rydon + Rx Dock. These glasses handle the most complex prescriptions effortlessly. With their outstanding lens design, enjoy the sleek look of a wrap frame while benefiting from prescription compatibility.
The Rydon + Rx Dock combines the beloved frame technology of the original Rydon with comfort in mind—you can easily adjust the rubber nose pads and temples to achieve a personalized fit. It Keeps you free from the hassle of frame slippage.
The Rx Dock discreetly hides the thickness of your lenses behind the clip's rim to give you a clean and polished appearance. But it's important to note that the dock is full-rimmed. This means it may‌ provide a slightly more obstructed view than the original semi-rimless design. Still, the Rydon + Rx Dock's ability to handle high prescriptions sets it apart as a top Rx performer.
Rudy Project Rydon + Rx Dock Pros:
Lightweight TR90 Grilamid® frame is comfortable for all-day wear
Rx Dock handles high prescriptions with ease
Interchangeable lens system allows you to easily upgrade your Rx
Fully adjustable rubberized nose pads and temples allow for a customized fit
Rudy Project Rydon + Rx Dock Cons:
Higher prescription = higher cost
Full-rim frame may be a drawback for some
---
Ray-Ban New Wayfarer
The Ray-Ban RB2132 New Wayfarer is known for its iconic style that suits various face shapes. Made with fashionable, flexible, and durable nylon, the New Wayfarer keeps you rockin' everywhere you go. The RB2132 is smaller than the original Wayfarer and its softer look flatters multiple face shapes. It also keeps out extra sunlight from entering at the top of the frame by eliminating the panotoscopic tilt.
It features durable temples that proudly display the iconic Ray-Ban logo and provides a secure fit. The frame front is adorned with silver rivets—a signature characteristic of Ray-Ban Wayfarers—and the gently curved lenses are available in a wide range of colors, customizable to your personal style. And it doesn't stop there. To have the Ray-Ban logo showcased on the right-wearing lens of your high prescription sunglasses, choose Ray-Ban Authentic lenses during checkout. Otherwise, opt for SportRx custom lenses for unique color options.
Though the New Wayfarer is lighter than the original, it still does not feature rubberized grip. This can cause an issue when sweating on hot days in the sun. The nose bridge is also fixed so they may not sit right on everyone.
Ray-Ban New Wayfarer Pros:
Iconic style appeals to various face shapes
Multiple sizes allow you to find the perfect fit
Nylon frame is fashionable, flexible, and durable
Lenses are customizable
Ray-Ban New Wayfarer Cons:
Possibility of slippage
May not sit right on all nose shapes and sizes
---
Ray-Ban Daddy-O
Ray-Ban Daddy-O sunglasses meet the needs of active individuals looking for functionality and sleek style in one exceptional package. The full nylon frame is lightweight and durable so you won't feel weighed down on your adventures. The slightly wrapped design offers extensive coverage from UV rays, and the thick temples reduce eye irritation by providing additional wind protection. You also get a secure grip thanks to the rubber-retched temples, enhancing comfort during your activities.
The Daddy-O offers options for customization. Enhance your high prescription sunglasses by choosing Ray-Ban Authentic Lenses, which proudly display the Ray-Ban logo. Or, select Sport Optimized Lenses to enhance your performance on the go.
While the Daddy-O is a top choice for Ray-Ban enthusiasts, the straightforward Daddy-O design may not be for everyone. The lenses are on the shorter end while their width is wide, giving a cool, sleek look. The oval lenses fit most face shapes, so the aesthetic comes down to a matter of preference.
Ray-Ban Daddy-O Pros:
Lightweight nylon frame is great for all-day use
Slightly wrapped design offers ample coverage
Thick temples provide additional wind protection
Rubber-etched temples prevent slippage
Ray-Ban Daddy-O Cons:
Sleek style may not appeal to everyone
---
RAEN Remmy
RAEN Remmy sunglasses put a twist on classic round lenses with infused modern flair. Find the perfect shade for your style and individuality with a wide range of color options. These sunglasses feature an ultra-light construction, a slight horned temple, and a notched bridge, adding unique details to their design.
Remmy sunglasses are best suited for those with narrow faces, and are highly appreciated by travelers and backpackers who value fashion and functionality. However, they may not be the ideal choice for individuals with an oval face shape as they can over-accentuate the roundness. It's also important to note that colors online may appear differently than they do in person, with the tendency to look darker than they were on the screen.
RAEN Remmy Pros:
A variety of color choices
Lightweight frame is comfortable during extended wear
RAEN Remmy Cons:
Not ideal for oval face shapes
Frame colors may appear slightly lighter online
---
Oakley Pitchman R
Stay in style with Oakley Pitchman R high prescription sunglasses. Its classic keyhole bridge and round lenses deliver a refined combination, making it suitable for various occasions.
The Pitchman R goes beyond stylish. The temples are coated in Unobtanium™ grip, enhancing ‌overall stability and providing a balanced fit throughout the day. It also includes 4-base lenses, which are flatter than standard sunglass lenses. It can hold a variety of high prescriptions but does not provide wrap around safety, so the Pitchman R is best for casual use.
Oakley Pitchman R Pros:
Unobtanium™ provides a secure grip that enhances overall stability
Lenses are capable of holding high prescriptions
Lightweight frame allows for comfortable all-day wear
Oakley Pitchman R Cons:
4-base lenses offer less safety than 8-base lenses
---
100% Centric
Get ready to conquer the outdoors with a pair of 100% Centric high prescription sunglasses that bring style, functionality, and adventure to your eyewear game. Satisfaction with these sunglasses is high, especially among mountain bikers and runners.
The Centric is praised for its cool appearance and high performance. It offers suitable protection and clear peripheral vision so you are comfortably aware of your surroundings when encounters with wildlife are high. And with rubber grips on the nose pads and temples, you can enjoy a secure fit during intense physical activities as you ramp up the heat.
Stay comfortable as you take on new challenges with the lightweight and flexible frame. While most users are pleased with the fit, quality, and comfort of the Centric, a few individuals have mentioned that the frames appear slightly large on certain face shapes. Still, overall satisfaction with the fit and comfort remains high.
100% Centric Pros:
Large lenses provide suitable protection and clear peripheral vision
Rubber grips hold the frame steady
Lightweight and flexible frame adds comfort
Great for mountain bikers and runners
100% Centric Cons:
May appear slightly large on certain face shapes
---
Nike Brazen Boost
The Nike Brazen Boost strikes a balance between everyday wear and sports functionality. It caters to those who require high prescription eyewear for outdoor activities and is especially favored by cyclists. The temple design is flexible, delivering a comfortable fit, even when wearing the sunglasses underneath a hat or helmet. The frame's design also includes light-blocking properties on the sides and on top of the lenses. It's beneficial for cyclists when riding with their head in a downward position because it prevents reflections from reaching the back of the lenses.
One of the standout features of the Brazen Boost is its 6-base style, which minimizes distortion and accommodates higher prescription strengths. Also, the Brazen's unique nose pad design accommodates a wide range of nose shapes and sizes—including flatter nose bridges. It extends further from the face, similar to what is commonly seen in low-bridge fit frames. This design choice offers a wider range of customizations and provides additional comfort by allowing extra airflow, reducing the chances of fogging.
The Brazen Boost's sport/everyday hybrid design leans towards an everyday style rather than a highly sport-specific appearance. Some individuals may prefer a more specialized look for certain activities, so the aesthetic may not be for all athletes.
Nike Brazen Boost Pros:
Design is suitable for a wide range of activities
6-base style minimizes distortion
Comfortable under a hat or helmet
Prevents reflections from reaching the back of the lenses
Accommodates various nose shapes and sizes
Allows for extra airflow, reducing the chances of fogging
Nike Brazen Boost Cons:
Lacks a sport-specific appearance
---
SMITH Basecamp
SMITH Basecamp sunglasses are everything we love in an active lifestyle frame. Its casual-cool look packs a performance punch. The square lenses provide generous coverage and the frame stays in place when you're on the move. With Basecamp sunglasses, you'll never have to worry about slipping thanks to the reliable grip provided by Megol® rubber nose pads and temples. Designed to keep up with any adventure that comes your way, the Basecamp is the ultimate all-purpose frame.
SMITH Basecamp sunglasses are specifically designed with a generous fit, offering ample coverage for individuals with larger faces. Because of this, they may be less suitable for those with smaller or narrower faces. It is recommended to try them on or consult the manufacturer's size guide to ensure a comfortable fit. Additionally, the oversized lenses of Basecamp may not appeal to individuals seeking a more classic or subtle aesthetic.
SMITH Basecamp Pros:
Large square lenses protect from the sun and other elements
Stays securely in place during active movements
Megol® rubber nose pads and temples prevent slipping
Suitable for various outdoor activities and adventures
SMITH Basecamp Cons:
Less suitable for individuals with smaller or narrower faces
May not appeal to individuals who prefer a more subtle aesthetic
Some individuals may prefer a more specialized sport-specific design
---
SportRx Koda
Don't be fooled by their casual design. Whether you're biking, hiking, or enjoying a day at the beach, SportRx Koda sunglasses are the perfect companion for your outdoor activities. They're made from eco-friendly bio-resin material, providing a lightweight yet durable construction that keeps you comfortable all day long.
The temples and nosepad feature rubberized grip, ensuring a secure fit without sacrificing comfort. Let's not forget about the keyhole bridge design. Not only does it add a stylish touch, but it also reduces fogging, providing clear vision in challenging conditions. The wayfarer design suits different face shapes and enhances confidence with a flattering look.
The Koda has a 6-base curvature, which means it doesn't wrap around as much as other frames on our list of best high prescription sunglasses. If you need extra side protection against debris or sunlight, we recommend checking out the 8-base frames listed here.
But here's the ultimate game-changer: when you choose SportRx Koda frames, you'll receive FREE Single Vision prescription lenses at no extra cost! You can also upgrade to digital, bifocal, or progressive lenses, customizing them to meet your specific visual needs. With a wide range of sport-optimized lenses to choose from, you can truly personalize your eyewear for improved performance and style.
SportRx Koda Pros:
FREE Single Vision prescription lenses are included in the already affordable price
Keyhole bridge design minimizes fogging and flatters multiple face shapes
Perfect for casual activities like bike riding, hiking, and beach lounging
SportRx Koda Cons:
---
Important High Prescription Sunglasses Features
Frame Technology
Yes, it's possible to get the look you want with your prescription. Whether you're after sports sunglasses or something more casual, we have the perfect style for you.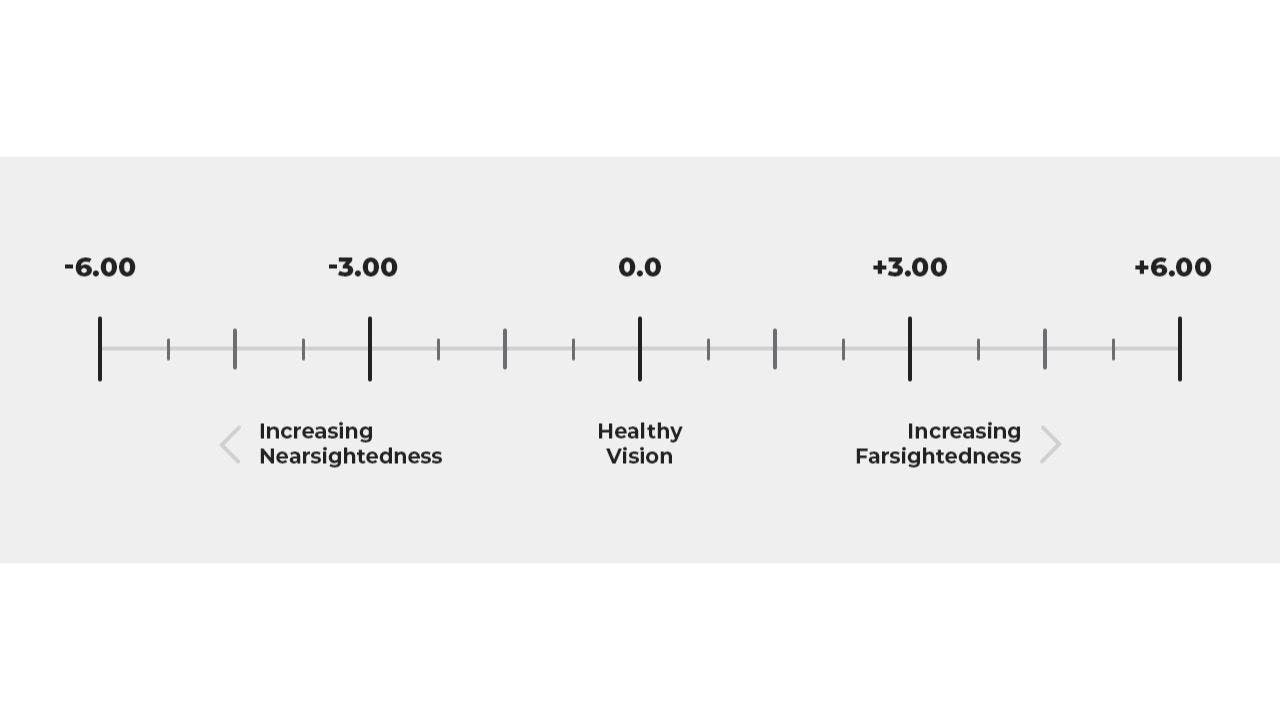 Frame Material
When choosing high prescription sunglasses, it's important to consider the fit, but you should also look for sunglasses with a lightweight frame material. High prescription lenses add extra weight to the frame, so it's best to avoid heavy materials that could make them uncomfortable.
Titanium is an excellent choice for casual styles, offering durability and lightness. Sports enthusiasts should explore polymer materials such as nylon or Grilamid® for performance and comfort. Find the perfect frame material that complements your high prescription sunglasses.
---
Coverage
Before purchasing high prescription sunglasses, consider what base curve to get. Base curve refers to how much the lenses curve and contour your face shape. As a rule of thumb, a flatter frame is better for high prescriptions.
Your standard pair of sunglasses are a 6-base and can fit a higher prescription. The downfall of a 6-base is that they don't offer as much coverage. 8-base frames hug closer to your face and are better for sports, but might not be able to fit your prescription without causing distortion. Thankfully, we're great at finding ways to make your prescription work.
---
Grip
Since you rely on prescription sunglasses more ‌than others, grip is key. Grip on the nose and temples keeps your sunglasses in place and optically aligned. This is especially important if you plan to use your sunglasses for sports.
---
Lens Technology
Let's talk about the lens tech needed to keep your eyes happy.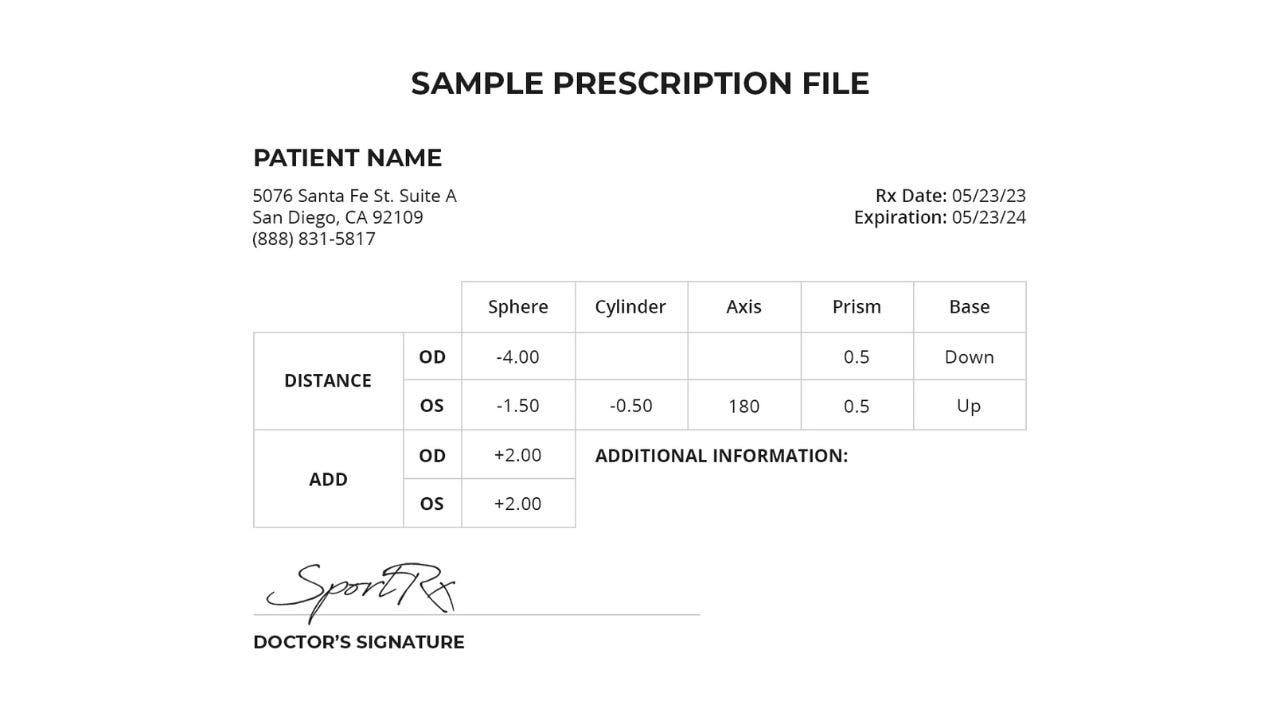 ---
Contrast-Enhancing
Most brands have their own contrast-enhancing technology available in prescription. There is PRIZM™ from Oakley, ChromaPop™ from SMITH, PolarizedPlus2 from Maui Jim, and so on. If that's not the case, SportRx custom lenses also come in a wide variety of tints to help you see your surroundings. The benefit of contrast-enhancing lenses is that they separate colors to bring out little details in your environment.
---
Impact-Resistance
Unless you're buying from Costa, it's pretty hard to find glass lenses for high prescription sunglasses. This is because the stronger the prescription, the thicker and heavier the lens. Usually, prescription lenses will be made of polycarbonate, Trivex, or a high index material. These are all impact-resistant and won't break if you drop your sunglasses.
If you plan to use your sunglasses in a sport application, you should steer clear of CR-39 (plastic) lenses. They are often available in prescription but are not as impact-resistant as polycarbonate.
---
High Prescription Sunglasses at SportRx
We hope our buyer's guide helped you separate the good from the best when it comes to your new high prescription sunglasses. Need more help? When you shop with us, you'll find video guides and tooltips throughout the build process as you customize the perfect pair. An answer to all your questions is at your fingertips, and if you want to chat with an expert, Contact Us. We'll put you in touch with one of our friendly in-house opticians who can help you build your prescription sunglasses.
Ditch risky online shopping with the See Better Guarantee. Try your sunglasses for 45 days. If you're not satisfied, send them back. Get a full refund, exchange, or credit towards a better pair. And return shipping? Covered. Get your pair of prescription sunglasses at SportRx today!