In this SportRx episode, Terry of Native Eyewear packs the Native Sightcaster Sunglasses and pays a visit to Sunglass Rob. Just like the sport of sight casting, Rob and Terry set their sights on catching all the details of this fine specimen. A full-wrap style designed for the large to extra-large set, these sunglasses serve as a great crossover to hardcore action. See what they have to say about the Sightcaster here:
NATIVE
Native Eyewear was born in Philadelphia in 1998, but 10 years later made its dream a reality by moving to the wide-open spaces of Denver, Colorado. So with that, it's pretty safe to say that Native has your back in all types of places, spaces and weather conditions. Urban Cowboy or Backcountry Cowboy, they've got something for everyone!
And not only is Native constantly coming up with new ways to improve their products, they also keep Mother Nature in mind. Get this! All of their frames are created from sustainable, biodegradable, agriculturally-derived materials. In fact, their castor bean-based frames are much more durable than the petroleum-based plastic ones. They also pack a higher strength-to-weight ratio, too. Net-net, Native Sunglasses are made of the "lightest, strongest, and most earth-friendly materials available in the world."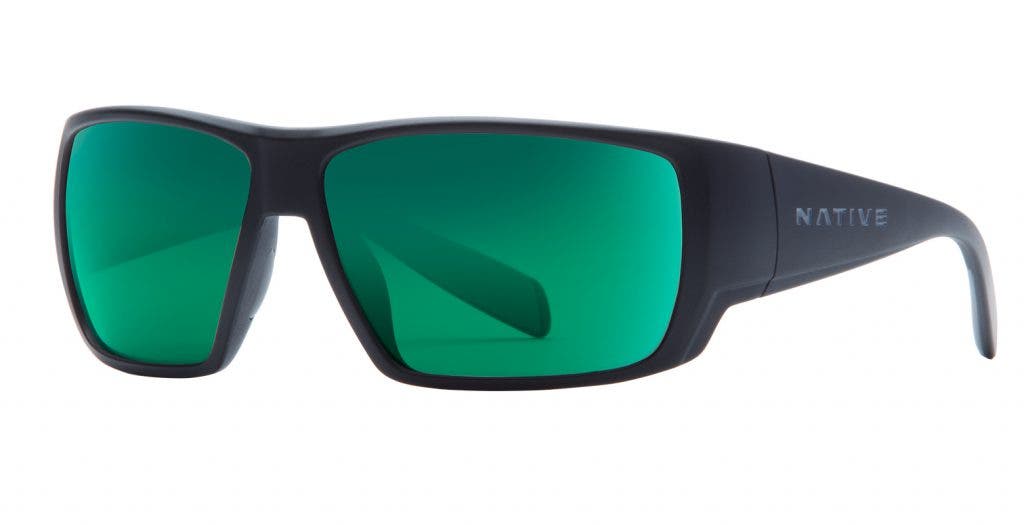 N3™ Polarized Lens Technology
These Native lenses block up to 4x more infrared light than your typical polarized lenses. Not only do they provide 99% UV protection, they are also injected with a durable polarization film that filters out glare and leaves you with a crisp, clean view with heightened depth perception and contrast.
Interchangeable Lens System
When the light conditions change, your lenses can, too! Not only is it quick and easy to change out your lenses to suit the sky, this design also prevents the lenses from shooting towards your eyes in the unsightly event of an impact.
C0-injected Rhyno-Tuff Air Frames
Native has engineered high-performance thermoplastic to create frames that are tough and durable like a rhino, but extremely lightweight ... almost like air! What's more, these babies can withstand high velocity collisions and extreme temperatures. Just hope you can, too!
Cushinol™
A Native invention, this composition creates a non-slip grip that is built right into the frame at the nose pads, temple arms and tips, so your shades stay in place when you pick up the pace. Another bonus in the way of comfort and fit is the Mastoid Temple Grip. This allows the temple ends to hug the bone you didn't even know you had, the Matsoid. It's the one right behind your ears, next to that nickel your grandad always finds!
Cam-Action Hinges
Native is all about being on the go and getting to where you are going with style and ease. And for those reasons, Native included this patented feature, which allows the temple to quickly lock into position.
Trilaminate Construction
Native created a composition that involves distinctly different layers that bond between the frame and the final touch, making theirs some of the most durable frames in the industry.
Dimensions
Lens Width = 63.8mm
Lens Height = 44mm
Bridge Width = 14.8mm
Temple Length = 129mm
Choices! Choices!
Grey lenses are best for sunny to partly cloudy/cloudy light conditions, 12%VLT.
Green Reflex mirror lenses enhance visual clarity and come with a brown base best suited for moderate to bright sunlight, 11%VLT.
Brown lenses deliver the brightest field of vision as well as superior contrast enhancement and high definition, 13% VLT.
Blue Reflex mirror lenses are suitable for extremely bright sunlight and have a gray base lens, 10% VLT.
Grey lenses are best for sunny to partly cloudy/cloudy light conditions, 12%VLT.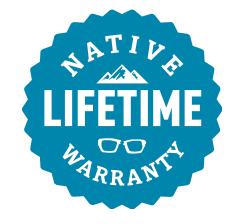 Native Lifetime Warranty!
Considering how active Native fans are, it's pretty surprising that Native has such an insane warranty in place. Here's the deal: 30 bucks will get you a brand new pair, regardless of what you did. Well, if you drop them off the Grand Canyon Skywalk, that's a different story.
Prescription Native Sightcaster Sunglasses
As you cast your sight on the world, would prescription sunglasses make it all seem clear? If so, SportRx can handle most any prescription out there! Just contact us online or give us a call and one of our top-notch opticians will work with you to make your prescription Native Sightcaster sunglasses into a reality!