When was the last time you thought about how to protect your eyes? It's often a thought we don't stop to consider until later in life. However, the truth is that everyone of all ages can and should benefit from quality eyewear. The great news is whether your job or favorite activity requires eye protection, or you simply want to get the most out of your daily sunglasses, SportRx has the right pair for your needs!
Here, we break down four of the most common risk factors and how to protect your eyes from each one with the right eyewear. And as a side note, this is only a short list! If you're looking for a specific kind of glasses or sunglasses, please be sure to reach out to our friendly in-house Sport Opticians with any questions you might have. We're happy to help!
---
In This Post:
A. How to Protect Your Eyes From Screens
1. What is blue light?
2. Blue Light's Effects on Eyes
3. Get Prescription Blue Light Blocking Glasses
B. How to Protect Your Eyes From Wind
1. Find Prescription Wind Blocking Sunglasses
C. How to Protect Your Eyes From Impact
1. What is the ANSI Z87.1 rating?
2. Who should wear impact-resistant eyewear?
3. Get Prescription Safety Eyewear
D. How to Protect Your Eyes From Sun Damage
1. Choose 100% UVA & UVB Protection
2. How Polarized Lenses Work
E. Get Quality Protective Eyewear at SportRx
---
How to Protect Your Eyes From Screens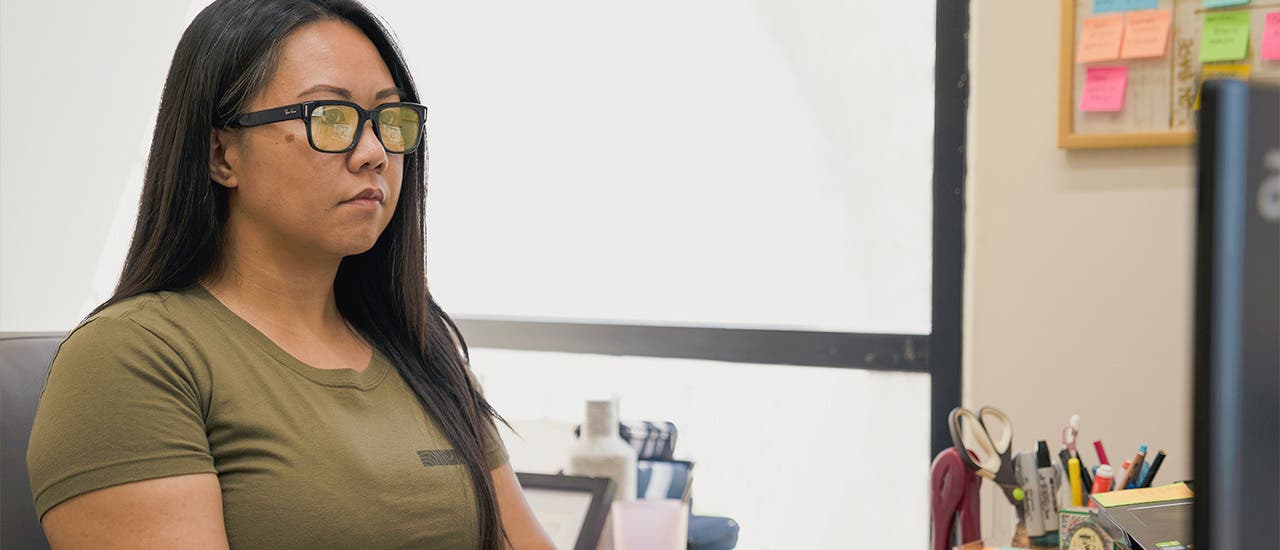 These days, you're hard pressed to find anyone who doesn't have daily screen time. Conditions like eye strain used to be a concern mainly for those who worked at computers. But nowadays, screens have found their way into almost every home and hand, particularly through smartphones.
How might digital electronics be affecting our eyes? Let's take a closer look.
What is blue light?
Despite its name, blue light does not necessarily "look" blue. In short, blue light is the color on the visible light spectrum with the shortest wavelength and highest energy. There are several main sources of blue light that most of us encounter regularly, like the sun, fluorescent lighting, and of course our screens.
Blue Light's Effect on Eyes
Blue light isn't inherently bad, though studies have begun to reveal that too much blue light could be linked to long-term eye problems like macular degeneration, cataracts, and even eye cancer. In particular, it's short-wave blue light or HEV (high energy visible) light that could be harmful. Our eyes don't naturally filter out all short-wave blue light and protective eyewear can help with this.
Learn more about how blue light affects your eyes by checking out our blog Blue Light Filter Sunglasses: Save Your Eyes From Harmful Rays.
Get Prescription Blue Light Blocking Glasses
SportRx has blue light glasses to suit a range of sizes, activities, and styles! We'll even customize the lenses to your prescription. Get started with the buttons below.
---
How to Protect Your Eyes From Wind
Whether you're on a motorcycle ride, hitting the slopes, or out at sea, wind can be distracting to say the least. More importantly, it can cause irritation and blurry vision when a clear view is imperative for your safety. Equipping yourself with quality eyewear is not only smart, it's essential!
Aside from protecting your eyes during high velocity activities, wind blocking sunglasses can also be worn for daily activities. In fact, the SportRx team is grateful to hear countless testimonies from real life customers dealing with chronic dry eye who have discovered wind-blocking eyewear.
I love my 7Eye Briza sunglasses. I live in Arizona and suffer from dry eyes. These glasses have helped this condition so much! — P.G.
Protect your eyes from wind for safety, comfort, and focus with quality eyewear.
Find Prescription Wind Blocking Sunglasses
Wind blocking glasses tend to be sorted by activity, the most common one being motorcycling glasses. However, we're proud to offer a range of wind blocking options in varying degrees — from goggles to frames with side shields. Keep in mind that any set of frames can be customized with the lenses you need, with many that can accommodate higher prescriptions.
To start, check out the brands below!
And, for a full breakdown of our top picks for motorcycle wind protection, check out our Best Motorcycle Glasses for Wind blog.
---
How to Protect Your Eyes From Impact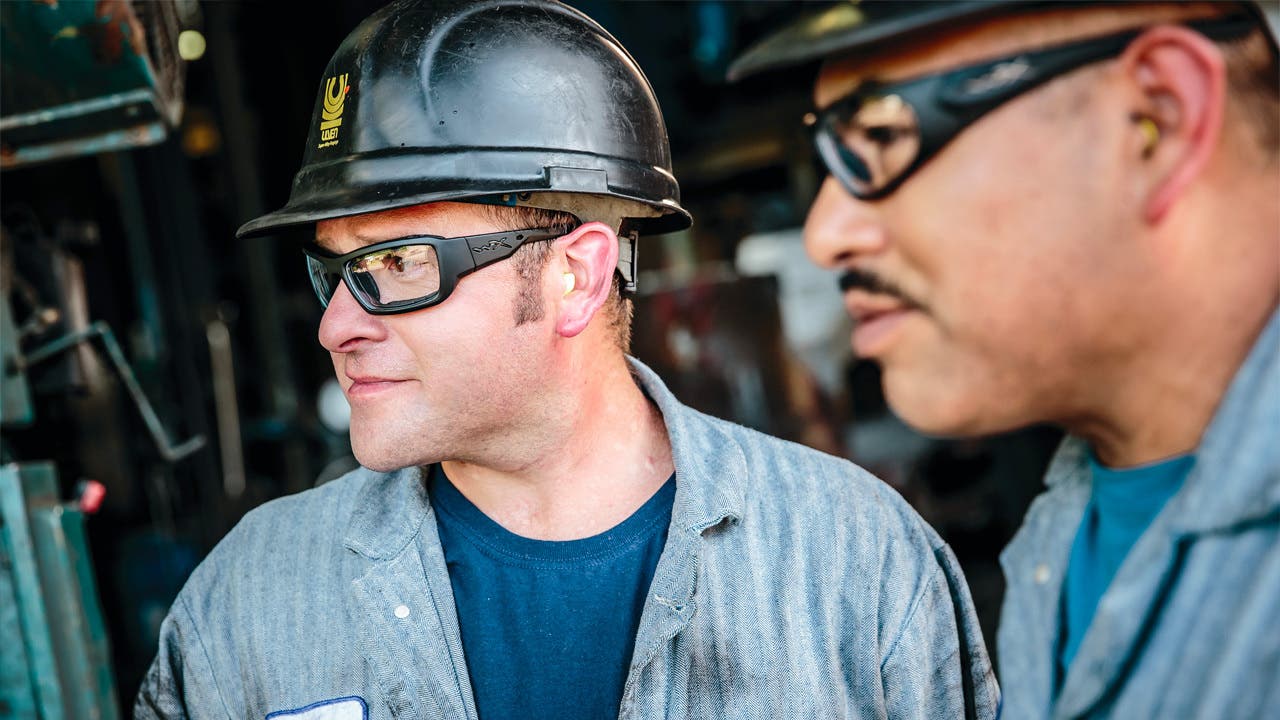 If you work a job or have a hobby that requires safety eyewear, you know that not just any pair of glasses will do. Shatter-resistant lenses will be enough for certain activities, while others will need to have a safety rating.
How do you find safety-certified glasses? Well, you've come to the right place!
What is the ANSI Z87.1 rating?
ANSI stands for American National Standards Institute, a non-profit organization that helps set safety and quality control expectations across different industries. The ANSI Z87.1 safety rating for glasses and sunglasses is the most recent standard set for shatterproof eyewear. This standard updates as needed, mainly based on advancements in technology.
Glasses and sunglasses with an ANSI Z87.1 rating undergo rigorous testing for blunt impact, high velocity impact, liquid splashes, small particles, and low level radiation.
For a more in-depth look at our top picks for safety eyewear, be sure to check out our blog on the Best ANSI Certified Prescription Safety Glasses of 2021.
Who should wear impact-resistant eyewear?
Whether your job requires it or you just want to play it safe, quality protective eyewear can be one of the best investments you make! A 2013 study by the American Academy of Ophthalmology showed that safety eyewear can prevent up to 90% of eye injuries.
Consider wearing impact-resistant eyewear if you work in:
Construction
Carpentry
Manufacturing
Metalworking
Auto repair or auto body
Plumbing
Electrical
Tactical or military settings
You'll also want to protect your eyes during your favorite hobbies. Put simply, any activity that involves projectiles or flying objects can pose a risk to your eyes.
Protect your eyes from impact during activities such as:
Shooting
Racquet sports, such as badminton, pickleball, tennis, or squash
Baseball
Woodworking
DIY home projects
Even if you don't see your favorite activity or job listed here, anyone can invest in a quality pair of safety glasses.
Get Prescription Safety Eyewear
On top of providing top-rated protection against hazards, did you know that you can order safety glasses in your prescription? That's right! At SportRx, our in-house ABO certified Sport Opticians work tirelessly to perfect your order, matching you with the right pair for your vision needs.
You'll also be surprised to find a variety of styles, colors, and frame types to fit your taste. Who knew that eye protection could look this good!
---
How to Protect Your Eyes from Sun Damage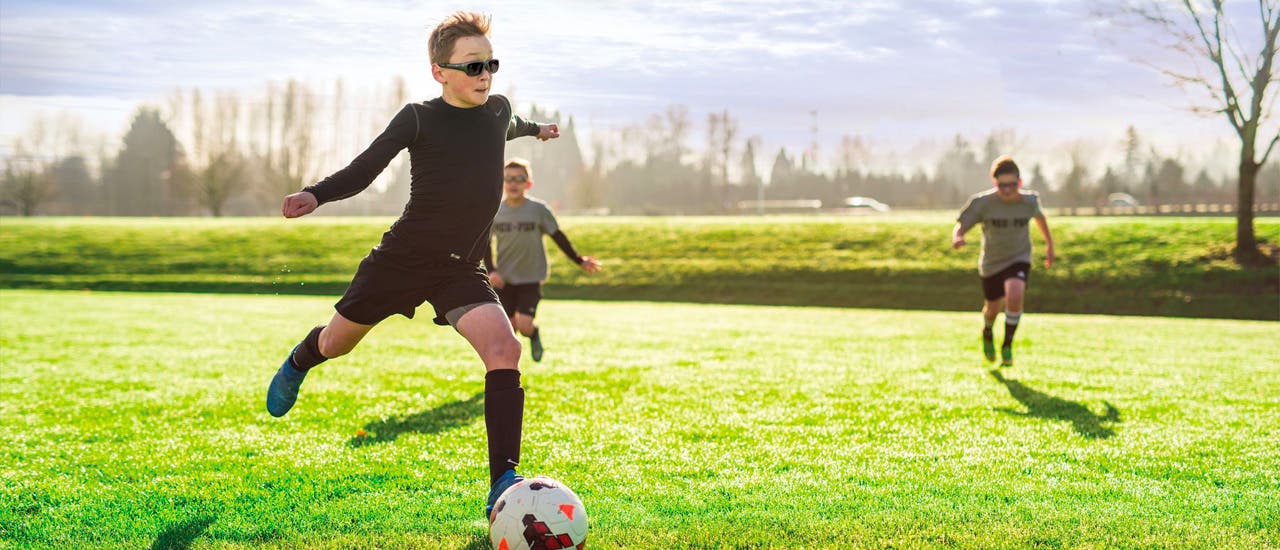 Finally, no matter how you work or play, anytime is a great time to begin protecting your eyes from the sun! Did you know that a study by the National Institutes of Health showed that most of us will have experienced half of our total sun exposure by the age of 18? But don't let that steal your sunshine. Here are a few ways to make sure your sunglasses are doing the most to protect your vision.
Choose 100% UVA & UVB Protection
Any pair of sunglasses you choose should offer 100% UVA and UVB ray protection. UVA and UVB ray exposure can cause damage like dry eye syndrome, cataracts, and even eye "sunburn," known as photokeratitis.
Look for sunglasses that say UV400, which means they block nearly 100% of all ultraviolet rays. The great news is that most sunglasses provide UVA and UVB protection. However, be wary of cheap finds that look cool but do nothing to block out harmful rays from the sun.
How Polarized Lenses Work
Polarized lenses can also help cut reflected surface glare. While this feature doesn't necessarily protect, it can make it much easier to see in bright, reflective landscapes like ‌snow and water. In turn, this can reduce eye strain.
---
Get Quality Protective Eyewear at SportRx
It can be tempting to skip wearing sunglasses altogether, especially if you don't have a prescription pair. Let us help! At SportRx, we are committed to helping you see better so that you can live life to the fullest.
Whether you're looking for yourself, a friend, or even your child, we'll help you build a customized pair to suit your needs and protect your eyes. We're ready to answer your questions, and if you like, we'll even put you in touch with one of our friendly, in-house, ABO-certified opticians. You can contact us here.
Plus, you can feel confident shopping with our See Better Guarantee™. Try your new eyewear for 45 days, and if you're not satisfied, send them back for a full refund, exchange, or credit towards a better pair. And don't worry about ‌return shipping — it's covered! Get your pair of quality, protective eyewear at SportRx today.