Bonfires, family time, and starry skies—not to mention the thrill of speeding through open land—what could be better? We earnestly await the winter season when temperatures drop and we set foot in the bronze desert that is otherwise a burning hot wasteland. Once barren, the sleepy desert stirs as ATVs and dirt bikes flock to it from all directions, like kids to candy.
If your home is anything like ours, you've got a variety of landscapes to choose from when you're itching to ride. It's important to know what type of terrain you'll be in before you head out, as different types of sand require your bike to be set up in specific ways. Continue on to learn about 2 main types of terrain and how you can prepare your ATV or dirt bike for optimal riding.
Hard-pack terrain
You'll know you're in hard terrain if you can more or less bounce a ball off the ground. A desert floor with hard-pack dirt is often riddled with jagged rocks, roots, sticks, and even boulders, so your tires must be extremely durable. The tread is usually tighter too, to give your tires ample grip. In other words, you use typical motocross tires for hard-pack dirt.
Hard-pack terrain has options for how advanced you are as a rider. Beginners can start on flat land, or you can escalate to more technical trails with steep hills, sharp turns, and rocks. If you know you're going to be riding in an area that may have patches of sand, you can slightly air down your tires to help give you more traction.
Sand dunes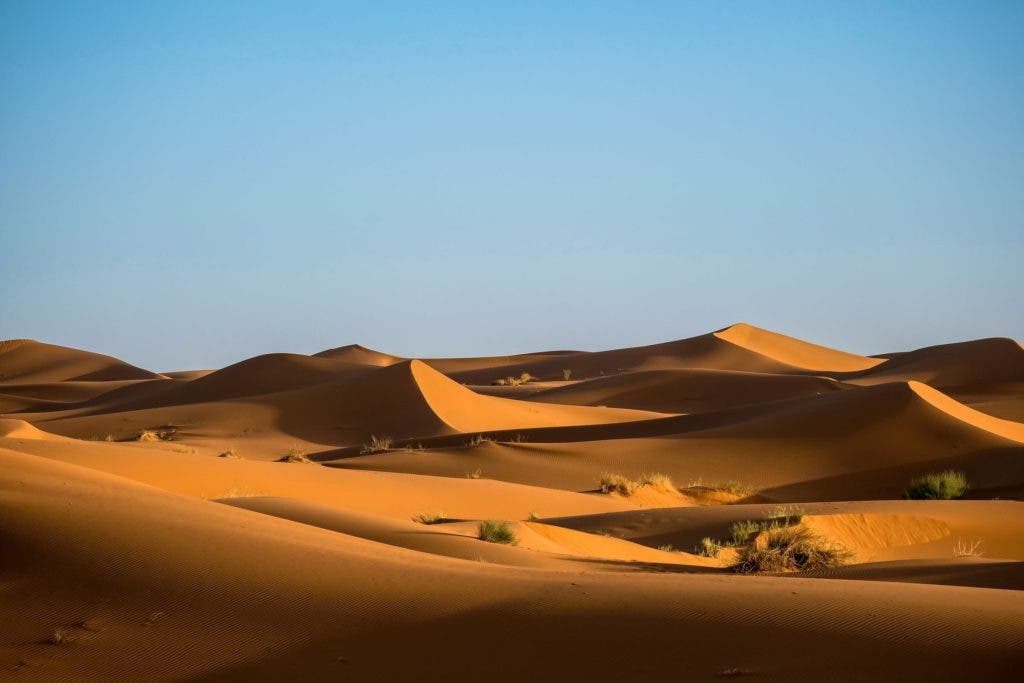 Pleasing to the eye, sand dunes look satisfyingly buttery and untouched. Although many riders prefer one type of terrain to the other, a lot of people tend to switch back and forth. In this case, you (or your mechanic) should install a paddle tire on your back tire. The paddle tire has scoops in it to overpower the drag of the heavy sand and propel you forward.
Riding in this terrain is harder on your body because of the sheer strength it takes to control your bike, but it can also mean a softer landing if you take a spill. And it does take some practice to prevent falling! If you're used to hard-pack, it's an adjustment to navigate soft sand dunes because the smooth hills create an illusion that they stretch ahead, when in fact a steep drop-off awaits you on the other side. Because of this, seasoned riders encourage beginners to charge the dunes at an angle rather than a straight line, so you can ride along the top of the dune if that daunting drop takes you by surprise. Otherwise you're sure to go head over handlebars!
Prescription MX Goggles at SportRx
Need prescription goggles? We've got you covered. When you shop with us, you'll find video guides and tooltips throughout the build process as you customize the perfect pair. An answer to all your questions is at your fingertips, and if you want to chat with an expert, Contact Us. We'll put you in touch with one of our friendly in-house opticians who can help you build your prescription goggles.
Ditch risky online shopping with the See Better Guarantee. Try your goggles for 45 days. If you're not satisfied, send them back. Get a full refund, exchange, or credit towards a better pair. And return shipping? Covered. Get your pair of prescription goggles at SportRx today!