If you're in the market for Costa sunglasses, we're going to take a wild guess that you're probably into fishing or something along the lines of this hardcore lifestyle. Regardless of your intended use, Costa sunglasses are built to sustain comfort and protection in harsh fishing and aquatic environments. Founded in 1983, Costa designed the clearest sunglasses on the planet and remain the go-to brand for the most passionate fishermen the human race has to offer. If you're interested in Costa sunglasses or Costa prescription sunglasses, check out our Costa Sunglasses Buyer's Guide for everything you need to know.
---
Costa Sunglasses Buyer's Guide
1. 580 Color Enhancing Lens Technology
2. Lens Material
2.1. Lightwave Glass
2.2. Polycarbonate/Trivex
3. Lens Colors
4. Sunglasses Features
4.1. Fit
4.2. Frame Material
4.3. Hinges
5. Top Costa Fishing Sunglasses
6. Costa Del Mar Collection
7. Costa Lifestyle Sunglasses
---
580 Color Enhancing Lens Technology
When it comes to learning all things Costa, we have to begin with their 580 lens technology. They're the first brand to develop an all-polarized, color enhancing lens that not only has a 99.99% polarizing efficiency, but also blocks all the bad HEV blue light. On top of that, 580 lenses filter out all the harsh yellow light and boost the reds, greens, and blues to provide a sharper image. All Costa sunglasses are polarized and come with the 580 technology. Check out the video and images below to learn more about Costa 580 color enhancing lens technology!
---
Lens Material
Once you've found the perfect pair of Costa sunglasses, the next step is to decide if you want Costa signature lightwave glass or polycarbonate lenses. If you are looking for prescription Costa sunglasses, then you will have the option for trivex lenses as well. Check out the diagrams below to compare the benefits of both glass and polycarbonate lenses. If you want even more information make sure to check out our guide on picking the best polarized lenses from Costa.
---
Lightwave Glass Benefits
---
Polycarbonate/Trivex Benefits
---
Lens Colors
Costa offers 7 unique color combinations perfect for every activity. Ranging from low light to extremely bright light, their lens tints ensure changing lighting conditions are never a problem. Check out the diagram below to see which lens color is calling your name. For more information on each tint make sure to check out our Costa lens color guide!

---
Sunglasses Features
Many frames made by Costa Del Mar have vents on the sides, allowing for solid wrap around protection without sacrificing optimal airflow. You can sweat all day long and handle some rough stormy surf in your face without worrying about your sunglasses fogging up, or the sun's rays reflecting off the open waters and creeping into the sides of your frames.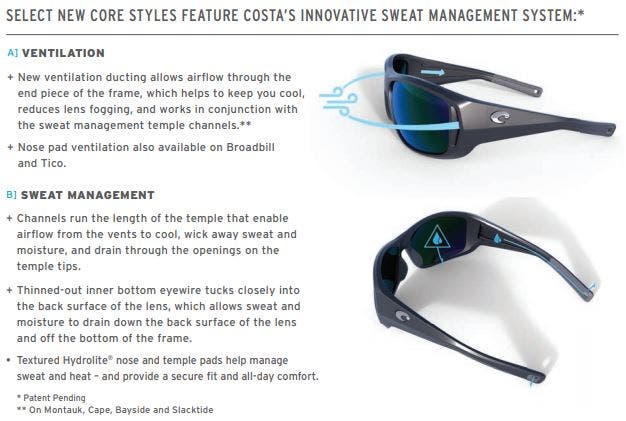 ---
Fit
Each Costa fishing sunglass is crafted with rubber nose pads or temple guards to maintain a secure fit while tackling your prey, running around, flying a hull, or whatever it may be. The nose guard is more common in Costa sunglasses, as this tends to be more secure and comfortable, but many models have the temple guard as well for that extra addition of security.
---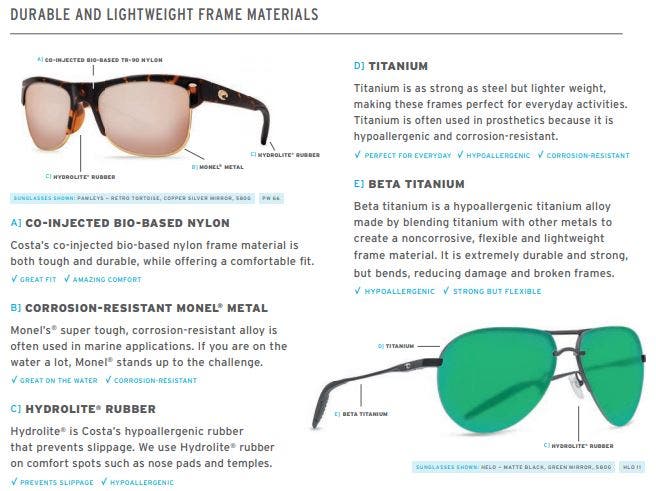 ---
Frame Material
Costa sunglasses are tough and durable because they are made with a TR-90 nylon material. Costa fuses nylon together with Hydrolite to prevent slippage so you can expect an optically aligned fit. Take a look at all the frame options below!
---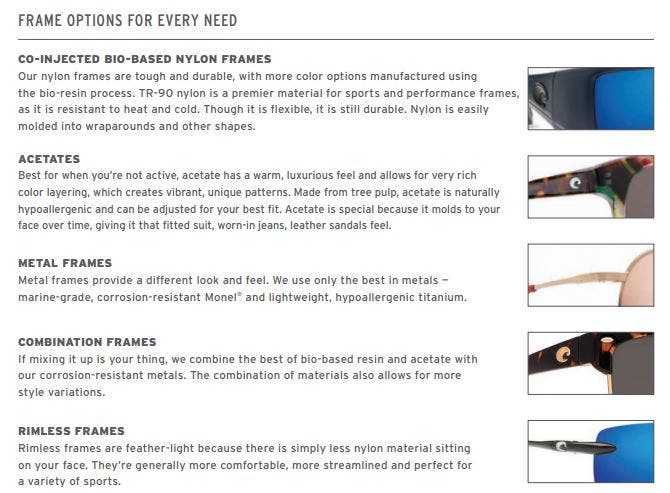 ---
Hinges
Also, Costa is known for making amazing hinges. The 3 different types that work with their frames are the integral hinge, an optical spring, and a 5-barrel optical hinge. Each hinge is crafted from stainless steel to resist corrosion and they're flexible enough to maintain their shape and fit perfectly.
---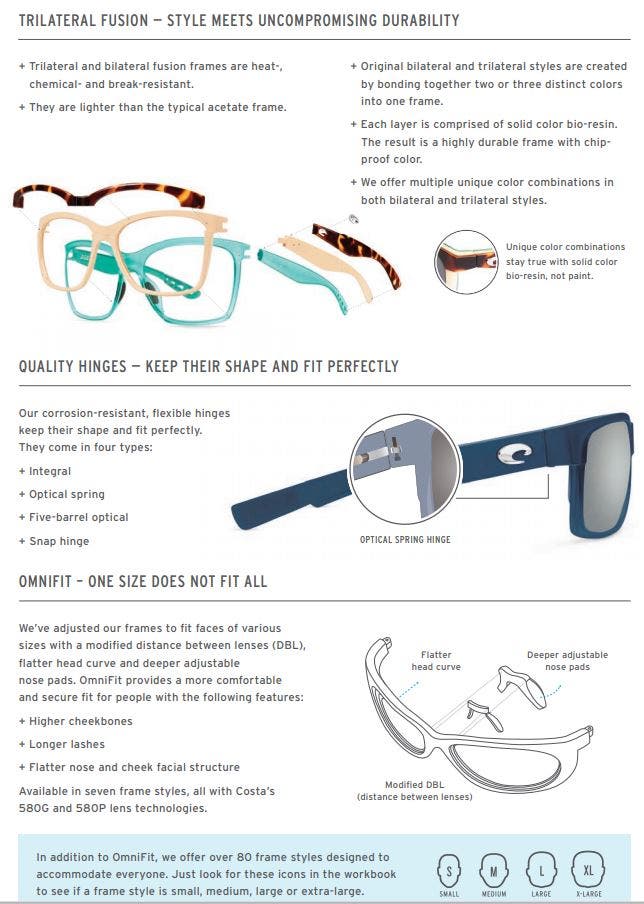 ---
Top Costa Fishing Sunglasses
Costa Fantail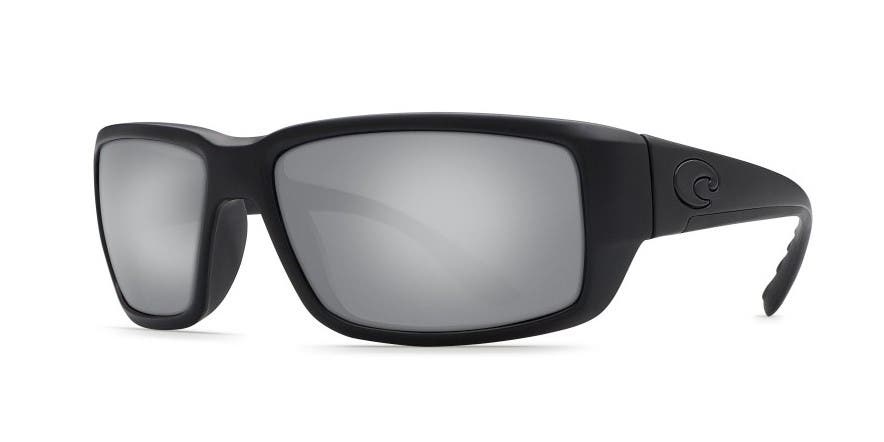 ---
Costa Tuna Alley
---
Costa Fisch
---
Costa Brine
---
Costa Del Mar Collection
With tons of frame options as well as different ways to customize frame colors and patterns, Costa Del Mar has a pair for everybody. For more of a lifestyle type of fit, check out Costa's new Del Mar collection. These Costa sunglasses were made with a premium acetate material, which is considered more fashion forward. All the Del Mar sunglasses only come in Costa's signature lightwave glass lenses and are available with prescription lenses. Check out the video and frames below to learn more about the Costa Del Mar Collection.
---
Costa Aransas

---
Costa Del Mar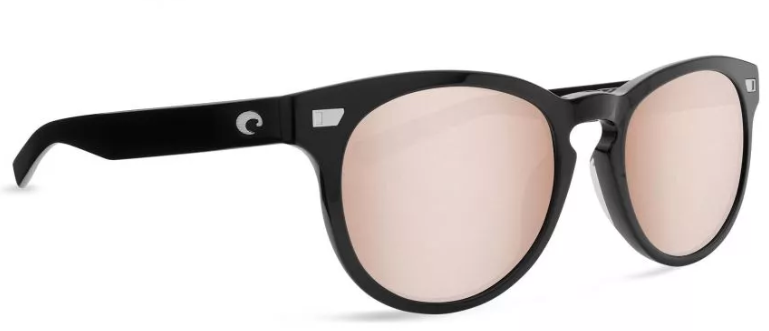 ---
Costa Apalach
---
Costa Bimini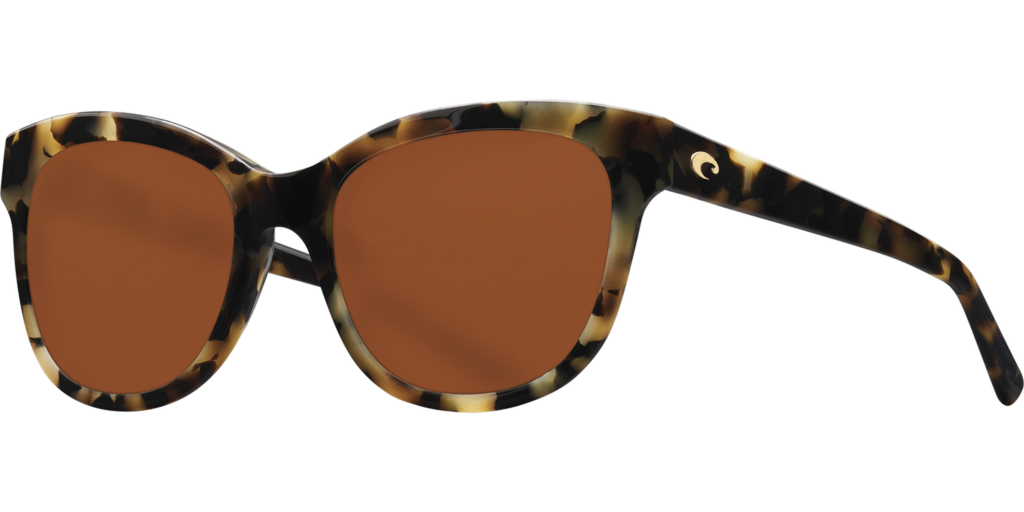 ---
Costa Lifestyle Sunglasses
Beyond the Del Mar collection, Costa has been releasing more and more lifestyle sunglasses each year. Below is a list of our favorite lifestyle frames at SportRx.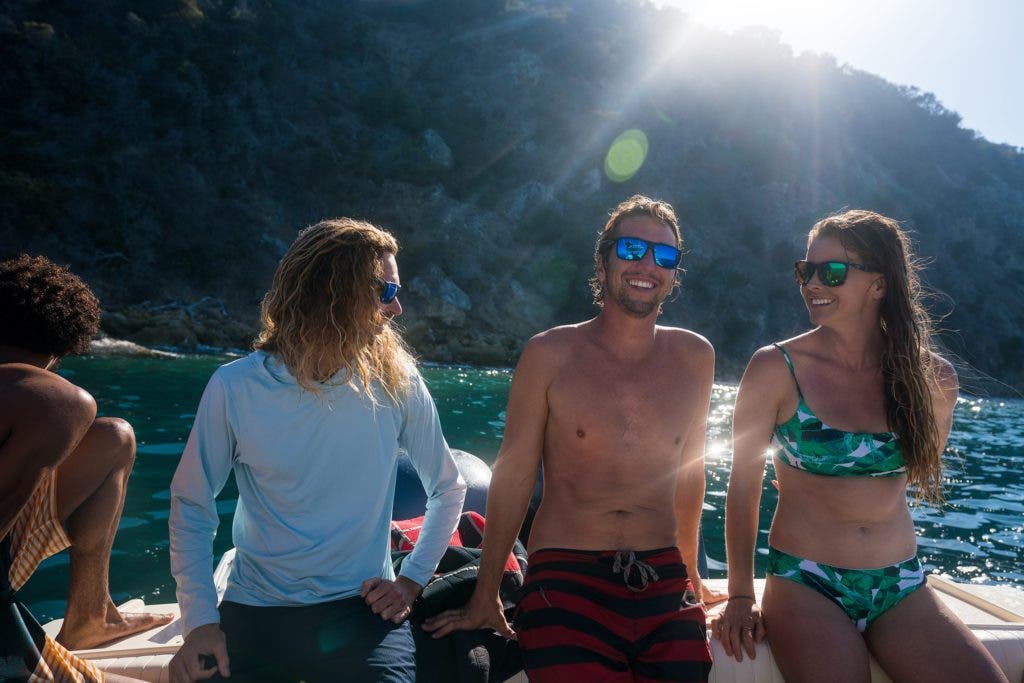 ---
Costa Rincon

---
Costa Slack Tide
---
Costa Rinconcito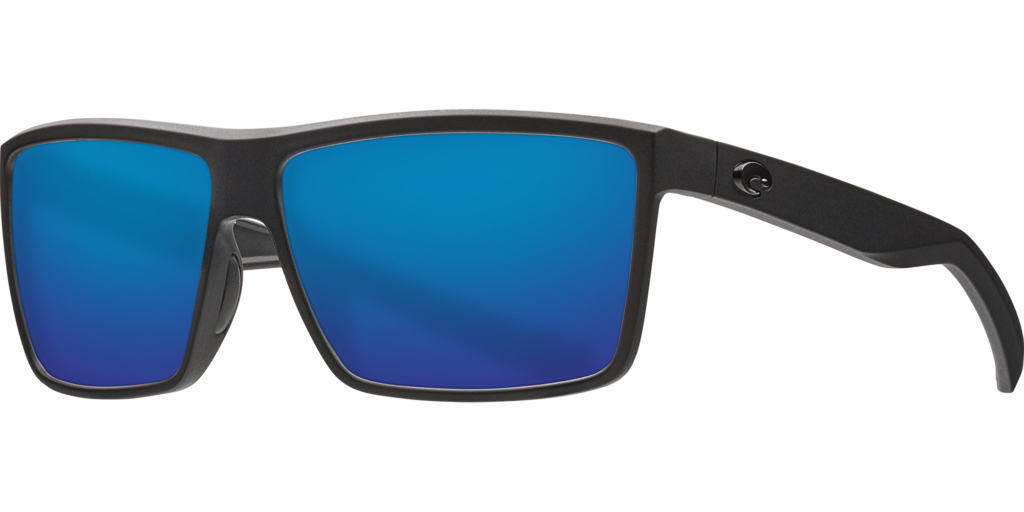 ---
Costa Half Moon
---
Costa Piper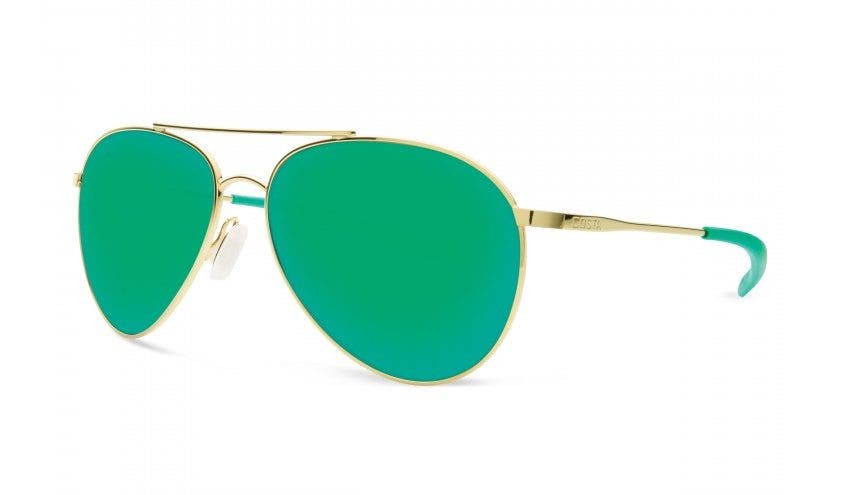 ---
Costa Waterwoman
---
Costa Cut
---
Costa Spearo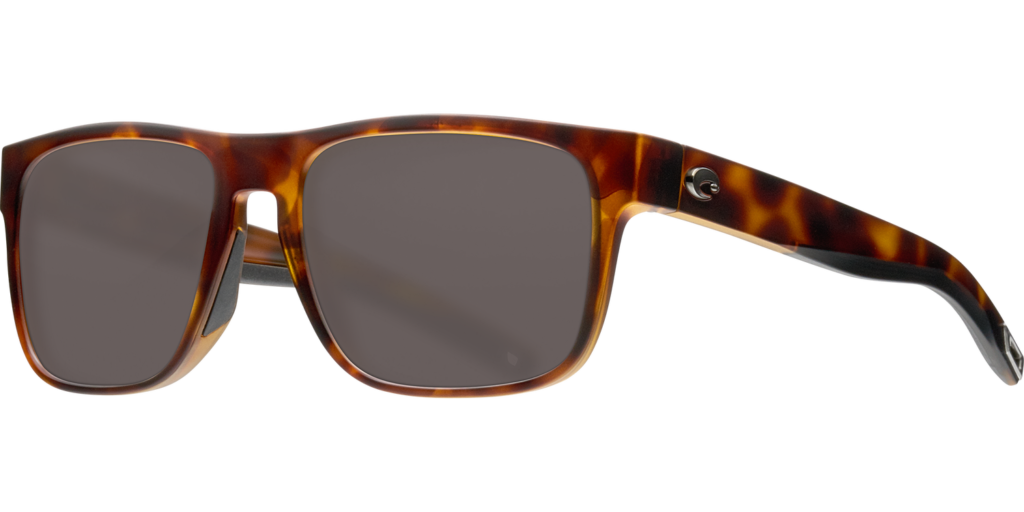 ---
Costa Motu
---
Costa Baffin
---
Costa Victoria
---
Costa Sunglasses & Prescription Costa Sunglasses at SportRx
At SportRx you can customize your Costa sunglasses with authentic prescription 580 lenses. If you have any questions regarding lens materials, colors, or anything about Costa in general, make sure to send our opticians a message. When you are shopping know our See Better Guarantee has you covered for any emergencies. You have 45 days after receiving your prescription Costa sunglasses to test them out and make sure they meet your expectations. If you have any issues at all you can send them back for an exchange or full refund. We hope this Costa Sunglasses Buyer's Guide answered all your questions.