As we patiently (or impatiently) wait for the 2015-2016 snow season to arrive, we can no longer hold back our excitement about all the best ski goggles that the top brands have in store for us. Oakley, Smith, Anon, Electric, and SPY, have reached epic break throughs in ski goggle technologies. Keep your eyes out for the most exceptional ski goggles of the season!
Best Ski Goggles of 2015
Oakley Flight Deck XM
Oakley took the ever-so-popular Flight Deck and created an unrivaled field of view in a more compact, mid-sized fit with the 2015 release of the Flight Deck XM ski goggles. The Flight Deck XM Ski Goggles feature:
Pristine style

Exceptional field of view

Oakley's new Ridgelock interchangeable lens system for ease of weather condition adaptability

Rimless design that minimizes frame volume for unparalleled comfort.

Impact resistant
Tailor your visual clarity to any condition Mother Nature throws at you with the pull of a switch. The Oakley Airbrake Ski Goggles feature:
Switchlock Technology for convenient lens interchangeability out on the mountain – useful when needing to switch between the two lens tints provided with these Oakley goggles

Rigid frame, which works to reduce distortion and enhance protection.

Flexible face plate and triple-layer face foam for comfort

Helmet compatible O-Matter outrigger strap attachments

Dual vented lenses with F3 anti-fog

Medium to large fit
The I/O7 is designed for enhanced performance and perfect fit. These Smith ski goggles were developed through a process of reducing elements to only the most essential, so there's nothing getting in the way of a great day on the mountain. Smith I/OX Goggles: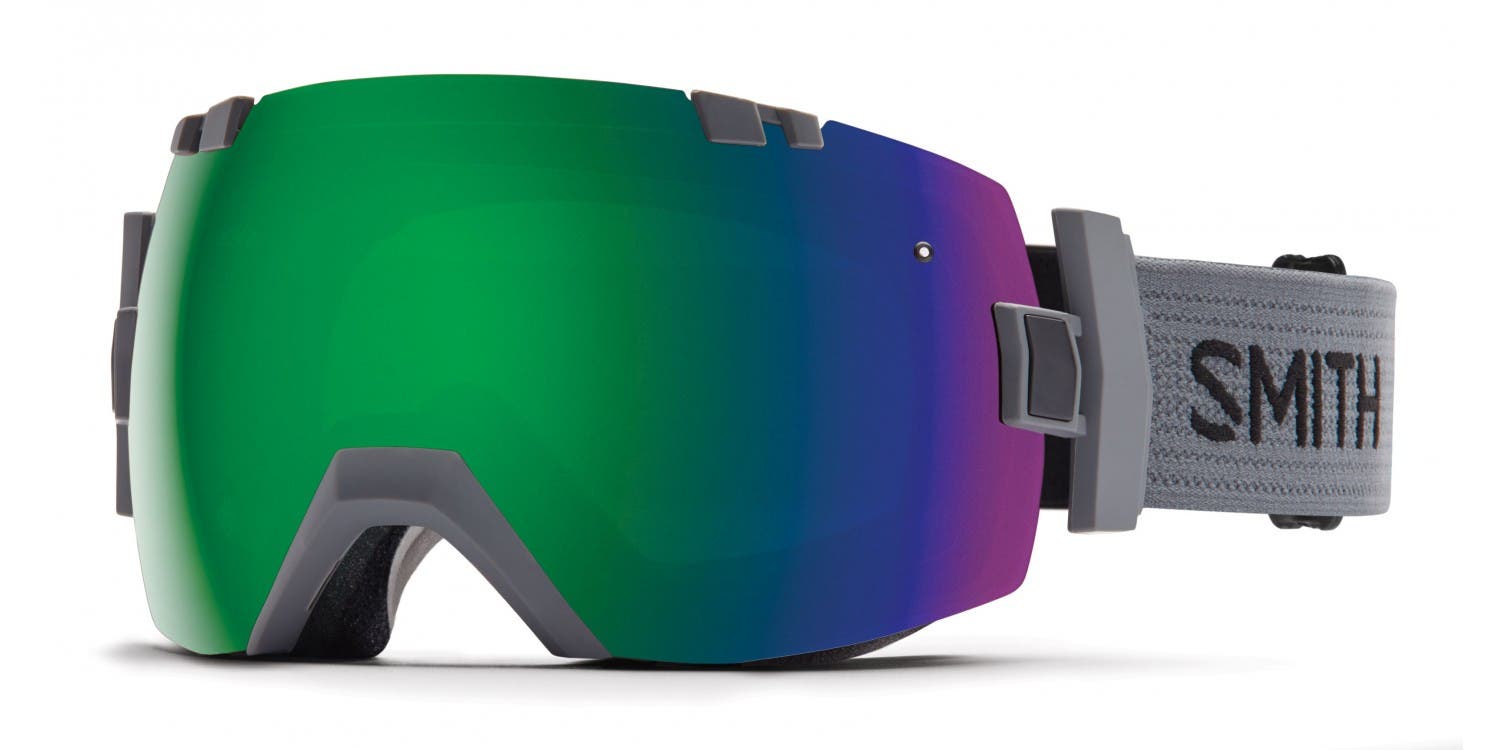 The spherical lens of the Smith I/OX allows for expanded peripheral vision, while 5X anti-fog technology creates five times the fog absorption compared to anything else on the market, The technology behind these Smith goggles keeps you on the mountain all day, regardless of the conditions. These two frames from the Smith Interchangeable goggle series include:
Quick release lens change system for ease of weather adaptability on the slopes

Spherical carbonic-x lens which work to expand peripheral views

5X anti-fog inner lens for five times the fog absorption compared to anything else on the market

Patented Porex filter prevents optical distortion during changed in elevation

3-layer DriWix face foam

AirEvac

integration technology to reduce fogging up

Medium/Large fit
The SPY Doom is your first line of defense against nature's harsh elements. A free premium bonus lens allows you to adjust quickly to changing conditions at the touch of a button. Contrast enhancement is an added bonus when you choose to fill your Doom goggles with the SPY Happy Lens.
The all-new Quick Draw lens change system ultimately makes the midsized SPY Ace ski goggle a top contender. The scoop and RISE ventilation system along with the free bonus lens allows you to quickly adapt to Mother Nature's unpredictable ways. These two frames from the SPY ski goggles collection include:
Polyurethane frame material which works to maintain lasting flexibility

Anti-fog and anti-scratch protection for long-lasting lens durability

Free premium bonus lens

Triple layer Isotron face foam with moisture-wicking Dri-Force fleece

Helmet compatible with the most popular helmets on the planet.
Effortlessly adapt to changing conditions with the lightweight Anon M2 goggles. These Anon goggles will provide you with long-lasting comfort and enhanced peripheral vision.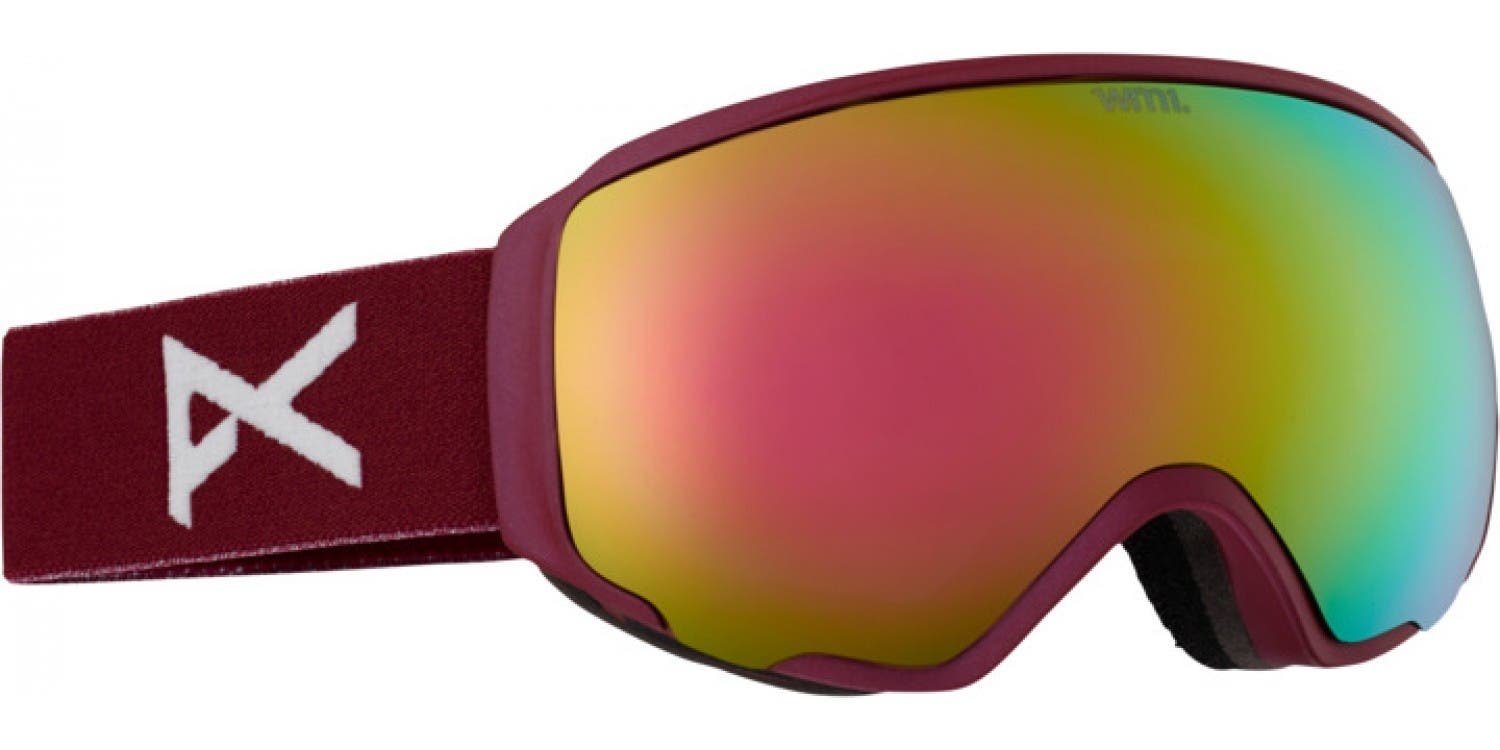 Anon WM1 goggles are made for the women who ride with passion when out there on the mountain. The WM1 is a high-end, premium women's goggles with unbeatable features. These two frames from the Anon ski goggles collection include:
Magna-tech quick lens change technology

Outlast fog management face fleece

No-slip silicone strap

Wall-to-wall vision which eliminates peripheral blockage and expands points of view

Anon spherical lens technology, enabling enhanced optical clarity and reduced fogging

Triple layer face foam

Full perimeter channel venting

Lightweight thermoplastic polyurethane frame which provides lasting durability
Wearing glasses under the helmet has become a thing of the past. In addition to the SportRx XPF 120, the only true, insert free snow goggle solution, the SportRx opticians have mastered the art of prescription ski goggles with custom built prescription goggle inserts, and all the highlighted ski goggles are available as prescription ski goggles.
If you need help in the seeing department while you're out on the slopes, we're your go to. Order your ski goggles online or over the phone, and our opticians will gladly custom craft prescription goggle inserts for your favorite pair of snow goggles. Questions about prescription ski goggles? We've got answers to those, too! Give us a call. We're here to help, 7 days a week!