The life of a fisherman is marked by long days on open waters. As such, every fisherman needs to have the proper eyewear to protect their eyes against UV rays and maximize their performance. We have a list of our favorite 7 prescription fishing sunglasses of 2020 because no ordinary pair of sunglasses will do when you're reeling in the big one. You can also scroll further for our 2019 list to see even more cool options.
Before we dive deep into each frame and the features they hold, let's go over some essential components you need for fishing sunglasses: protection, durability, and comfort. If you would like to get the bigger picture at what goes into an awesome pair of fishing sunglasses, check out our Fishing Sunglasses Buyer's Guide to get all the details.
Table of Contents
1.What to Look for in Fishing Sunglasses
Protection
Durability
Comfort
2. Best Prescription Fishing Sunglasses of 2020
1.Costa Diego
2. SMITH Guide's Choice
3. Oakley Split Shot
4. Wiley X Weekender
5. Costa Tuna Alley
6. Costa Vela
7. Maui Jim Peahi

3. Best Fishing Sunglasses of 2019
---
What to Look for in Fishing Sunglasses
When reeling in the catch of the day, it's important for your fishing sunglasses to have these 3 key features: protection, durability, and comfort.
---
Protection
Protection from the harsh elements is important for your longevity throughout the day and over your lifetime as a fisherman. You'll want a wrap frame to make sure as much of your eyes are covered as possible.
Another key feature for fishing sunglasses is polarization. When the sun's reflection bounces off water, it creates a harsh glare that hinders your vision, making it difficult to track the fish and see underneath the water. Polarized lenses come in for the win by cutting out that undesirable glare thanks to a special lens filter. With a good pair of polarized fishing sunglasses, you'll able to see with greater clarity and ease and won't be forced to squint. Today's best fishing sunglasses protect you from not only HEV blue light and UV light, but also reflective glare.
---
Durability
You must have fishing sunglasses that can withstand the sun's heat as well as salty air and water. As good as your favorite everyday frames may be, salt can corrode them over time. To avoid corrosion, your fishing sunglasses have to be made with durable material. Avoid acetate and metal frames for fishing—those will wear away the quickest.
The best fishing frames are made of nylon. Nylon is almost unbreakable, lightweight, flexible, and can handle extreme temperatures, which makes it perfect for long days on the water.
---
Comfort
Fishing requires you to wear your sunglasses for hours at a time. You'll need sunglasses that feel like they're a part of your face and not adding any extra stress or weight. Luckily, many brands put a rubberized material along the temples and nose bridge of their sunglasses to make the frames more comfortable. This also has the added bonus of increasing grip when you sweat so you won't have to constantly fix your sunglasses. And as mentioned above, nylon is a lightweight material that adds to the comfort.
Another thing to consider as far as comfort is the weight of your lenses. If you're getting Costa, you can choose to get a prescription glass or polycarbonate lenses. Glass is more resistant to scratches, but depending on your prescription it can also weigh the lenses down significantly. Polycarbonate lenses aren't as resistant to scratching but will be much lighter. Think about your needs, and either way, be sure to keep your glasses clean!
---
The Best Prescription Fishing Sunglasses of 2020
Costa Diego
Named after the beautiful city SportRx calls home, the Costa Diego kicks off our 2020 list. You'll be able to fish all day long with no disturbance when you wear these sunglasses. Get the Diego with Costa's 580 lens tech to really see the difference. In fact, these make such a difference they won the award for best fishing sunglasses at the 2020 REXYS!
Key Features
Vented spring hinges and nose pads control airflow and prevent fogging
Hydrophilic grips on nose pads and temples
Costa 580 lens tech for ultimate color, contrast, and polarization on the water
---
SMITH Guide's Choice
A returning favorite from the 2019 list, the Guide's Choice is a reliable, classic fishing frame. SMITH's ChromaPop technology boosts color and contrast even on the grayest days. These wraparound sunglasses feature wide temples and a matte finish to stay comfortably in place all day long.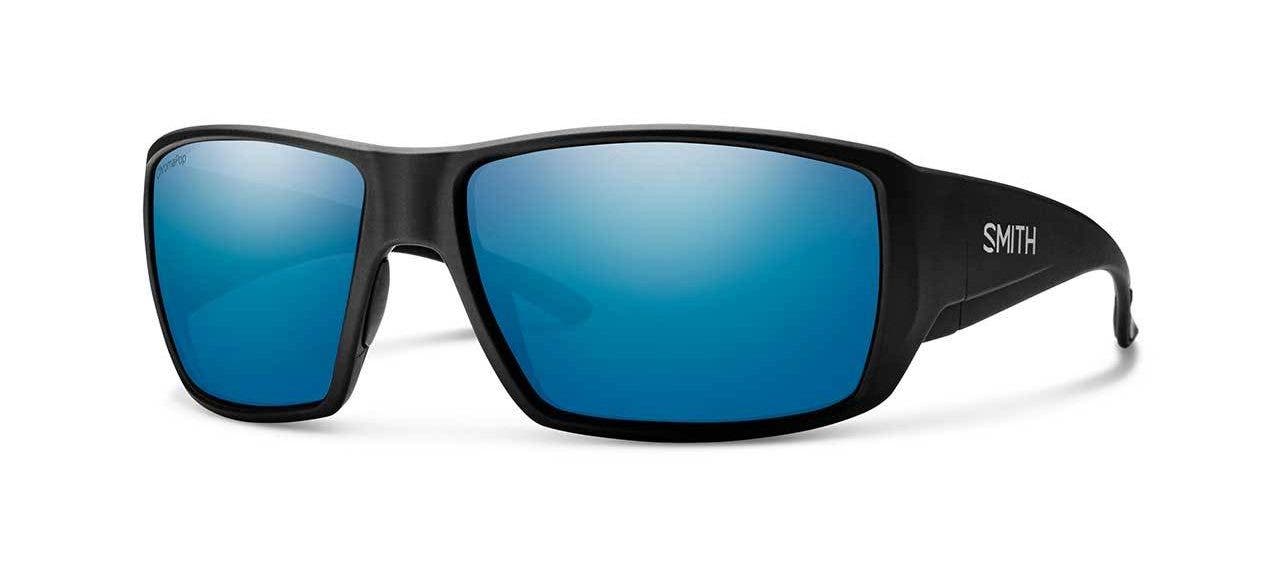 Key Features
Wide temples block out all sunlight
Matte finish for comfort
ChromaPop lens tech separates red, blue, and green and keeps your eyes as comfortable as they've ever been
---
Oakley Split Shot
Oakley Split Shot comes with a full wrap and detachable leash, but the extra-special thing is its pairing with Oakley's PRIZM lens technology to let you see the water like never before. Haul in your best catch yet with the Split Shot.
Key Features
Extra coverage on all sides ensures no sunlight peeks through
Curved brow line is hat-compatible
Available in PRIZM Deep Water or Shallow Water lenses
---
Wiley X Weekender
The Wiley X Weekender is a new women's frame with all the features you need for fishing, including a wrapped frame with full coverage. Get these polarized, mirrored, or whatever else you need.
Key Features
Women's-designed frame
Shields provide extra coverage while still being Rx-friendly
ANSI Z87-certified means these are as durable as they get
---
Costa Tuna Alley
Another one of our favorites from last year, the Costa Tuna Alley is an essential fishing frame. Naturally, you can get these with 580 lenses for the ultimate fishing experience.
Key Features
Vented frame with a full wrap and matte finish for all-day comfort
Grips on the nose and temples keep these in place
Your choice of Costa 580 polycarbonate or glass lenses for the ultimate vision
---
Costa Vela
Part of Costa's Ocearch collection, the Vela is a women's frame packed with all the fishing technology you need.
Key Features
A Flatter frame makes these more Rx-friendly
Grip on the nose pads and temples
Costa 580 lens technology
---
Maui Jim Peahi
Experience more vivid color and reduced glare in the Maui Jim Peahi sunglasses. No matter where your day is headed these frames will ensure great style and optimal comfort along the way.
Key Features
Wrap frame for comfort and protection
Rubber grips on nose pads
Maui Jim PolarizedPlus2 lenses block out 99.9% of glare and enhance contrast
That's it for our 2020 list, but if you keep scrolling, you can check out our favorite fishing sunglasses of 2019 for even more cool options.
---
Our Best Fishing Sunglasses of 2019
Explore the top selections of your favorite brands to discover the best fishing sunglasses for your next trip.

---
Costa
We can't think of fishing or water sports without Costa coming to mind first. Costa sunglasses are specifically designed for those who live to be on the water. Their entire line is known for functionality and durability, providing a clear, yet protective fit, made to lead you into the unknown seas of life! Choose Costa Del Mar Sunglasses for maximum clarity and protection from the world's harshest elements.
---
Costa Tuna Alley
Randy, 40-year fishing veteran of Royal Star Sport Fishing, joins us to roundup the best fishing sunglasses of 2019. At the top of our Costa list is Mr. Reliable himself, Costa Tuna Alley. This frame is made of a durable TR-90 Nylon material making it is ready to tackle any adventure with you. Another key feature is the ventilation system on the frame keeping the airflow going and the lenses fog-free all day. Costa designed the Tuna Alley with an 8-base curve for maximum protection from the sun, glare, and any other ocean element. Pair these bad boys up with the 580 lens technology and get on the water today.
---
Costa Fantail
The Costa Fantail sunglasses provide you with the necessary coverage without sacrificing comfort or fit. Made with Costa's patented TR-90 Nylon material, the Fantail can take on the salty air and water with ease. Along the temples and nose bridge, you will find Costa's Hydrolite material which keep the sunglasses firmly in place while you are battling the fish. The more you sweat the more they grip. Per usual, these Costa sunglasses are available with their 580 lenses for ultimate clarity and durability.
---
Costa Permit
Costa Permits are an incredibly versatile and full coverage frame. Designed for those with a larger head, the 8-base wrap frame keeps you fully protected without compromising comfort and fit. With the dual-injected Hydrolite lining the temples from end to end, these frames are not going to fall off easily. This piece of equipment with side ventilation ports and wide temples make this frame another serious contender for the fisherman's tackle box. Made from a bio-resin material for a kinder impact on the environment and the future of fishing, if you need sunglasses that are durable and can take on anything, then the Costa Permits are the ones for you.
---
Costa Cape
The Costa Cape frames are everything you want in performance fishing sunglasses. These big boys have an L to XL fit and were built for all-day use on the open water. The Cape has Hydrolite along the temples and nose bridge to keep them in place, even during a choppy storm. This larger Costa frame also has thicker temples to combat the breeze, glare, and other debris. Costa put a ventilation port on the side of the temples to control airflow and sweat. Essentially, the Costa Cape sunglasses have everything you want in a pair of fishing sunglasses so make sure to get yours today from SportRx.
---
Costa Rincon
The Costa Rincon sunglasses have become a fan favorite here at SportRx. The Rincon feature an anti-corrosive material meaning the frame is flexible and will retain its shape after all day use. Essentially, Costa ensured the Rincon will always be comfortable and provide a sturdy fit. The frame is constructed of durable TR-90 Nylon plus Hydrolite along the temples and nose bridge for a slip free experience. Costa designed the Rincon with a 6-base design so they can be used both on and off the boat.
---
Oakley
Naturally, when we start thinking about great sunglasses, Oakley is one of the first brands that comes to mind. Their specialized lens technology, PRIZM, bring clarity and contrast to every environment. Oakley has developed the PRIZM Deep Water or PRIZM Shallow Water lenses, a must for fishing. They will help you spot fish by seeing into the water rather than just seeing a glare.
---
Oakley Split Shot
The Oakley Split Shot is the brand's first water-specific frame, but Oakley does not disappoint. Featuring a wraparound fit, Slip Shot gives you the coverage and protection you need in high glare water environment. Of course, the frame is made out of highly-durable O-Matter with features extending coverage along the top, sides, and temples keeping light out and backside glare to a minimum. The removable 20" lightweight coated woven steel leash keeps the sunglasses on your face or around your neck, allowing you to move seamlessly throughout your day. Make the most of your next fishing adventure with the Oakley Split Shot.
---
Oakley Double Edge
Oakley's Double Edge glasses give you the coverage you need while maintaining the comfort and fit you have come to expect from Oakley. Designed especially for larger faces, these glasses feature an 8-base wrap and wider lenses to give you the protection and coverage you need for a bright day out on the water. Outfitted with Unobtanium nose pads and the signature Oakley three-point fit system, the frames will always be secure and comfortable. The Double Edge is available with PRIZM Shallow Water and PRIZM Deep Water lens technology for an even better view and ultimate protection.
---
Oakley Drop Point
The Oakley Drop Point is a great choice when looking for a new pair of fishing sunglasses. Designed as a hybrid model switching easily from a day out on the water to the rest of your day. Constructed with O-Matter, the frames will hold up to anything you throw at it. The 8-base wrap and side shields help defend your eyes against backside glare coming off the water. Oakleys three-point fit system and Unobtanium nose pads keep your sunglasses in place even when conditions get rough. For a more medium to small face, these are a great alternative to the Double Edge above.
---
Smith
SMITH is a brand committed to the adventure. So naturally, SMITH makes a killer line of water focused sunglasses. SMITH takes polarization to the max with their ChromaPop Polarized technology. ChromaPop Polarized combines glare cutting with technology that filters two wavelengths of light. The result is better clarity, clearer vision, and the elimination of color confusion and glare.
---
SMITH Guide's Choice
We all need a reliable pair of sunglasses for those long days on the water. This is exactly what the SMITH Guide's Choice sunglasses provide. The Guide's Choice has hydrophilic megol nose and temple pads for a comfortable fit all day long. The pads also keep your frames in place no matter what your adventurous day on the water holds. SMITH constructed the Guide's Choice sunglasses with a lightweight material and it has an 8-base design for unbeatable protection. Get these in SMITH's premium ChromaPop or Techlite glass polarized lenses and experience clarity on the water.
SMITH Challis
The SMITH Challis sunglasses are a popular pair among the fishing community because of their snug fit and medium lens profile. One awesome feature is the integration of premium spring hinges into the temples, which add both to the comfort and the fit of these killer frames. For an enhanced experience, SMITH's ChromaPop lenses added to the SMITH Challis give you unparalleled clarity and color contrast, making you will wonder how you ever survived without them.
---
Kaenon
If you are on a mission to surf, paddle, bike, or fish and expect your gear to keep up with you, Kaenon is designed with you in mind. In order to cater to those specific needs, Kaenon products never compromise clarity for style, or comfort for performance. Kaenon developed the proprietary SR-91 lens, the world's first non-compromising polarized lens. With a California-designed frame style along with distinct colorways and hand-painted treatments unique to Italian craftsmen, the SR-91 becomes a must-have for eyewear.
Kaenon Redding
These Kaenon Redding frames offer a cleaner and less hardcore look compared to the other sunglasses on this list. Don't let looks deceive you, though. These bad boys have the great performance and comfort you have come to expect from Kaenon. Built with the durable yet flexible TR-90 material, the Redding gives you a lightweight comfortable fit. The Redding is designed for a medium sized head, built with long durations of use in mind. Pair these off with Kaenons Ultra lenses to tackle the infamous sunlight.
---
Kaenon Anacapa
Looking for a bold fishing sunglass that keeps the elements at bay? The Kaenon Anacapa offers just that. Designed with a 8-base design for maximum wrap protection and thicker temples ensure no wind, sunlight, or other elements get in the way of your day on the ocean. The rubberized grip along the temples and nose bridge ensure that the frames will stay put even when the seas get rough. Combine these killer frames with Kaenon's SR-91 Lens to get the best polarized protection and clarity.
---
Spy
Created for the cool and confident, SPY Optics makes a bold statement with every frame. The creators of SPY continue to collaborate with athletes, designers, and creative enthusiasts to craft untouchably unique products that fit their mantra of "See Happy. Be Happy." SPY's lens technology, Happy Lens, filters out harmful blue rays and UV while still allowing long blue waves that boost serotonin levels resulting in a boost of happiness. "See Better. Feel Better."
---
SPY Angler
The SPY Angler sunglasses are a good option for someone looking for a great fishing sunglasses that easily transition to every day life. The wayfarer round lens shape in a 6- base wrap design gives good wrap and protection while keeping style in mind. Also, the Angler features SPY's Hytrel rubber nose pads and temple tips for a comfortable and secure fit in wet conditions. Pair the the SPY Anglers with HAPPY lens technology for great clarity and polarized eye protection.
---
Maui Jim
To wrap things up, let's take a look at Maui Jim. All Maui Jim sunglasses are designed and tested in Lahaina, Hawaii on the island of Maui since 1980 with the challenges of island living in mind. Maui Jim sunglasses are polarized with PolarizedPlus2 so you can see everything clearly by eliminating glare. Let the luxury of Aloha happen for you with Maui Jim sunglasses.
---
Maui Jim Big Wave
Last but certainly not least, the Maui Jim Big Wave. The Big Wave is made with an 8-base frame design, keeping your eyes clear of any distortion from glare or direct sunlight. Maui Jim uses MauiPure material to make the lenses. It combines optics with premium scratch and shatter resistance. Equipped with rubberized adjustable nose pads and rubber temples, the Big Wave are going nowhere. Get the Maui Jim Big Wave to experience ultimate clarity on the water.
---
Shop the Best Prescription Fishing Sunglasses of 2020 Online at SportRx!
Need prescription fishing sunglasses? Done. When you shop with us, you'll find video guides and tooltips throughout the build process as you customize the perfect pair. An answer to all your questions is at your fingertips, and if you want to chat with an expert,Contact Us. We'll put you in touch with one of our friendly in-house opticians who can help you build your prescription fishing sunglasses.
Ditch risky online shopping with the See Better Guarantee. Try your sunglasses for 45 days. If you're not satisfied, send them back. Get a full refund, exchange, or credit towards a better pair. And return shipping? Covered. Get your pair of prescription fishing sunglasses at SportRx today!