See More with the Best Motorcycle Sunglasses for Big Heads
If you're reading this...you have a big head. And we know it can be tough to find a pair of everyday sunglasses that fit you just right. So we can imagine its even harder to find a pair of motorcycle sunglasses that fit around your very big brain. You want a pair that fits seamlessly when you want to head out for a ride right? Well don't worry we got you covered, your searching ends here. Think no bigger and look no longer. We asked around and double checked with our opticians for the Best Motorcycles Sunglasses for Big Heads and this is the list for you.
Table of Contents
1. Best Motorcycle Sunglasses for Big Heads
2. Oakley Industrial Det Cord ANSI
3. 7eye Panhead
4. Bobster Whiskey
5. Rec Specs Torque
6. Wiley X Rogue
Best Motorcycle Sunglasses for Big Heads
Oakley Industrial Det Cord ANSI
Oakley Industrial Det Cord ANSI in Matte Black with Grey Lens
With their three-point system you can ride comfortably and casually with the Oakley Industrial Det Cord sunglasses. They're the ideal motorcycle sunglasses. Equipped with anti-fog coating to ensure you see with a clear path and rubber unobtanium nose piece that keeps them secure no matter what bumps you hit. They're even ANSI certified, so you know you get the full package.
7eye Panhead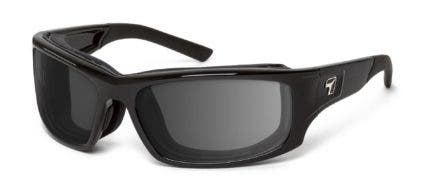 7eye Panhead in Glossy Black with Sharpview Grey Lens
A finalist for the Best Motorcycle Sunglasses of 2018 SportRx Awards, the 7eye Panhead most certainly deserved its recognition. With their bendable and adjustable temple arms they're ideal to wear with a helmet. Though your helmet may make your head sweat, these sunglasses won't. Featuring filtered vents on the inner frames and replaceable AirShield technology, the 7eye will keep you cool and calm as you ride along the coast.
Bobster Whiskey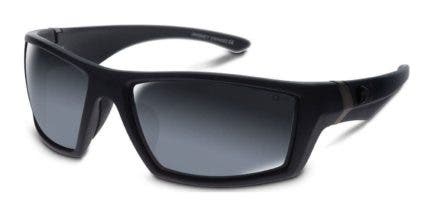 Bobster Whiskey in Matte Black
With a bold black frame and gun metal detailing, the Bobster Whiskey is both the crucial and casual pair of sunglasses there is. Exceeding the ballistic impact requirements they keep you safe on the roads, no matter what comes your way. Their wide frames are perfect for optimal peripheral vision. Prescription ready and safety approved, they are the way to-go to ride on-the-go.
Rec Specs Torque

Rec Specs Torque in Translucent Black with Ultimate Polarized Contrasts Lens
Just at first glance you can see how fully equipped these sunglasses are. Rec Specs Torque are lined with foam eyecups and side shields to ensure comfort and protection. They have rubber nosepads and temple tips that hold on securely and without fuss. Speaking of temple tips, check out the slits for straps to slip through, they'll make your ride both worry and carefree.
Wiley X Rogue
Wiley X Rogue in Matte Black with Smoke Grey & Clear lens
There's no surprise these sunglasses are hard to keep in stock. All the riders want them and all that see them, want a pair too. Wiley X Rogue are the superior sunglasses for your big head. Meeting all the standards; ballistic, ANSI z87.1, high velocity, impact resistant and highly protective lenses, the are the perfect pair for your riding requirements. And with bonus lenses included there's a style for whichever bike you decide to roll out on. With the ability to change lenses, these sunglasses do not come in prescription.
Get the Best Motorcycles Sunglasses for Big Heads Online at SportRx
Need prescription Motorcycle Sunglasses for Big Heads? Done. When you shop with us, you'll find video guides and tooltips throughout the build process as you customize the perfect pair. An answer to all your questions is at your fingertips, and if you want to chat with an expert, Contact Us. We'll put you in touch with one of our friendly in-house opticians who can help you build your prescription.
Ditch risky online shopping with the See Better Guarantee. Try your Motorcycle Sunglasses for 45 days. If you're not satisfied, send them back. Get a full refund, exchange, or credit towards a better pair. And return shipping? Covered. Get your pair of prescription Motorcycle Sunglasses for Big Heads at SportRx today!