If you're looking to upgrade your fishing gear with the latest and greatest, you'll want to pull up a chair for this one. SportRx is ready to share our picks with you for the best men's fishing sunglasses of 2021, curated by hand with the help of our expert opticians.
---
Best Men's Fishing Sunglasses
The Best Men's Fishing Sunglasses of 2020
1. Costa Tuna Alley
2. Costa Diego
3. Oakley Split Shot
4. Maui Jim World Cup
5. SMITH Guide's Choice
6. SMITH Castaway
7. Wiley X Omega
Prescription Men's Fishing Sunglasses at SportRx
---
Eyeglass Tyler covers the list. Watch below or keep reading to learn more!
---
The Best Men's Fishing Sunglasses of 2021
Every frame listed is available in prescription and has been selected by our expert, in-house opticians.
---
Costa Tuna Alley
We're kicking things off with a hall-of-famer. The Costa Tuna Alley took home the REXY for Best Fishing Sunglasses in 2018—needless to say, these are tried and true and the perfect pick if you're after something really sturdy.
Costa Tuna Alley Key Features:
Carefully crafted ventilation system prevents fogging
Durable frame construction
Available with glass or polycarbonate 580 lenses
SportRx Frame Width (SFW): 137 (L)
---
Costa Diego
There's all kinds of great fishing in San Diego, so of course you need the best of the best to score those catches. With the REXY-winning Costa Diego, there are all kinds of high performance features packed into its large frame.
Costa Diego Key Features:
Spring hinges conceal vents to control airflow
Hydrophilic temple tips and nose pad retain grip
Contrast-enhancing 580 lens tech
SFW: 138 (L)
---
Oakley Split Shot
Fishing frames from Oakley? We think yes. Enjoy all the same athletic perks you get out of other Oakley models with some unique features to bring out the best of your fishing. These REXY-nominated sunglasses are just what you need.
Oakley Split Shot Key Features:
Extended coverage O Matter™ frame
Includes detachable 20-inch lightweight woven steel leash
Enjoy either PRIZM™ Shallow Water or Deep Water lens tech depending on your needs
SFW: 131 (M)
---
Maui Jim World Cup
Named for the blue marlin fishing tournament held in Hawaii each year, the oversized fit of the Maui Jim World Cup is guaranteed to be your perfect companion. Have a big head? These are for you!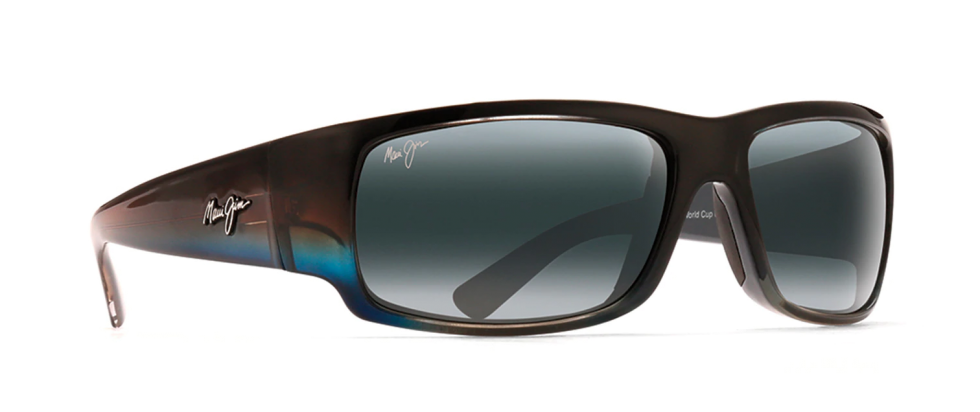 Maui Jim World Cup in Marlin with Neutral Grey Lenses
Maui Jim World Cup Key Features:
Extra-wrapped frame guaranteed to block all peripheral light
Rubber nose pads for extra grip
PolarizedPlus2® lens technology blocks harmful glare, UV rays, and blue light while enhancing colors
SFW: 142 (L-XL)
---
SMITH Guide's Choice
Not so fast—we've got another REXY winner on our hands. The best adventuring sunglasses of 2019, the SMITH Guide's Choice is great for any outdoor activity, including fishing.
SMITH Guide's Choice Key Features:
Hydrophilic Megol® nose pad and temples
Spring hinges easily adapt to different head sizes
ChromaPop™ lens tech separates colors to let you see clearly through the water's surface
SFW: 137 (L)
---
SMITH Castaway
The SMITH Castaway is a newcomer pair of men's fishing sunglasses guaranteed to make a splash. What we really love about these is their versatile fit and great hat compatibility. Everything about the Castaway spells "high end," so you'll know it's not an accident when these help you reel in your biggest catch yet!
SMITH Castaway Key Features:
Polarized ChromaPop™ lenses provide vivid color and clarity while blocking surface glare
Premium Italian spring hinges ensure a durable fit on most head sizes
Includes detachable Pivlock leash to keep these from becoming lost at sea
SFW: 136 (M-L)
---
Wiley X Omega
For truly versatile fishing sunglasses, look no further than the Wiley X Omega. These sunglasses are safety-certified and REXY-nominated to tackle even the stormiest seas, and you can't go wrong with custom prescription CAPTIVATE™ lenses.
Wiley X Omega Key Features:
ANSI Z87.1 certified for high-mass and high-velocity impact standards
Lightweight frame build won't get in your way
CAPTIVATE™ lens tech enhances color and contrast
SFW: 135 (M)
---
Prescription Men's Fishing Sunglasses at SportRx
Need prescription men's fishing sunglasses? Done. When you shop with us, you'll find video guides and tooltips throughout the build process as you customize the perfect pair. An answer to all your questions is at your fingertips, and if you want to chat with an expert, Contact Us. We'll put you in touch with one of our friendly in-house opticians who can help you build your prescription men's fishing sunglasses.
Ditch risky online shopping with the See Better Guarantee. Try your sunglasses for 45 days. If you're not satisfied, send them back. Get a full refund, exchange, or credit towards a better pair. And return shipping? Covered. Get your pair of prescription men's fishing sunglasses at SportRx today!