Your glasses are more than just a tool for your vision, they're an extension of your personal style and a statement on your everyday life. The SportRx opticians present the 10 best glasses, some of which are tried and true best sellers, while others are brand new, highly anticipated frames for 2016. Whether you're looking for style, comfort, reliability, or innovation- these ophthalmic frames have it all! You don't want to miss getting your hands on any of these fantastic frames of the year.
Check out the Best Men's Eyeglasses of 2019 and the Best Women's Eyeglasses of 2019.
1 | Oakley Crosslink MNP 53 Eye Size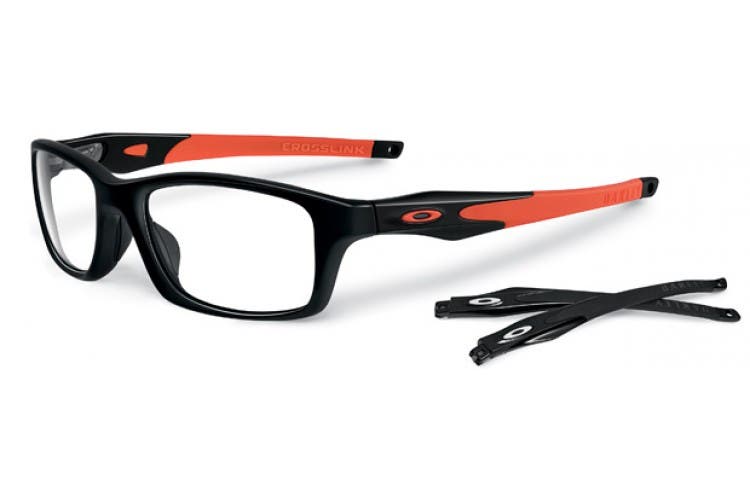 Oakley Crosslink MNP in Matte Black
Oakley Crosslink MNP is a revolutionary sports ophthalmic frame with a unique cross-over appearance. With these frames, you can go straight from work to play. The Crosslink's sleek and modern design fulfills all that is Oakley: performance and style. These Oakley glasses are perfect for everyday wear, and will succeed in any situation you find yourself in. With the feature of interchangeable temples, you can customize the frames to your liking, making them more fun or more conservative. Oakley Crosslink MNP was crafted using durable "O Matter" material, which is 25% lighter and 2x stronger than normal acetate. You may forget you're wearing these fabulous frames. The reasons are endless as to why Oakley Crosslink MNP made it onto our list of best glasses for 2016.
2 | SPY Elijah
SPY Elijah in Gunmetal
SPY Elijah glasses are designed with divine detailing and modern construction, showcasing a clean and classic look. These SPY glasses are made from modern stainless steel with the temples built slightly thicker, and their spring hinges provide supreme comfort and stability. Due to Elijah's simple and basic look; these frames are very wearable for any daily situation. They are perfect for work or casual settings and will definitely give you a clean and fashionable appearance. The versatility, along with many other reasons, are what ultimately make SPY Elijah a candidate for 2016's best glasses.
3 | Ray-Ban 5277
Ray-Ban 5277 in Tortoise
These frames are one of Ray-Ban's best sellers for more reasons than one. When you think of a solid, classical look for glasses, you envision the Ray-Ban 5277. Its simplicity is bliss because they are straightforward and fit extremely well. RB5277 comes in several nice colors to provide you some varied options to choose from. Looking for some everyday glasses for work? Look no further than these iconic Ray-Ban glasses.
4 | Oakley Airdrop
Oakley Airdrop in Matte Black
With rectangular lenses and smooth lines, the Oakley Airdrop glasses provide a sleek and modern look that is appropriate for any occasion. The Oakley eyeglasses are available in four different sizes, so you can find the pair made specifically for you. While you can't go wrong with any of the color options, our favorite, most popular color choices are the Matte Black Ink and the Grey Shadow; both of which offer an edgy, yet conservative look. If you are looking for a classic pair of frames- then you found them! The Airdrop's comfort and performance holds true through its three-point fit that holds the lenses in precise optical alignment. Their ultra-lightweight build very well could have been the inspiration behind the name Oakley Airdrop.
5 | Ray-Ban 5184
Ray-Ban 5184 in Matte Black
Ray-Ban RB5184, commonly known as the Wayfarer, is a very popular frame choice. These Ray-Ban glasses scream "Sleekish and Geekish" with their contemporary look and design. These Ray-Ban 5184 eyeglasses derive from the same likeness of the ever-so-popular Ray-Ban Wayfarer sunglasses. The RB5184 are super comfortable, and will fit on a large variety of faces, since they come in several different sizes. As another frame on our list of best glasses, there is definitely no going wrong with the RB5184!
6 | SMITH Jaden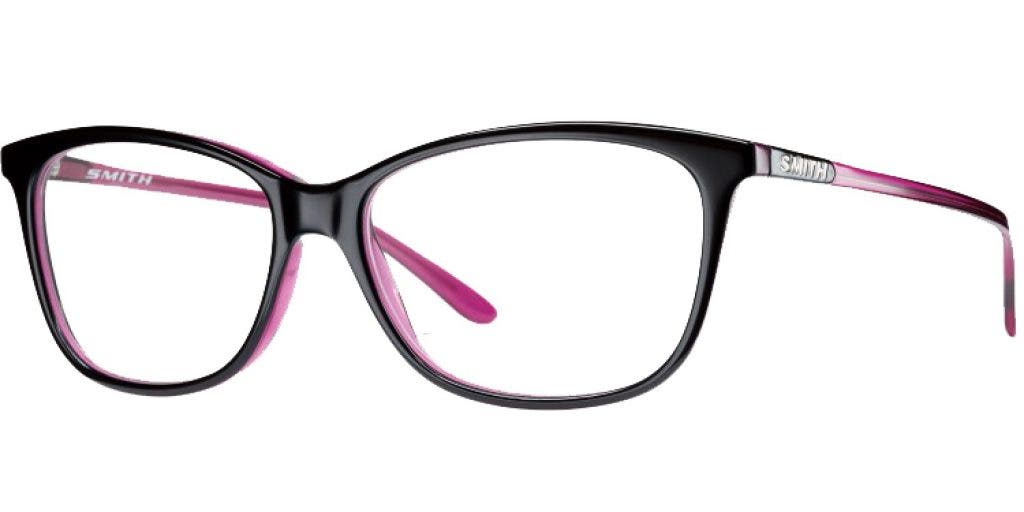 SMITH Jaden in Black Floral
If you're looking for fashionable eyewear that utilizes modern technology to keep up with the current trends, then SMITH Jaden are the frames you're looking for! These SMITH glasses feature a full rim frame design, specifically made for women, and are crafted out of acetate plastic. This is the most commonly used material for glasses due to its endless possibilities for color, texture, and patterns. The SMITH Jaden features rectangular rounded edges with a single nose bridge, both of which provide added comfort and style.
7 | VonZipper Learn to Forget
VonZipper Learn to Forget in Matte Black
VonZipper Learn To Forget glasses are everything but its name, and there's more reasons than we can put into words as to why they made the list of the best glasses for 2016. On the contrary, it will be HARD to forget these remarkable frames. Due to their geeky, funky, chunky, and big appearance; these VonZipper glasses give you the pop to make you the focal point of any room. If you want some specs that make one hell of a statement, then be sure to get your hands on these bad boys!
8 | Greg Norman GN212
Greg Norman GN212 in Matte Black
The Greg Norman GN212 offers you a clean, simple and contemporary look. Its design is made from premium quality materials that makes these frames worthy of the Greg Norman brand. You will notice maximum comfort on these frames because of the patented TurboFlex technology. These conservative frames are unisex style, which makes them wearable for boys and girls. They come in two classy colors: black and dark chocolate. If you are looking for "strictly business" frames, then Greg Norman GN212 glasses have you covered!
Note: This item is no longer available.
9 | Oakley Reversal
Oakley Reversal in Red Fade
Oakley Reversal is one of our favorite women's frames on our list of the best glasses. These new Oakley glasses feature a round frame with a unique twist. The frame fades from solid to light in color as the glasses progress downwards. Oakley Reversal glasses are shaped in a subtle cat-eye style and provide the wearer clean lines with clever color combinations, both of which work to deliver a one of a kind take on a classic pair of frames. These Oakley women's glasses are constructed from lightweight and durable acetate to ensure maximum comfort, and the hinges contain a slight spring to give great retention. You don't want to miss out on the stylish Oakley Reversal.
10 | VonZipper Joey Bagga Donuts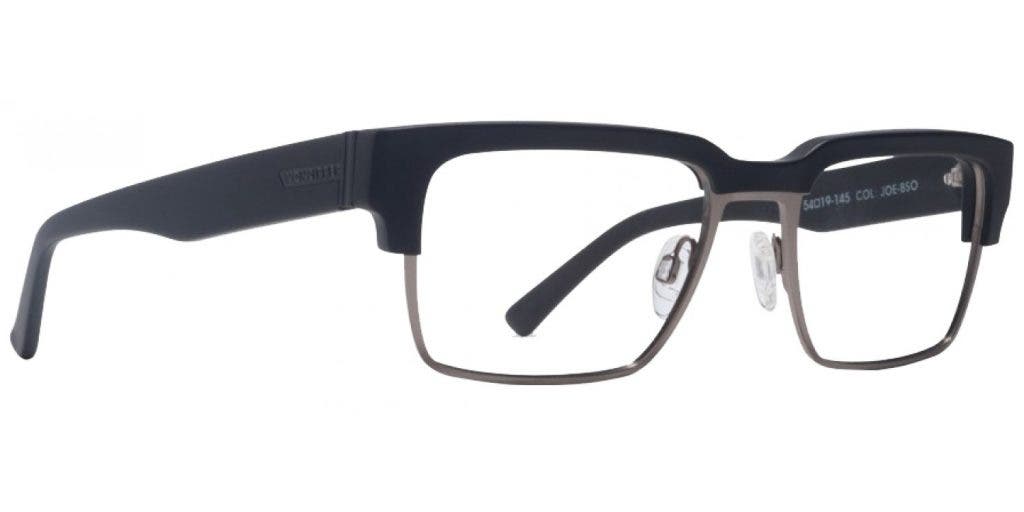 VonZipper Joey Bagga Donuts in Matte Black
VonZipper Joey Bagga Donuts are constructed from hand-crafted acetate with optical quality alloy rims. These VonZipper frames are held together with stainless steel optical hinges which deliver a stable and sturdy fit. The Joey Bagga Donuts comes in four colors: two in black and two in brown- one of each color comes with a unique matte finish. VonZipper Joey Bagga Donuts offer a modern and conservative appearance that will make you look professional for any occasion.
Note: This item is no longer available.
ENDLESS OPTIONS OF GLASSES ONLINE AT SPORTRX
Need prescription glasses? Done. When you shop with us, you'll find video guides and tooltips throughout the build process as you customize the perfect pair. An answer to all your questions is at your fingertips, and if you want to chat with an expert, Contact Us. We'll put you in touch with one of our friendly in-house opticians who can help you build your prescription glasses.
Ditch risky online shopping with the See Better Guarantee. Try your glasses for 45 days. If you're not satisfied, send them back. Get a full refund, exchange, or credit towards a better pair. And return shipping? Covered. Get your pair of prescription glasses at SportRx today!