There is no doubt San Diego has some of the best beaches to play volleyball. Looking to get in shape, learn some new skills, or have some fun and meet new friends? If you are a volleyball fan, we high recommend joining a beach volleyball league! Check out the San Diego Beach Volleyball League, a great organization that can help players of all skill levels. If you are new to volleyball or San Diego, consider using MeetUp to find a co-group. If you are ready to go, then check out our top picks for the best beach volleyball courts in San Diego to get your game on this season!
South Mission Beach
2597 N Jetty Rd San Diego, California 92109
South Mission Beach is the top go-to spot for many locals. The courts are open daily for pickup games, except when there are scheduled tournaments. The best times to play competitive pickup are 2:00PM till sunset Tuesday-Thursday and 8:00am-1:00PM Saturday and Sunday. Besides volleyball, you can also enjoy surfing, fishing, and even play on the basketball court. There are also two lots for parking on the left and right sides of the bay when arrive at the beach. Visitor can also find a wide rang of amenities here including life guards, public bathrooms, outdoor showers, fire pits, and picnic tables. For more information on courts and tournaments, you can visit Mission Beach Volleyball.

Ocean Beach
2100 Spray Street San Diego, CA 92107
Further south of Mission Bay, you will find Ocean beach tucked behind a residential neighborhood. Many locals would say this beach has its own unique vibe. Here you will find many volleyball courts with nets set up and plenty of spacing in-between each court. You can also visit the tide pools, the pier, and the many restaurant within walking distance of the beach. And just to the north of the volleyball courts, there is a large dog beach for your furry friend to run around. There is a free parking lot at Ocean beach, however, spots go quickly so make sure to arrive early.
Other amenities at this beach include lifeguards, public bathrooms, outdoor showers, and picnic tables.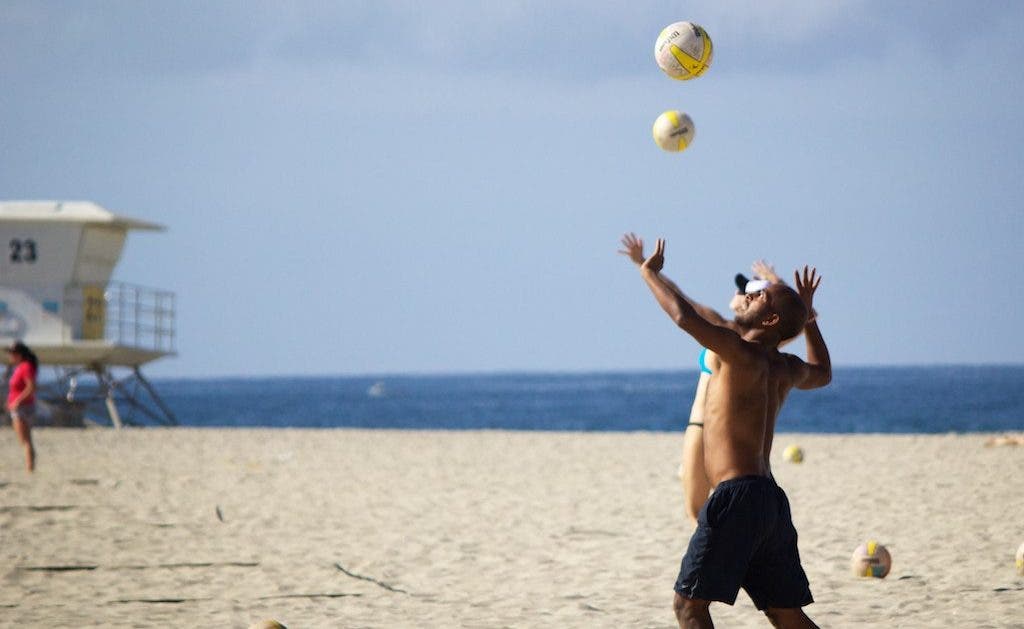 Coronado Beach
920-998 Ocean Blvd, Coronado, CA 92118
Coronado Beach is located right behind the famous Hotel Del Coronado and stretches for about 1.75 miles. There are many great resources at this beach including picnic benches, playgrounds, restrooms, outdoor showers, scuba rentals, and fire rings. The volleyball courts here are located at Central Beach, next to the sand dunes. It is recommended to bring your own net since city-provided nets are not always available. There is also a Dog Beach located at the north end of the beach, so please bring your furry, four-legged friend along! Visitors can find on-street parking adjacent to the beach.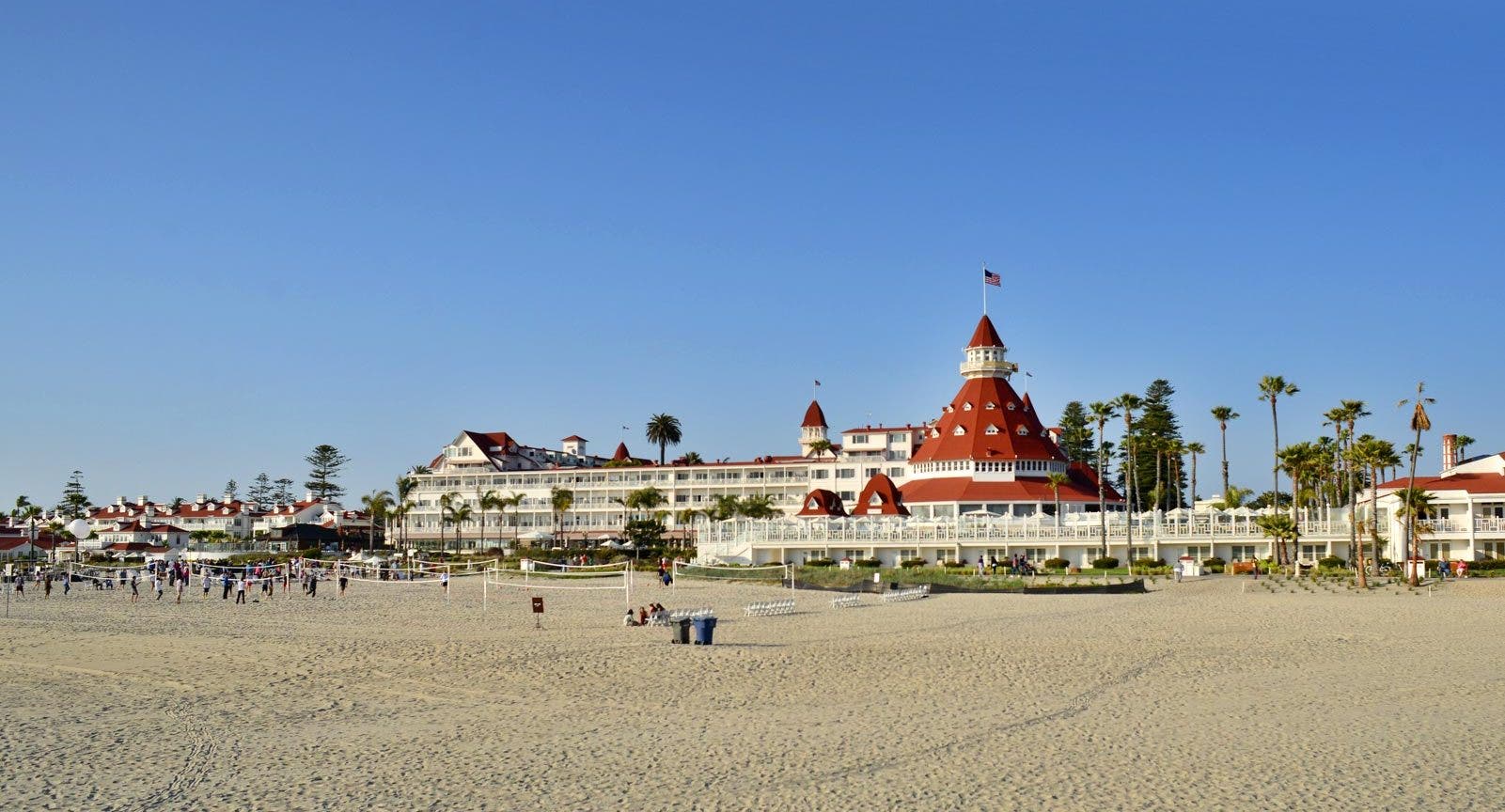 South Ponto Beach
La Costa Ave Hwy 101 Carlsbad, CA 92008
The South Ponto Beach is a wide sandy beach located on the south-end of Carlsbad next to the Pacific Coast Highway 101. This beach is perfect for surfing, sunbathing, swimming, and of course volleyball. The volleyball courts are equipped with poles, but players must bring their own nets and balls. The amenities include restrooms and outdoor showers, as well as lifeguards in the summer. As for parking, there is a large paid lot near La Costa Ave and Carlsbad Blvd ($8 during peak season) and a smaller free lot near the southbound lanes of the Pacific Coast Highway.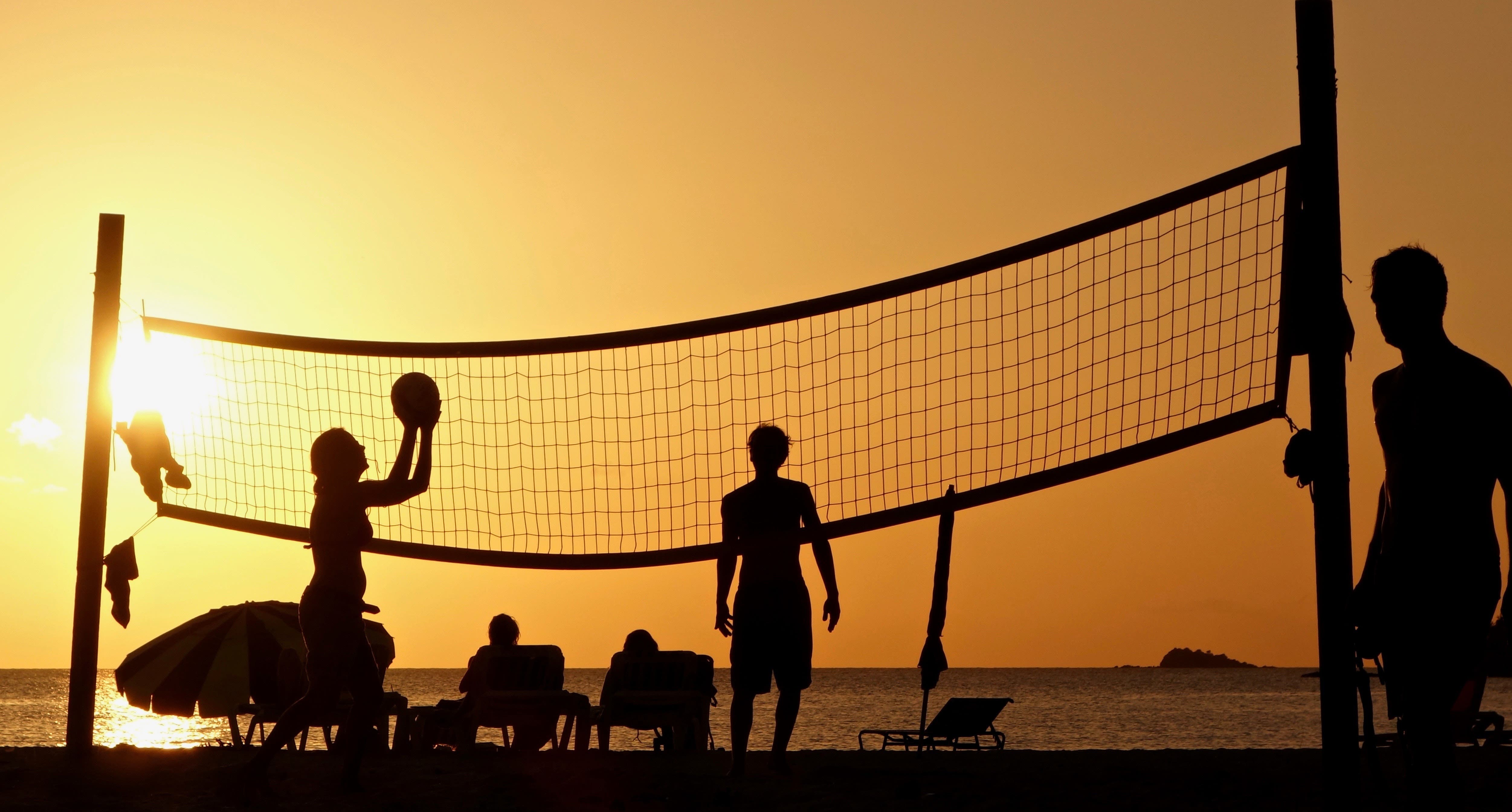 Get Prescription Volleyball Sunglasses Online at SportRX
Looking for prescription volleyball sunglasses to enhance your game? Done. When you shop with us, you'll find video guides and tooltips throughout the build process as you customize the perfect pair. An answer to all your questions is at your fingertips, and if you want to chat with an expert, Contact Us. We'll put you in touch with one of our friendly in-house opticians who can help you build your prescription volleyball sunglasses.