Focused on value and simplicity, 100% developed a goggle collection in which each pair is easy to use and effective. For example, the first three pairs mentioned, the Strata, Accuri, and Racecraft, have the same lens and tear-off so that they're all interchangeable. They're also compatible with prescription inserts, which proves to be much more practical than wearing eyeglasses underneath your goggles.
Sunglass Rob recruits Nick from 100% to highlight the various price points, features, and colors in the 100% motocross goggle collection.
100% Strata MX Goggle
100% Strata MX Goggle with Hope Frames & Mirror Blue Lens
100% Strata is the most affordable option in the collection. The urethane frame is flexible, durable, and suave with a matte and gloss finish. These motocross goggles have a curvature designed for comfort and an expansive field of vision, and the dual-layered face foam soaks up sweat. 100% Strata's lenses have a nine-pin retention system and they're anti-fog and scratch resistant. Reasonably priced and packed with every feature you need, 100% Strata is a remarkable pair of MX goggles.
100% Accuri MX Goggle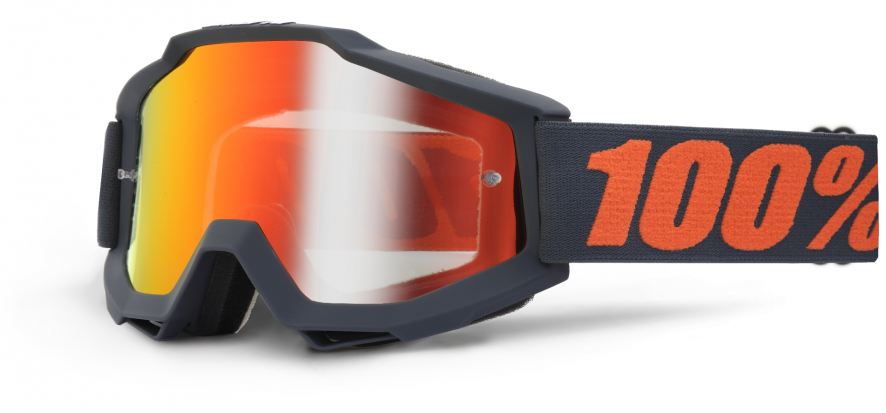 100% Accuri MX Goggle with Matte Gunmetal Frames & Red Mirror + Clear Lens
A step above the Strata, 100% presents the Accuri MX goggles. They share the durable and flexible urethane frame material, scratch and fog resistant lens, and nine-pin lens retention system. Accuri has a triple layer face foam to manage moisture and the strap is over-sized at 45mm to guarantee your goggles will be motionless no matter how bumpy the track. Constructed for comfort, stability, and style, 100% Accuri is a fantastic option for MX goggles.
100% Racecraft MX Goggle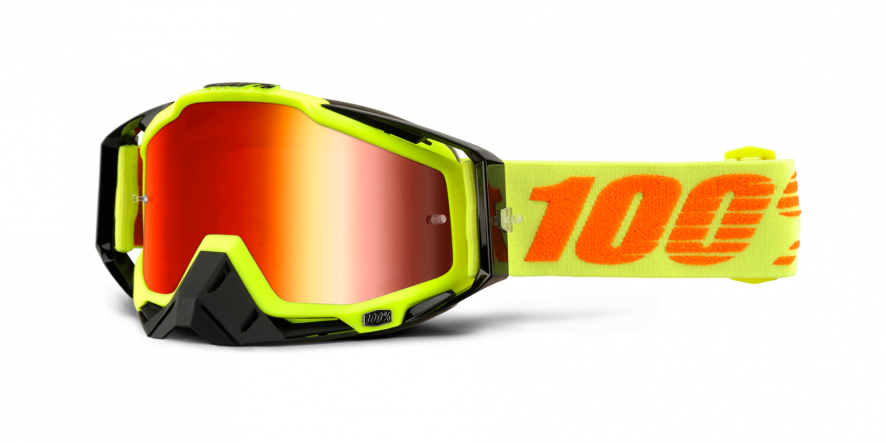 100% Racecraft MX Goggle with Attack Yellow Frames & Mirror Red + Clear Lens
Every feature on 100% Racecraft MX goggles is intentional and effective. It has outriggers to perfect fit and balance, removable nose guards for protection in the most perilous situations, and a triple layer of moisture-managing face foam. They're even equipped with air intakes to channel air into the plush foam for added moisture control. 100% Racecraft has an anti-fog coated polycarbonate lens, the nine-pin lens retention system, and the over-sized silicone strap for crystal-clear, unobstructed vision. These MX goggles aim to provide the best experience for the rider by increasing functionality and comfort.
100 % Armega MX Goggle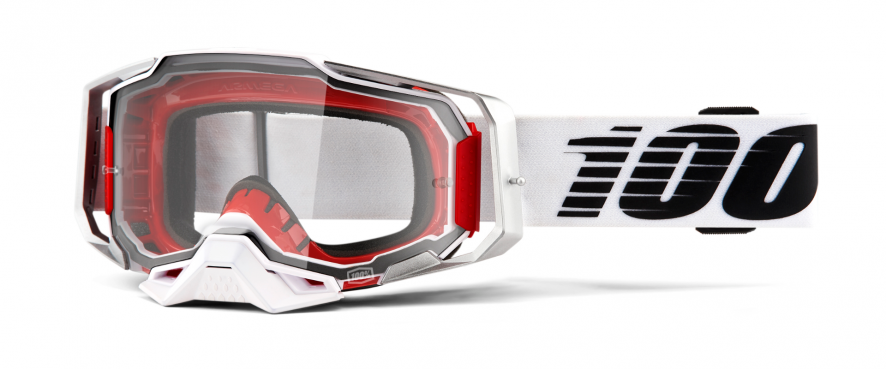 100% Armega MX Goggle with White Frames & Clear Lens
The best of the best, it doesn't get more technically advanced than 100% Armega MX goggles. The lens is injection-molded, impact-rated, and shatter-resistant. It's available in ULTRA HD for optimal clarity, has a quick-release system so the lens can be easily swapped out, and six-point locking tabs to maximize lens retention.
The bonded, dual-injected frames are extremely strong, have air intake ports to increase circulation and decrease humidity, and a compression seal to ensure your goggles stay in place. 100% Armega has perforated triple layer face foam that soaks up sweat, boosts ventilation, and helps drain moisture.
On top of these features, Armega has an ultra-wide 48 mm silicon strap for an unstoppable grip and removable nose guards to protect against unwanted dust and debris. By far the most impressive MX goggles, 100% Armega is diligently crafted for performance enhancement.
Get 100% Prescription Motocross Goggles at SportRx
Need prescription motocross goggles? Done. When you shop with us, you'll find video guides and tooltips throughout the build process as you customize the perfect pair. An answer to all your questions is at your fingertips, and if you want to chat with an expert, Contact Us. We'll put you in touch with one of our friendly in-house opticians who can help you build your prescription motocross goggles.
Ditch risky online shopping with the See Better Guarantee. Try your motocross goggles for 45 days. If you're not satisfied, send them back. Get a full refund, exchange, or credit towards a better pair. And return shipping? Covered. Get your pair of prescription motocross goggles at SportRx today!