Bump. Set. Miss. Don't let this be you. Whether you're a pro or just like to hit the beach on the weekend with friends, prescription sunglasses greatly enhance your overall performance and love of the game. As you serve up the competition, comfortable and well-designed sunglasses are there to help you anticipate your opponent's movement while simultaneously keeping the elements out of your eyes. Read on to learn what features to look for when buying prescription volleyball sunglasses. If you already know what you are looking for, awesome, check out the Best Beach Volleyball Sunglasses of 2019.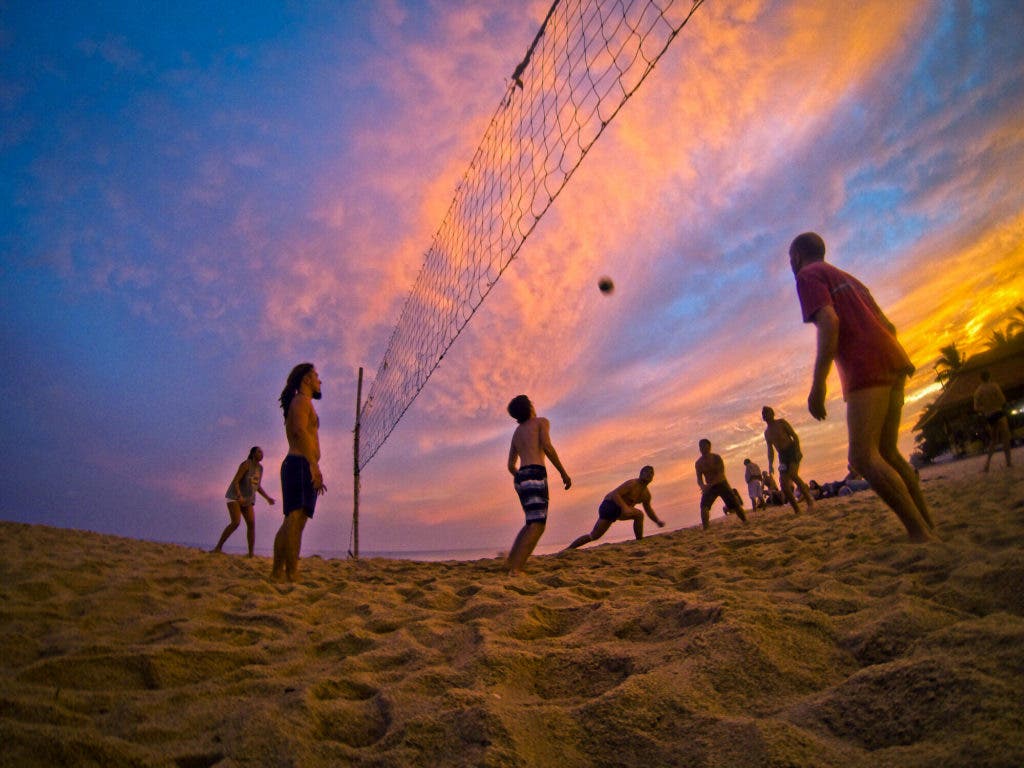 Table of Contents
1.Frame Technology
1.1 Fit
1.2 Coverage
1.3 Grip
2. Lens Technology
2.1 Polarization
2.2 Contrast Enhancement
2.3 Color/Tint
3.Top Picks for Volleyball Sunglasses
What to Look for in Beach Volleyball Sunglasses
Frame Technology
Frame Technology has progressed over the years. From metal to various plastics to impact resistant nylon, each serves the main purpose to support the lens without sacrificing comfort. In beach volleyball, it is key for the frame to be lightweight and durable. We will be going over how to find the right combination of fit, coverage and grip to fit your needs.
Fit
One of the most important aspects of fit is for your sunglasses to be comfortable while still remaining on your face as you spike, dive, and block the ball. Frames with straight temples add comfort and stability and they provide a snug fit without forming a pressure headache.
A semi-rimless frame shape is a great sport frame because it provides an unobstructed view on the peripheral and bottom edge of the frame. By not seeing where the lens ends, you can focus on spiking the ball and winning the game. Another benefit of the semi-rimless frame is how lightweight it is, allowing the sunglasses to feel like they're barely even there.
Coverage
Coverage is all about protecting your eyes from the harmful UV rays and reflective light. A high base wrap is the primary way to get more coverage when it comes to frames. The base wrap refers to the amount that the frame curves to the curvature of the face; the higher the base wrap the more curved the frame. A high base wrap protects your eyes from unwanted light, sand, and wind.
Grip
Last but not least, grip is crucial in both your performance and the sunglasses' performance. A rubber nose bridge and temples gently grip your face to ensure your sunglasses stay put. The more you sweat, the stickier the hydrophilic material becomes. Dive for the ball with ease knowing that the rubber grips are going to perform as hard as you do.
Lens Technology
Lens technology is developed to help you perform your best throughout a game. The size, shape, and material of the lens all play into how effective it will be. Also, weight is a huge factor when it comes to choosing a beach volleyball sunglasses lens. A lightweight and durable lens, preferably made out of polycarbonate instead of glass, is the best option. Although glass is more scratch resistant, it's heavier and can prove to be more problematic during the high impact and sudden movements of beach volleyball.
Polarization
Polarized lenses help reduce the glare from water and reflected light from the sand. Polarization blocks transverse wavelengths, mainly reflected light from a flat surface, from entering the lens. In bright light conditions, you have significantly more visibility with a polarized lens.
Contrast Enhancement
The quick pace of beach volleyball requires you to read the ball and opponents with ease. It's the difference between getting the dig and missing. Contrast enhancement helps you see distinct textures and it intensifies subtleties that are otherwise washed out in bright glare or dark shadows. Win Win, a SportRx prebuilt lens, is a polarized dark rose copper tinted lens which gives both enhanced contrast and reflective light blockage.
Color/Tint
When it comes to lens tints, there are three options for beach volleyball sunglasses.
Amber/copper- reduces the amount of light that reaches your eye while heightening contrast and depth perception. Ideal for a partly cloudy day.
Grey- reduces glare and brightness for clear vision and diminishes eye strain. Ideal for a bright, sunny day.
Yellow- increases contrast, visibility, and depth perception on a cloudy day.
Each has a primary function to either block light, or enhance contrast. The best choice will depend heavily on the weather condition that day.
Top Beach Volleyball Sunglasses Picks
Below is a selection of the best prescription beach volleyball sunglasses. If you want to see a more extensive list, check out Best Beach Volleyball Sunglasses of 2019.
Oakley Flak 2.0
High Rx-ability, sport versatility and frame design that fits most face shapes, Oakley Flak 2.0 is one of our all-stars here at SportRx. The lightweight and durable semi-rimless frame is made from Oakley's O-Matter material. Combined with the rubber nose pieces and rubber temples, this is the perfect pair of sunglasses for any serious volleyball athlete. No slipping or jostling, just uninterrupted pristine vision through the entire match.
Under Armour Octane
Under Armour Octane is a highly versatile frame with a lightweight and comfortable feel. The adjustable rubber nose pads and temples allow you to customize the fit while keeping your sunglasses in place no matter what. They have temple vents and cutouts to keep the air flowing while decreasing the overall weight of the sunglasses. Finally, the high base wrap and the semi-rimless frame style give you edge to edge vision and keep your eyes fully protected.
100% S2
The S2 are inspired by the popular 100% Speedcraft frame, creating a sleeker look with everyday sport performance in mind. The S2 features a rimless cylindrical shield lens providing 360-degree visibility. A rubber nose pad and temples ensure stability and comfort in this lightweight frame. The S2 are great for the athlete that has a lower Rx since the shield style lens is only compatible up to a certain prescription.
Beach Volleyball Sunglasses and Prescription Beach Volleyball Sunglasses at SportRx!
Need prescription beach volleyball sunglasses? Done. When you shop with us, you'll find video guides and tooltips throughout the build process as you customize the perfect pair. An answer to all your questions is at your fingertips, and if you want to chat with an expert, Contact Us. We'll put you in touch with one of our friendly in-house opticians who can help you build your prescription beach volleyball sunglasses.
Ditch risky online shopping with the See Better Guarantee. Try your sunglasses for 45 days. If you're not satisfied, send them back. Get a full refund, exchange, or credit towards a better pair. And return shipping? Covered. Get your pair of prescription beach volleyball sunglasses at SportRx today!