Anon snow goggles are awesome, but it can be hard to figure out which one's right for you from pictures alone. Check out our comprehensive size guide to figure out which one suits you best.
Table of Contents
Cylindrical vs. Spherical Lenses
1. Anon Tracker 2.0
2. Anon Relapse Jr
3. Anon WM1
4. Anon WM3
5. Anon M2
6. Anon M3
7. Anon Sync
8. Anon M4
Prescription Inserts
Prescription Anon Snow Goggles at SportRx
---
Join Eyeglass Tyler as he goes through all the Anon goggles from smallest to largest and points out the features of each.
---
Cylindrical vs. Spherical Lenses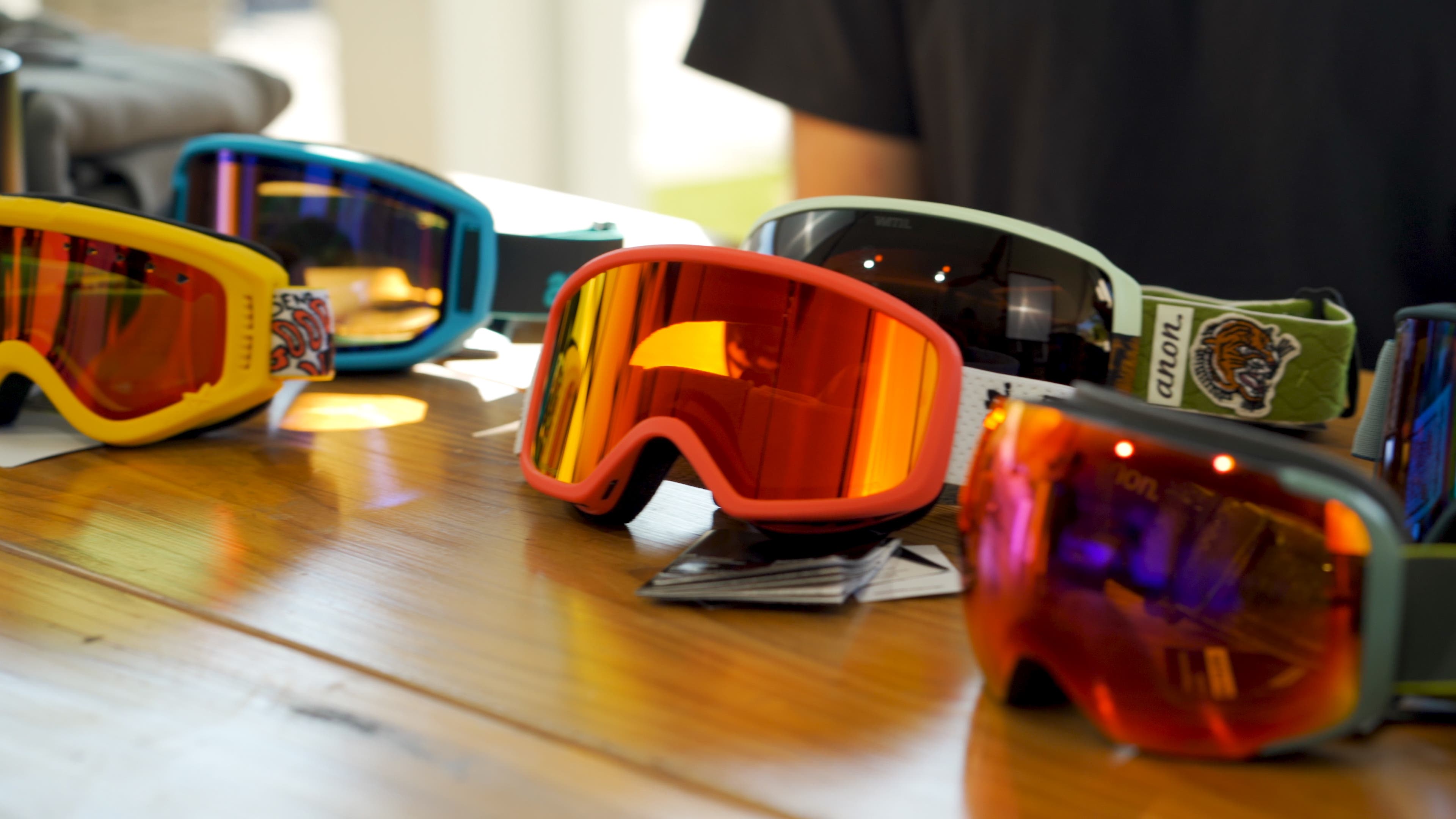 The most common lens shapes for snow goggles are cylindrical and spherical. There is also a cross between a cylindrical and spherical lens that's called a toric lens.
Usually, the difference between cylindrical and spherical comes down to your personal preference. Cylindrical goggles have a retro style and are more rigid and less bulky, but sit closer to the face and limit peripheral vision. Spherical lenses are bubble-shaped and provide a more optically correct view, but are bulkier and more likely for a lens to fall out in a crash. Meanwhile, toric lenses curve in a different way than the previous types for the most optically correct view. However, since this is a relatively new technology, only a few goggles have it.
Anon offers cylindrical, spherical, and toric snow goggles. To learn more of the differences between snow goggle lens shapes, check out Spherical Vs. Cylindrical Lenses.
---
Anon Tracker 2.0
Anon's smallest goggles are the Tracker 2.0, best for ages 7 and under. These are a revamp of the original Tracker, now with MFI compatibility.
Key Anon Tracker 2.0 Features:
Cylindrical Precurved Lens hugs the natural curves of a young face while providing full perimeter venting.
Magnetic Facemask Integration (MFI): Like Anon's adult goggles, the Tracker 2.0 is MFI compatible. This is a facemask that seals magnetically to the bottom of your goggles to provide a seamless fit on cold days.
Silicone-beaded strap secures to the back of a helmet.
---
Anon Relapse Jr
The Anon Relapse Jr is a size up from the Tracker and is best for preteen/tween ages.
Key Anon Relapse Jr Features:
Cylindrical lens shape gives you that super-cool, timeless style.
MFI compatibility for the kids who want to feel like pros.
Compatible with Anon helmets to protect your kiddo's head on the slopes.
---
Anon WM1
This one is a bestseller at SportRx, and was even nominated for Best Goggle at the 2018 REXYS. For more info, check out our WM1 Review.
Key Anon WM1 Features:
Spherical lens shape provides superior optics.
Magna-Tech Quick Lens Change Technology to let you easily swap lenses on the go.
MFI compatibility keeps your face covered even in sub-zero temperatures.
PERCEIVE lens tech enhances colors and contrast to their highest levels.
A women's-specific frame, meaning these were designed to fit the contours of a woman's face.
---
Anon WM3
Similarly to the WM1, the WM3 is a women's-specific frame from Anon. However, this one features a cylindrical lens rather than a spherical one because the female employees at Anon craved that retro look.
Key Anon WM3 Features:
Injected lens hugs your face with expanded peripherals
Magna-Tech ensures seamless lens swapping
PERCEIVE lens tech enhances color and contrast on the slopes
MFI compatible—keeps your face covered without having to adjust your facemask
---
Anon M2
The next size up is the Anon M2, a unisex design. These goggles are a medium fit.
Key Anon M2 Features:
Spherical lens shape provides clear, distortion-free optics.
Magna-Tech Quick Lens Change Technology—switching lenses has never been so easy.
Debuts Anon's PERCEIVE lens tech for bright and bold colors
Semi-rimless frame is a cool, sleek style.
---
Anon M3
In terms of sizing, the M3 is more or less the same as the M2 but with a different frame design—still unisex!
Key Anon M3 Features:
Has a cylindrical lens rather than a spherical one. This makes it slightly less bulky.
MFI compatible for those chilly days.
Terrain-defining PERCEIVE lenses.
A full frame that rests closer to the face for a classic goggle look.
---
Anon Sync
The Anon Sync is a large fit and was a new release for the 2019/2020 season. These goggles are a great cost-effective choice without sacrificing performance. Only going for a few runs this year? Sync up with the Anon Sync.
Key Anon Sync Features:
The cylindrical and rimless frame equals one cool-looking goggle. It also gives you better peripheral vision.
A deeper nose pocket for the bigger noses out there. If you normally feel pinched when you wear goggles, these are for you.
PERCEIVE lenses ensure ultimate color and clarity.
A unisex design makes a good fit for anyone.
---
Anon M4
Last but not least is the L to XL Anon M4. These REXY-winning goggles come with all kinds of cool features.
Key Anon M4 Features:
Toric lens shape for the most optically correct vision.
Includes the MFI neckwarmer.
Two frame types—A soft and malleable inner frame and rigid outer frame combined to make a comfortable fit.
PERCEIVE lenses enhance color and contrast
Adjustable strap fits most faces.
---
Prescription Inserts
All of the above snow goggles are compatible with a prescription insert! SportRx designed and manufactured this insert to fit Anon snow goggles, so all you have to do is customize it to your prescription and snap it to the inside of your goggles. We also suggest adding an anti-fog coating to your insert so your day won't be ruined by fogged-up vision. Get started by shopping via the link below.
---
Shop Prescription Anon Snow Goggles at SportRx
Need prescription Anon snow goggles? Done. When you shop with us, you'll find video guides and tooltips throughout the build process as you customize the perfect pair. An answer to all your questions is at your fingertips, and if you want to chat with an expert, contact Uu. We'll put you in touch with one of our friendly in-house opticians who can help you build your prescription Anon snow goggles.
Ditch risky online shopping with the See Better Guarantee. Try your goggles for 45 days. If you're not satisfied, send them back. Get a full refund, exchange, or credit towards a better pair. And return shipping? Covered. Get your pair of prescription Anon snow goggles at SportRx today!