Want to use your FSA or HSA account to buy prescription glasses or sunglasses online? We have answers to your most common FSA/HSA spending questions at SportRx. Continue reading and say good-bye to the days of unused funds and hello to your new prescription glasses!
---
Table of Contents
1. What is FSA/HSA?
2. Can I Use My FSA/HSA Spending Account on Prescription Eyewear?
3. How Do I Use My FSA/HSA Account to Buy From SportRx?
4. Will I Get an Itemized Receipt for My FSA/HSA Purchase?
5. Other Helpful Tips
6. Prescription FSA Glasses at SportRx
---
What is FSA/HSA?
FSA stands for Flexible Spending Account, while HSA stands for Health Savings Account. Both are provided as part of a health insurance plan, which involves setting aside a certain amount of pretax money each year to then spend on health-related expenses — in this case, prescription eyewear.
---
Can I Use My FSA/HSA Spending Account on Prescription Eyewear?
Yes! Feel free to use your FSA or HSA accounts to buy prescription eyewear on sportrx.com. Note that only prescription orders qualify for FSA and HSA, not non-prescription.
---
How Do I Use My FSA/HSA Account to Buy from SportRx?
At SportRx, we've made it easier than ever to use your FSA/HSA accounts on prescription eyewear. Once you have your prescription glasses ready to go, you'll be brought to our payment page. Simply select "FSA/HSA Card" and we'll ask you to enter your card information.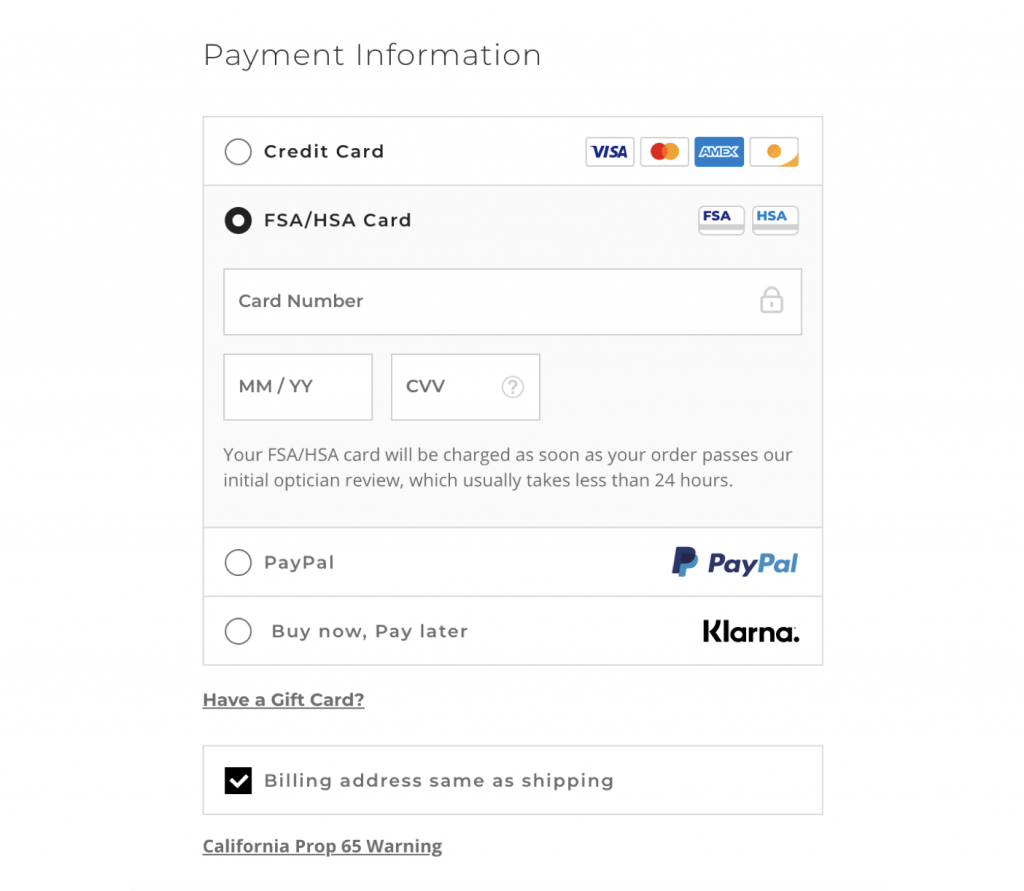 Worried about your funds that are about to expire? Stay calm when purchasing FSA prescription glasses because we charge your card as soon as your order is approved by an optician (typically under 24 hours). If you're in a rush, just give us a call and an optician can confirm your order and charge your FSA/HSA card immediately.
---
Will I Get an Itemized Receipt for My FSA/HSA Purchase?
When you make an FSA/HSA prescription purchase from SportRx, you'll receive an itemized receipt that may be submitted to your FSA/HSA carrier. Depending on your type of account, you will either need to submit this itemized receipt as (1) proof of purchase or (2) a way to ask for your reimbursement check, refunding you for the cost of the prescription glasses.
We send itemized receipts on the daily and include all necessary information to best support your prescription purchase. If you have specific requests, or detailed information that you would like to see on your itemized receipt, please contact us!
---
Other Helpful Tips
If you're making an FSA/HSA prescription purchase and your account balance is less than your order total, give us a call. We can do a split payment that uses the funds available on your FSA/HSA account and put the remaining balance on another card of your choice. Have extra funds? We can help you figure out how to spend those, too!
If you're having trouble getting a reimbursement, reach out to us! Sometimes providers require additional information (such as a copy of your prescription) that doesn't usually appear on our itemized receipts, so if that's the case for you, we'll be happy to work with you in fulfilling your provider's requests.
A final note, SportRx doesn't have access to each person's individual plans. If you have questions regarding your remaining funds or your plan, contact your benefits administrator.
---
Prescription FSA Glasses at SportRx
Need prescription glasses or prescription sunglasses? Done. When you shop with us, you'll find video guides and tooltips throughout the build process as you customize the perfect pair. An answer to all your questions is at your fingertips, and if you want to chat with an expert, contact us. We'll put you in touch with one of our friendly in-house opticians who can help you build your prescription glasses or sunglasses.
Ditch risky online shopping with the See Better Guarantee. Try your glasses or sunglasses for 45 days. If you're not satisfied, send them back. Get a full refund, exchange, or credit towards a better pair. And return shipping? Covered. Get your pair of prescription glasses or sunglasses at SportRx today!