From the scenic coast to the jagged eastern mountains of the Cleveland National Forest, San Diego has a lot to offer cyclists of all disciplines. But with miles of paved and unpaved roads matched with some amazing trails to boot, gravel cycling gives access to all. Deciding where to ride can be daunting, so we're here to help get you on your way.
Owning a gravel bike opens the door to riding almost anywhere you choose to go. But this freedom to roam doesn't mean a little local advice won't help to point you in the right direction. Below is a list that includes some of the best gravel riding in the San Diego area. You'll be tearing up these back-country beauties and forging your own routes in no time!
Palomar Mountain
This one's for the climbers… And anyone who really enjoys the astounding beauty we're lucky to have here in local Pauma Valley. The south and east grade roads of Palomar mountain are well known by US cyclists for their features in the Tour of California. Many cyclists (especially climbing junkies) have made the tougher South Grade Road a bucket list climb, and for a good reason. The mountain's stunning view over the surrounding hills paired with the climb's ceaseless switchbacks are akin to the magnificent mountain roads on display in the Tour de France every year. But you're here for gravel and we want to talk about the lesser summited way up Palomar. Let's talk about Nate Harrison Grade.
Nate Harrison grade
Of the three roads up Palomar, NHG is by far the toughest. Let's begin with a few stats from this climb. The average gradient rests somewhere around 8.2% with multiple double digit pitches sprinkled throughout roughly it's 10-11 miles of continuous vert. With about 4,500 ft of elevation gain, this is the steepest and tallest ascent of the 3 climbs.
Beginning on a mile long paved section, the road quickly transitions to an epic dirt road with intermingled sections of pavement. Once at the top, rest and refuel at Mother's Kitchen. After all, gravel is all about experiencing the world, and good food is an essential part of that. Once you've had your fill of pie, you must decide to descend one of the 3 previously discussed climbs. A descent of the East Grade Rd opens the door to an exploration of Belgian Waffle Ride's Territory. That is, if you have the legs!
Want more info on NHG as well as other breathtaking climbs? Check out PJAMM Cycling's page, for the toughest climbs in the world.
Sloan Canyon Road
Local club Gravelstoke has helped gravel culture explode here in San Diego. Their gravel cycling advice has quickly become the gold standard for all things mixed-surface. They've been instrumental in organizing a gravel ride series as well as partnering with other groups to host some extremely cool gravel events. One of their rides, The Great Western Reroute, explores some of the lesser traversed dirt roads (and single track) that interconnect East county. This route deviates from the more heavily ridden road loop, known as the great western route. GWR as it is known, is popular for its scenic views and moderate climbs. However, the Reroute rivals the road version in both elevation and beauty.
Turning right off of Dehesa Rd, Sloan Canyon begins as a paved path, but quickly becomes a wonderful gravel two-lane winding between the hills shrouded by sturdy oaks. Two climbs that we recommend out of the canyon are Beaver Hollow Rd, and the Sequan Truck Trail. Beaver Hollow will switch-back out of the valley, eventually connecting to the paved Lawson Valley road. A left here will take you to more gravel, while a right will take you up to the paved skyline truck trail. Skyline will get you headed back towards civilization and where you began your ride. Opting for the Sequan Truck Trail will take you up towards the town of Alpine, a potential stop to refuel and grab coffee. From there, you can return via paved harbinson canyon, or potentially continue onwards towards the gravel of Viejas Grade Rd.
Either way, Sloan Canyon is the fantastic beginning to a beautiful backcountry ride through the east county. Whether you choose a short loop or trek out to rugged Kitchen Creek, you should definitely have this on your list. Want more info on Gravelstoke's Great Western Reroute? Check out their recap and photo log!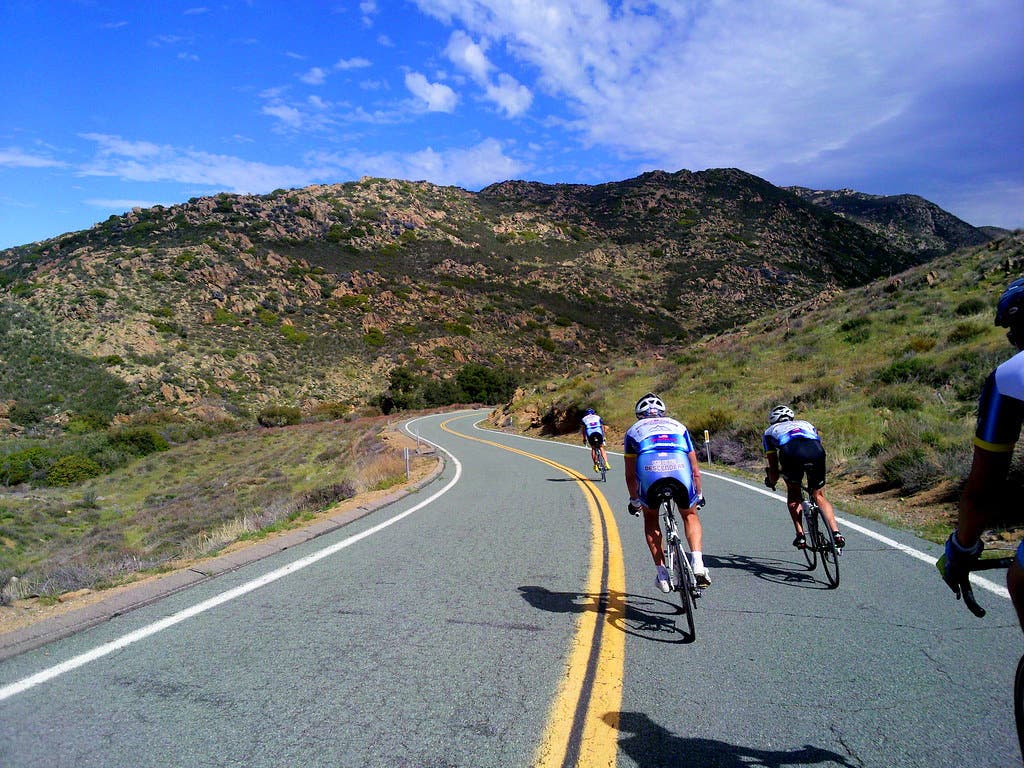 Black Canyon Rd
Earlier, we mentioned that a descent down Palomar's East Grade Rd would take you towards the lands of the famed Belgian-Waffle-Ride. Well, located south-west of Mesa Grande and east of Ramona, you can find Black Canyon Rd. Interspersed among a bevy of gravel roads and single track, you are DEEP in gravel territory. Though BWR was won on a Trek Madone, a gravel set up would be the ideal way to enjoy this gravel climb.
If you set out from the west, your route will take you through beautiful rolling hills. Like much of SD county, this route will highlight much of the wonderful chaparral and Oaks common to SoCal. As you continue, the rolling hills begin to grow larger with the higher peaks of the cleveland national forest loom ominously in the distance. Spring may offer the gravel adventurist miles of wildflowers to accompany the already stunning scenery. You'll want to stop and snap a few pics to catalogue the journey.
Need More San Diego Gravel?
Fortunately for you, this is a condensed highlight reel of the rad gravel here in SD. We have miles of unpaved and mixed surface roads that are worthy of your exploration. If you need more gravel recommendations, check out Gravelstoke's website and blog. You can also seek out their ride series which will fully inundate you in the local gravel community. Another option is to explore the route from BWR with Strava or Map my Ride. With modern computers and gps data, you can easily design something epic from the architecture of others. The good news is, your gravel bike can handle just about anything out there. So get out, get riding, and stay rad.