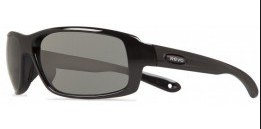 Being the optical geeks that we are, it takes a lot to impress us when it comes to sunglasses. When the Revo reps rolled up to our SportRx showroom in San Diego and showcased their unique Revo sunglasses collection, we were thoroughly impressed to say the last. Say hello to Revo.
Revo was founded in the magical year of 1985 and its sunglasses are engineered by rocket scientists...well okay, sort of. Revo uses the same UV protective technology on its lenses that NASA uses on its satellites. Over the last 30 years, Revo sunglasses have pioneered the polarized lens technology game, offering the most advanced lenses available.
What makes Revo lenses so special? Revo sunglass lenses are armed with its innovative Light Management System, creating a defense against the full light spectrum. Not only do Revo lenses manage UV rays, but they also protect against blue light and High Energy Visible (HEV) light. What's more, Revo's authentic oleophobic coating repels water, oil, sweat, dirt, dust, ink, and even finger prints.
All Revo lenses are constructed with either signature Serelium™ or Crystal™ materials. The Serelium™ material is impact-resistant and is engineered with durable, lightweight polycarbonate. The Crystal™ material is scratch-resistant and polished to such pristine levels that only camera lenses can compare. That same level of quality transfers over into Revo's handcrafted frames as well, finding its origins in American and Italian workshops.
Need Revo prescription sunglasses? We've got you covered. Custom-build your Revo prescription sunglasses online or call or chat with our friendly opticians for expert service! We're here to help 7 days a week!