RAY-BAN WAYFARER
Since 1937, Ray-Ban has been an industry leader in style and function. Ray-Ban sunglasses and Ray-Ban eyeglasses are built with unbeatable quality and technology to deliver you a combination of sophistication and fun. Ray-Ban has a few best selling frames that have survived the test of time. You know the name, you recognized the frame...the Ray-Ban Wayfarer is the most iconic sunglass design. Wayfarer unisex sunglasses are fashionable for any occasion, and sure to always make an impression.
Why reinvent the wheel? The Ray-Ban Wayfarer has been a huge success for Ray-Ban, so it only makes sense to offer a few variations. This way, everyone can rock the Ray-Ban Wayfarer! With the different options, it can get a little confusing what the differences are...that's where SportRx comes in! We break down the differences among the Ray-Ban Wayfarer Original, New Wayfarer, and Wayfarer Ease.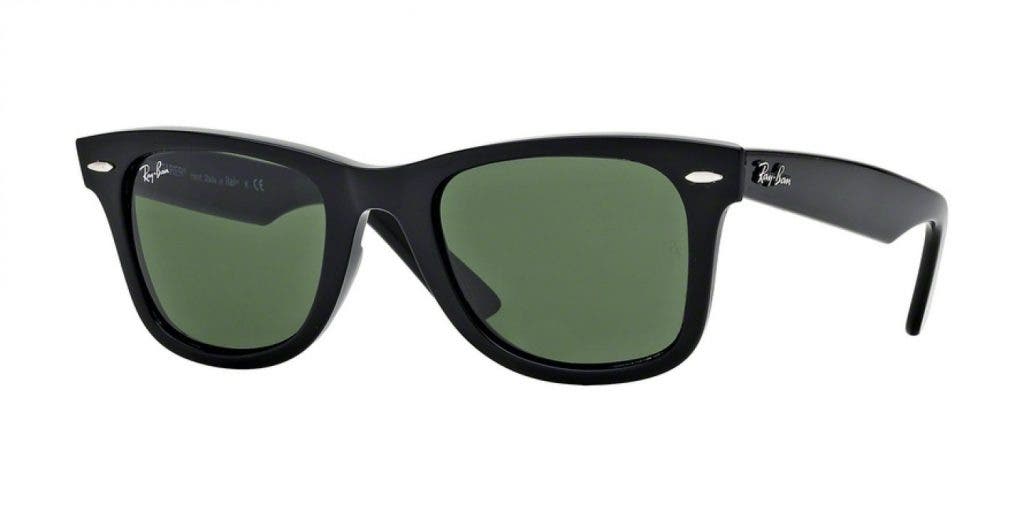 The Original Wayfarer RB2140 gives a super-retro style with a titled frame. The angle will depend on your face shape and nose bridge. Sticking with the classic style, the Original Wayfarer is the way..to go.
Two sizes 50 and 54
First Wayfarer (original design)
Pantoscopic tilt
(Details on: Original Wayfarer sizing)
The New Wayfarer brings a simple clean frame structure to the Wayfarer design by eliminating the tilt and using a shorter lens. A more comfortable and modern look.
3 sizes 52, 55, 58 (true extra large)
Eliminates the pantoscopic tilt
Offers a higher level of protection and clarity
More natural fit
Len's height is more narrow and less tall
(Details on: New Wayfarer sizing)
Presenting the most recent Wayfarer style: The Wayfarer Ease brings an updated look to the Original. Ease gives off a more laid-back feeling and is a good choice for everyday wear.
The newest Wayfarer style
Aka no tilt Wayfarer
Same as the Original Wayfarer minus the tilt
Easily slides on and off
Only 1 size 50 currently
Key differences between original and new Wayfarer: the tilt and lens height
More info on Original Wayfarer vs. New Wayfarer
PRESCRIPTION RAY-BAN WAYFARER
With three different designs, there's a Ray-Ban Wayfarer for everyone! Each Wayfarer is even available in prescription! Prescription Ray-Ban glasses and sunglasses now come with authentic Ray-Ban lenses and logo! Not sure which Ray-Ban Wayfarer is quite right for you? Just contact a certified optician! They'll help ya figure out the best frame fit for you and answer any other questions you have!