Are you getting addicted to skydiving? Do you wear glasses or contacts? If so, you're probably wondering what's going to give you the best vision for skydiving. If you're getting serious about jumping you may want to think about prescription goggles for skydiving. As someone who wears contacts, I worry about my contacts drying out on roller coasters never mind falling through the sky at 120mph. This way you don't have to worry about your contacts falling out and you can just focus on the amazing sights of the world below.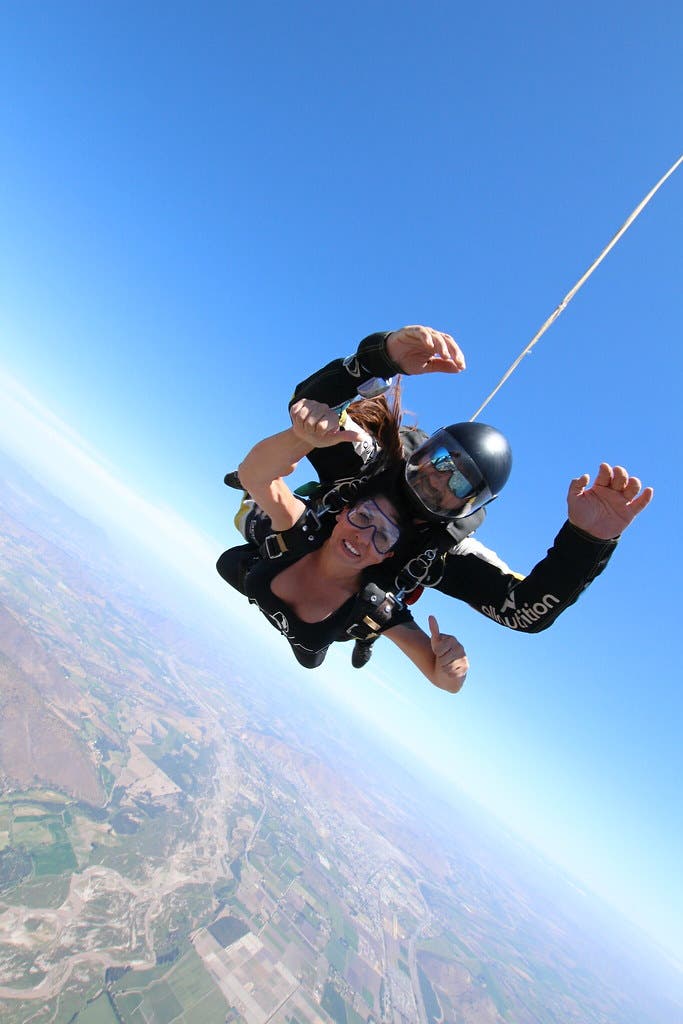 What's The Difference?
Skydiving goggles are not the same as other sport goggles, so you wouldn't want to toss on your ski or snowboarding ones. These goggles actually have tiny holes in them so air can get in and prevent the goggles from fogging up. Unless you're wearing a full face helmet with a visor, everyone needs to wear goggles. When choosing your pair, you're going to want those with a strap and foam eyecups. I recommend the SportRx G102 or Bobster Cruiser which are both great for prescription lenses.
What If I Don't Wear Skydiving Goggles?
You eye balls pop out, duh! Ok, that's a bit extreme even for skydiving. Though skydiving with no goggles will definitely hurt. If you have contacts, they will fall out. On top of that, you will barely be able to keep your eyes open. The whole point of skydiving is to see the world below from a different point of view. In some rare occasions, straps have been known to break off during free fall. In this case, it is important to not just bail out right away and release your parachute. This can be dangerous. You will want to squint your eyes as much as possible and wait till you reached a safe altitude.
Prescription Skydiving Glasses At SportRx
Need prescription skydiving sunglasses? Done. When you shop with us, you'll find video guides and tooltips throughout the build process as you customize the perfect pair. An answer to all your questions is at your fingertips, and if you want to chat with an expert, Contact Us. We'll put you in touch with one of our friendly in-house opticians who can help you build your prescription motorcycle sunglasses.
Ditch risky online shopping with the See Better Guarantee. Try your motorcycle sunglasses for 45 days. If you're not satisfied, send them back. Get a full refund, exchange, or credit towards a better pair. And return shipping? Covered. Get your pair of prescription motorcycle sunglasses at SportRx today!