Hmmmm ... Oakley Sliver XL vs CrossRange XL ... Oakley Sliver XL vs CrossRange XL? We know you're having trouble deciding which one of these beautiful Oakley frames you should choose. So to help you out, we've got Sunglass Rob here and he dares to compare:
Oakley Sliver XL vs CrossRange XL Product Overview
So as Sunglass Rob explained, both the Oakley Sliver XL and the CrossRange XL sunglasses are made to fit bigger heads, while keeping the integrity of the frame design. And both of these frames are made for an active lifestyle, all the while making you look fantastic!
First we have the Oakley Sliver XL, a lifestyle frame with sleek lines that have an architectural sense about them. These everyday sunglasses feature a keyhole nosebridge, which technically gives you better air flow and a stay-in-place fit. Although these don't fall into the sport glasses category, they will definitely tough it out with you during some light exercises!
Oakley Sliver XL Features:
Three-Point Fit holds lenses in precise optical alignment, while eliminating pressure points
Plutonite Lenses offer top UV Protection filtering 100% of all UVA, UVB, UVC and harmful blue light up to 400nm
O Matter stress-resistant frame material is both lightweight and durable for all-day comfort and protection
Oakley Sliver XL Dimensions:
Lens Width: 

57 mm

Lens Height: 

44 mm

Temple Length: 

140 mm

Nose Bridge Distance: 

18 mm 

Temple to Temple: 133 mm
Next up are the Oakley CrossRange XL sunglasses, which are made to be super active in, even though they look like everyday glasses! Aside from aesthetics, it's main edge over the Sliver XL is there is unobtainium on the nosebridge and also on the temples, giving the Crossrange XL extra grip.
Now, the coolest thing about the CrossRange XL is the temples are interchangeable. When you buy a pair of CrossRange XL, you will automatically get a second set of temples, which are very similar to the ones on Sliver; no unobtainium and a smoother look. This means you can actually make your CrossRange XL sunglasses similar to the Sliver XL sunglasses. They also comes with two types of nose pads that are interchangeable as well: one is unobtainium and the other one is more of a plastic nose bridge.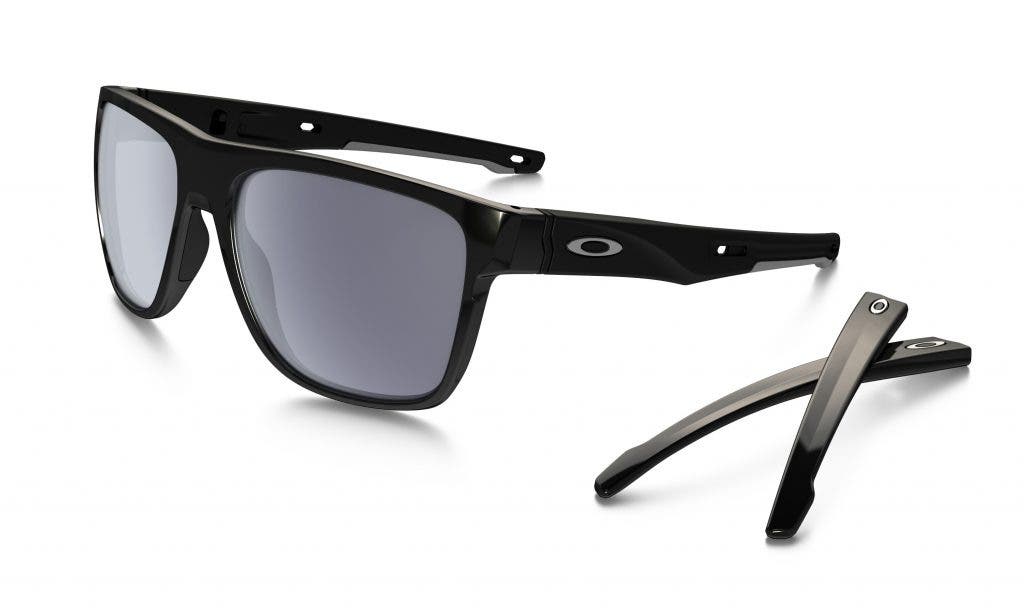 Oakley CrossRange Features:
Interchangeable Unobtainium® earsocks and nosepads that grip with perspiration for a no slip grip
Three-Point Fit holds lenses in precise optical alignment, while eliminating pressure points
Oakley CrossRange Dimensions:
Lens Width: 58 mm
Lens Height: 46 mm
Temple Length: 137 mm
Nose Bridge Distance: 17 mm
Temple to Temple: 135 mm
So what's it going to be? The Oakley Sliver XL or the Oakley CrossRange XL? Your choice!
Prescription Oakley Sunglasses
We want you to have the best sunglasses, whether for your sport activities or in your everyday life! So if you need Oakley Sliver XL or Oakley CrossRange XL in prescription, we are here to help at SportRx. Give us a call at SportRx and we will be happy to help you 7 days a week!