Mountaineering isn't for the faint of heart. With grueling conditions, long days of being confined to a tent, navigating across ridges and valleys to the summit, getting into mountaineering can seem like a daunting task. Facing nature's challenges put your body, mind and spirit to the ultimate test. And it's well worth the adventure. There is nothing quite like pushing your body and mind to the edge and overcoming your perceived limits. Read on to learn how to get into mountaineering and which steps to take before heading out on your first trip!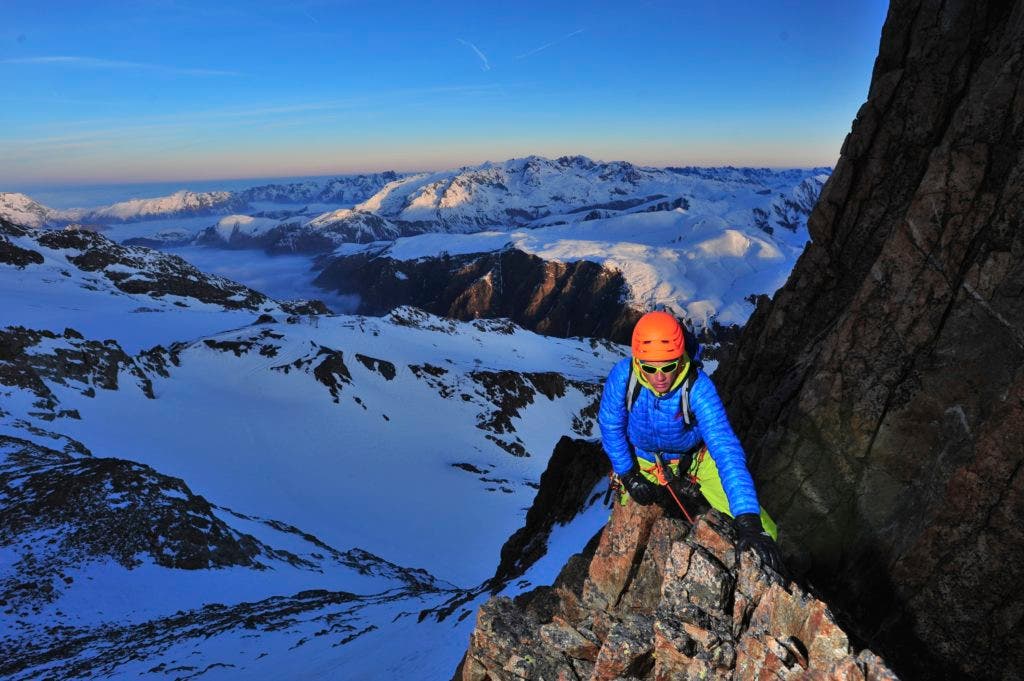 Get Fit
As with most sports, being physically fit is a non-negotiable when it comes to mountaineering. Endurance is key to surviving the long days of trekking cross-country on your way to the base of the summit. A good way to begin acclimating to the strains of mountaineering is to hike with a heavy pack as you climb a few passes. This will acclimate your mind and body to the amount of pain you can tolerate. Learn to love to suffer for the sake of a greater joy - reaching the top.
Learn the Basics
There are 2 main components of mountaineering that vary in proportion depending on the trip and difficulty of the mountain -- climbing and backpacking.
Climbing - Know how to tie all the basic knots, how to belay, rope management, self-rescue, climb at least a 5.9 rating as your base difficulty level.
Backpacking - Start small with overnight trips that build into trips longer than a weekend. Long mileage trips will build your confidence and endurance of hiking with a pack. Acclimate to tent life rhythms. Learn the mundane tasks of backpacking such as cooking, cleaning, and sleeping. Abide by the Leave No Trace Guidelines to minimize impact on the great outdoors.

Once you are comfortable climbing and backpacking in dry conditions, take a backpacking trip in winter conditions to test your skills.
Other skills that are essential for your success:
Learn to get up before sunrise. If you don't get an early start, you won't have enough time to summit by early-mid afternoon. Conditions get more dangerous in the afternoon and evening when the snow and ice has had time to warm up.
Learn how to route find, read maps, plan ahead, basic First-Aid, and how to self-rescue. Never try a skill for the first time on a trip. Practicing beforehand is crucial for your success.
Take a Course
American Alpine Institute is a great resource for intro classes and learning all about the different conditions you may run into as you summit. They have courses on:
Ice Climbing
Rock Climbing
High-Altitude/Expedition Climbing
Beginner Mountaineering and Alpine Climbing
Become a part of the Mountaineering community by going to meetings, joining local clubs, and taking courses. You need partners and guides to brave the mountains and make your first summit! Keep in mind, these courses don't make you ready to lead a trip, but they will make you less of a liability when joining experienced partners.
Choose Your First Mountain
Know which mountain you want to to conquer. This will help guide what gear you need to get first. Each mountain has a unique set of challenges and dangers. Find out as much as you can about the route: what permits you need, alternate routes and weather reports, and success rates of summiting.
Most entry-level mountains are primarily backpacking up to the base of the mountain with a day of roped-in climbing on sections of high exposure. Starting with an entry-level mountain or a well-traveled region gives you easy access to information and a wide variety of reports to learn from.
Pro Tip: Don't be a victim of summit fever! Turn back if weather changes or if your party is moving slower than anticipated, no matter how close the summit is. Safety and conditions is the most important thing. Along with unpredictable mountain weather conditions, turn back if your party encounters any obstacles that are more dangerous than prepared for. The mountain will continue being there, you can't come back if you don't make it home.
Gear
Even though gear is the first thing that most of us get excited about when starting a sport, it is intentionally last on the guide. Once you have chosen your mountain, then you can get the gear you need for that particular trip. Gear you will always need is:
Climbing harness
Belay device
Ropes
Layer clothing system (base layers, middle layers for warmth, and an outer shell or jacket)
Helmet
Sunglasses - to help with snow glare
Headlamp
Gloves
Pack
Boots/Approach Shoes
Ice tools (depending on season and elevation)
Crampons (depending on season and elevation)
First-Aid Kit and extra food for emergency situations.
Check out the SportRx Gear Guide for a full list of gear we have found to be essential for mountaineering.
SportRx is your one stop shop for Prescription Mountaineering Sunglasses
Need prescription Mountaineering Sunglasses? Done. When you shop with us, you'll find video guides and tooltips throughout the build process as you customize the perfect pair. An answer to all your questions is at your fingertips, and if you want to chat with an expert, Contact Us. We'll put you in touch with one of our friendly in-house opticians who can help you build your prescription Mountaineering Sunglasses.
Ditch risky online shopping with the See Better Guarantee Try your Sunglasses for 45 days. If you're not satisfied, send them back. Get a full refund, exchange, or credit towards a better pair. And return shipping? Covered. Get your pair of prescription Mountaineering Sunglasses at SportRx today!