Packing for a mountaineering adventure is no simple feat! Preparedness is essential if you want to have a successful experience on the mountain. From clothing to equipment, to personal items, a mountaineering checklist can stretch on and on. In this guide, we're focusing on the types of gear needed to confidently set out on your exploit. Read on and become an expert on the mountaineering essentials.
Table of Contents
1. Standard gear
2. Camping gear
3. Navigation gear
4. Rescue gear


Standard Gear
Standard gear includes items needed for almost any mountaineering climb; no matter what season it is, or route you select. The only exceptions would be if there're no glaciers on your route, or if you're joining a guided tour. In these cases, certain items can be left behind, or they'll be provided by the guide.
Boots
Mountaineering boots have excellent traction and the ability to attach a crampon. Rather than having the flexibility of a backpacking boot, mountaineering boots need to be stiff to provide stability on rocky or uneven terrain. Depending on the temperature, your boots can be insulated or non-insulated.
Crampons
You may be wondering, what's a crampon? A crampon is a steel or aluminum plate with spikes on the bottom that you attach to your boots to walk on snow or ice. Although aluminum is lighter, it's less durable than steel. Similar to bindings on a snowboard, crampons can be either strap-on or step-in. There's also a hybrid option that utilizes a heel lever to fit your boot.
Backpack
Mountaineering or climbing packs have loops to carry one or two axes and to clip on extra gear, and a patch to store crampons where the spikes won't tear a hole through the fabric. Another distinguishing feature is a narrow design to keep your pack in line with your body so it doesn't hinder your ability to climb peaks and handle ropes. You should be able to reduce the weight of your pack by removing the lid, framesheet, or hip belt.
Ice Axe
Ice axes come in all different lengths, weights, and shapes. The right ice axe will be relative to your size, and the activity you need it for. A general rule is that the spike should reach your ankle when you're standing upright with your arms at your sides. When it comes to mountaineering, an axe with a straight shaft and a steel spike is a universal choice.
Eye protection
Navigating mountains means being exposed to direct sunlight and harsh glare, sharp winds, and even snow. You'll want sunglasses with a wrap frame, or goggles, to shield the sides of your eyes from unwanted debris. Along with excellent coverage, you want your eyewear to fit and stay securely in place. If you have a prescription, consider using prescription sunglasses or goggles. Harsh weather conditions aren't compatible with contact lenses. Here's an example of prescription-ready mountaineering sunglasses:
Julbo Explorer 2.0
Julbo Explorer 2.0 with Matte Translucent Gray Frames & Orange Spectron 4 Lens
Helmet
Mountaineering and climbing helmets are essentially the same; you just want to ensure it has clips to attach a headlamp. There are some helmets that seem more suited for mountaineering because they have vents that can close when it's really cold, like in snow and ice.
Ropes & Harnesses
Glacier crossings and technical rock climbing require ropes and harnesses. You'll want to consider the length and diameter of the rope to determine how heavy it will be, and whether or not it has a dry treatment will affect how much moisture it absorbs, and consequently, how much heavier or slippery it will get. As with helmets, rock-climbing harnesses will suffice for mountaineering, but some harnesses have features specific to the needs for mountaineering; like adjustable leg, loops to accommodate crampons, flat webbing, and lightweight, compact design.
Carabiners
In general, you'll want to be stocked with 9 carabiners; 4 pear-shaped locking ones, and 5 oval-shaped non-locking ones.
Camping gear
If your mountaineering venture is set to last more than a day, you're going to need some camping gear.
Tent
To be prepared for any condition, it's best to stick with a 4-season tent. The durable fabric is engineered to withstand harsh weather, and they have mesh panels that can remain open in stuffy conditions, or be closed to trap in heat in cold conditions. Additionally, a 4-season tent has a vestibule to house gear and provide a place for you to change out of wet or soiled clothes without affecting the dry portion of the tent.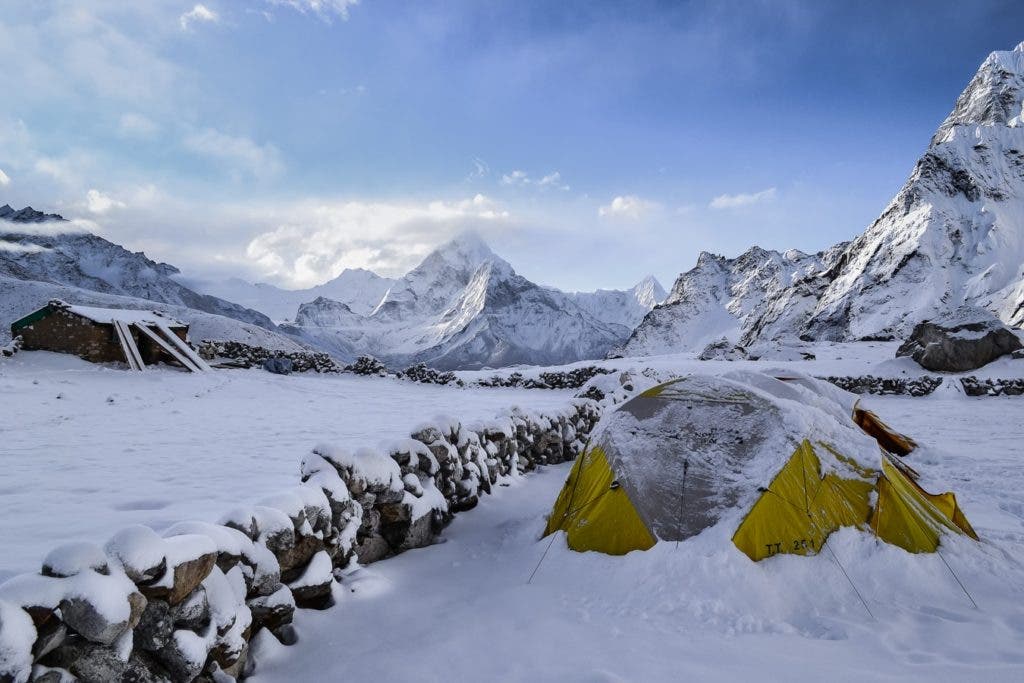 Sleeping bag & pad
A sleeping pad isn't all about comfort - it's to protect you from anything on the ground that can poke you. Whether you choose an air pad, a foam pad, or both; you want to look for an R-value of 3 to ensure it's thermal resistance is adequate. In general, sleeping bags with a rating of 0-20 degrees are sufficient. If you're mountaineering in an especially frigid place, you'll want a rating of -20 degrees or colder.
Stove & water treatment
There are two types of backpacking stoves; liquid-fuel and canister-fuel. Canister stoves are typically beneficial in 1-2 day trips because they're lighter and you won't need many canisters on a shorter trip. For longer trips, you'll save more weight with a liquid-fuel stove. Liquid-fuel stoves also perform better in cold temperatures. You can use your stove to melt and boil snowmelt for drinking water. However if you're looking to save fuel, consider a pump filter, water treatment tablets, or ultraviolet purifiers.
Navigation gear
A vital aspect of mountaineering is knowing where you're going! There are several pieces of navigation gear that will help you stay on track and ultimately reach that peak!
Headlamps
Headlamps are an absolute must for any length of a mountaineering trip. You want your headlamp to have LEDs as well as flood and spot beams.
Map and compass
You read that right! This pair has stood the test of time when it comes to a reliable way to navigate your surroundings. Their batteries won't die!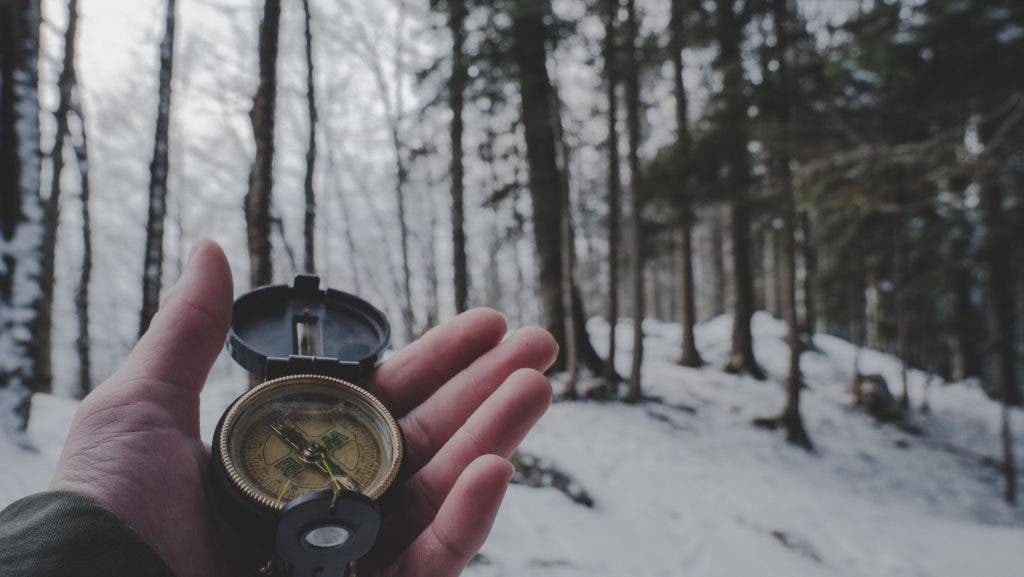 GPS/ smartphone
Even though a map and compass are essential to have, most modern-day adventurers take advantage of the ever-advancing mapping apps on smartphones. Be sure to store your device in a warm place when it's not in use because batteries are easily affected by the elements.
Altimeter watch
Your altimeter watch will tell you what your altitude is, which should give you an idea of where you are on the mountain, even if visibility is low.
Wands
To mark hazards or a path back the way you came, you can use colorful flagged bamboo sticks called wands.
Rescue gear
To complete your gear guide, there are 4 pieces of crevasse rescue gear to carry with you at all times when crossing glaciers. In the event of a climber falling into a crevasse, knowing how to set up this system quickly is necessary.
Snow picket
Accessory cord
2 Lightweight pulleys
2 Slings
Prescription Mountaineering Eyewear at SportRx
Need prescription mountaineering eyewear? Done. When you shop with us, you'll find video guides and tooltips throughout the build process as you customize the perfect pair. An answer to all your questions is at your fingertips, and if you want to chat with an expert, Contact Us. We'll put you in touch with one of our friendly in-house opticians who can help you build your prescription mountaineering eyewear.
Ditch risky online shopping with the See Better Guarantee. Try your mountaineering eyewear for 45 days. If you're not satisfied, send them back. Get a full refund, exchange, or credit towards a better pair. And return shipping? Covered. Get your pair of prescription mountaineering eyewear at SportRx today!