Whether you are a professional rider or not, one thing is for sure – sunglasses are a crucial piece of equipment while you're out on the trail. Keeping your eyes protected from the trail dirt, dust, and debris should be your top priority. Ask any devoted mountain biker and they will tell you that no compromises should be made when looking for that perfect pair. The key component for mountain biking sunglasses is the lens. There is a variety of lenses for varying light conditions and we are here to help you choose what is right for you. Keep reading to find out all the right features for your next MTB lenses.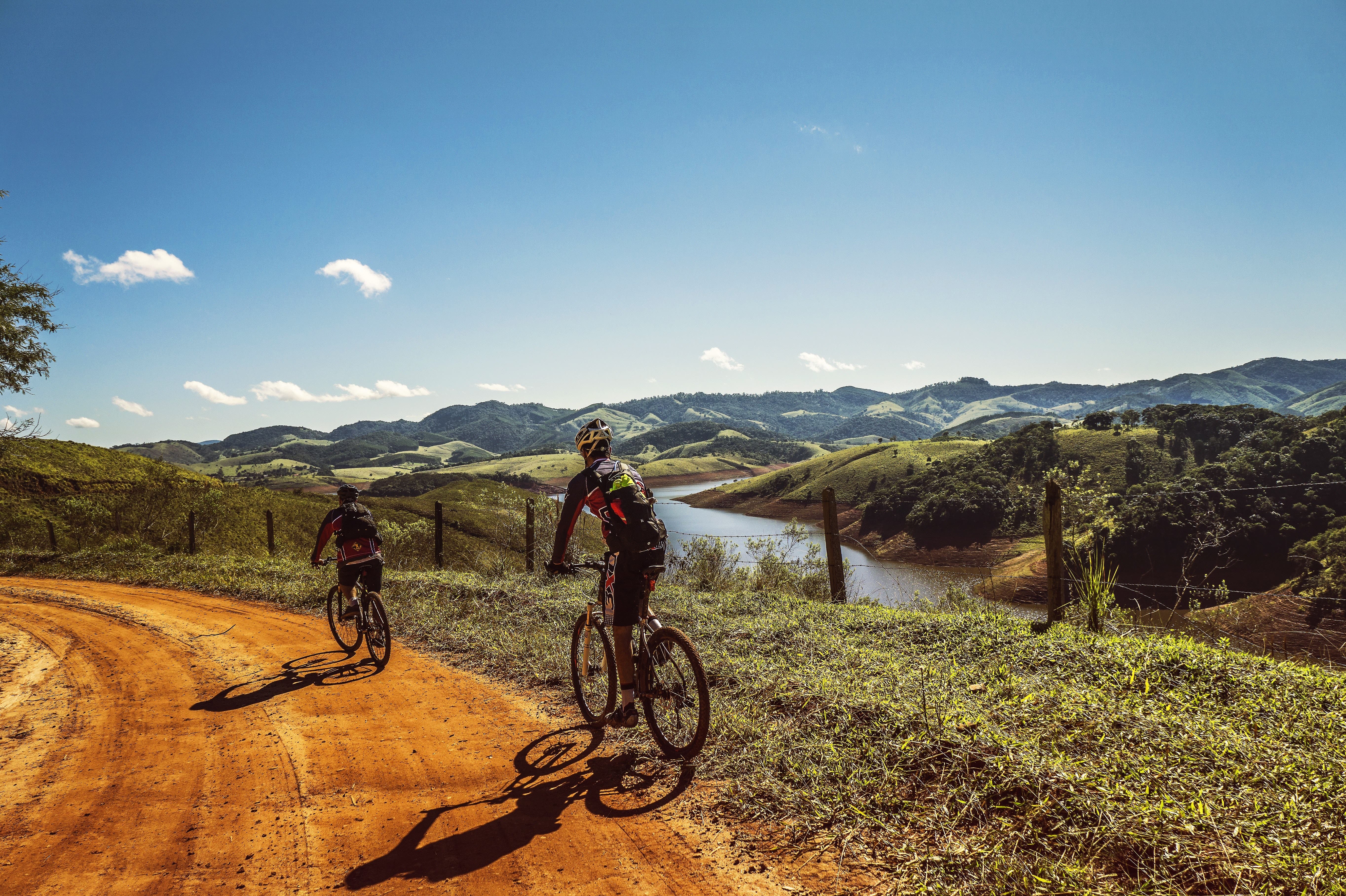 If you already know exactly what to look for in mountain bike sunglasses, you can always check out our guide to the Best Mountain Bike Sunglasses of 2019 blog post!
Contrast-Enhancing Lenses
There are many perks to having the right lenses for MTB, but contrast might be the most important one. You will need sunglasses that offer a high contrast. A high contrast lens will give you the ability to rip in and out of shadows without losing the details in your environment. This means you'll see all the lines through technical terrain and carry more confidence and speed throughout your rides. Stay away from dark lenses. They block out too much light making it difficult for you to see the shadows, rocks, and roots.
Protection and Impact Resistance
Make sure your mountain biking lens are made of something sturdy like polycarbonate. In that way, if you crash, your glasses will handle the impact. Most likely, better than your body. Glass and plastic lenses are not recommended because they shatter much easier, so be sure you're getting polycarbonate lenses and save the others for your everyday eyewear.
Ventilation & Anti-Fog Coating
Another pivotal feature is anti-fog coating and ventilation. You want sunglasses with a good venting system because you don't want to miss any part of the trail due to your glasses fogging up. Your lens should be crystal clear from the wet early mornings to the warm afternoons.
Polarized vs Non-polarized
Polarized lenses filter out glare found on reflective surfaces such as snow and water. While this is great feature for some sports, it is not recommended for mountain biking. The reason being is that studies have shown that it can throw off depth perception. What you perceive on the trail is imperative for your reaction time, so you must be able to judge your distance from what is in front of you.
Transitions Lenses
Photochromic lens (also called transition lens) is great for mountain biking because of the constant change between shadow and sun. The lenses darken as more light touches them, and they brighten as you enter the shadows. The brighter it is, the darker the lens becomes and vice versa. They are a great option to meet multiple riding conditions, making you equipped to ride from dawn to dusk. The best part about transition lenses is that you don't have to change out the lenses or have multiple pairs of sunglasses while you ride.
Color Guide
Something to note is that transition lenses might not be fast enough with quick changes of light when you ride through half shaded areas. Because of that, many riders choose not to get photochromatic lenses, but instead choose to have separate lenses and change them depending on the amount of light or time of day. The color of the lens is one of the most important aspects of MTB sunglasses and can really affect your performance. Here's a short guide covering what lens to use for the conditions in which you ride:
Amber Lenses
Amber lens blocks out blue light which increases contrast, and it provides shade and good visibility in lower light conditions. That makes it a good option for when rocks and roots are appearing out of nowhere.
Blue Lenses
Blue lenses are versatile when it comes to fast changes of light conditions. They enhance color perception, reduce glare and help define contours. However, they are not very popular in the MTB community because some of the other color options have better features.
Brown Lenses
Brown lenses enhance shades of green, so you have better vision of trees, bushes and grass. They improve contrast and contain a red element which improves depth perception. They are not, however, recommended for night riding.
Clear Lenses
Clear lenses, on the other hand, are perfect for night riding or low light conditions. They protect your eyes from dirt and debris. Naturally, they are not a good choice for bright and sunny days.
Green Lenses
Green lenses enhance perception of red and yellow light and increases light contrast. It is not a popular lens color with mountain bikers because it doesn't have as many benefits as other colors and doesn't have the features that they are looking for.
Black/Gray Lenses
Black or Gray lenses are classic lenses and they are best for light and bright conditions. They dim the sunlight and darken your vision, but do not enhance contrast or depth perception. The dark lens might be too dark for mountain biking because of the transitions through shadows.
Orange Lenses
Orange lenses are great for darker, cloudy days. They are known for improving depth perception in low light conditions because they help identify contours and details on the trail. They are not recommended for bright conditions.
Red Lenses
Red lenses are good for hazy weather because they increase contrast and brighten cloudy days. They are also good with transitions because they make them easy on the eyes. However, if you are looking for distinct color shades, red might not be the color for you because they are known for distorting your color perception.
Yellow Lenses
If you are looking for the perfect color for early, foggy mornings, yellow is the best choice. Yellow lenses increase clarity so that you can see better through dense fog. Having a clear path is one of the most important features when riding.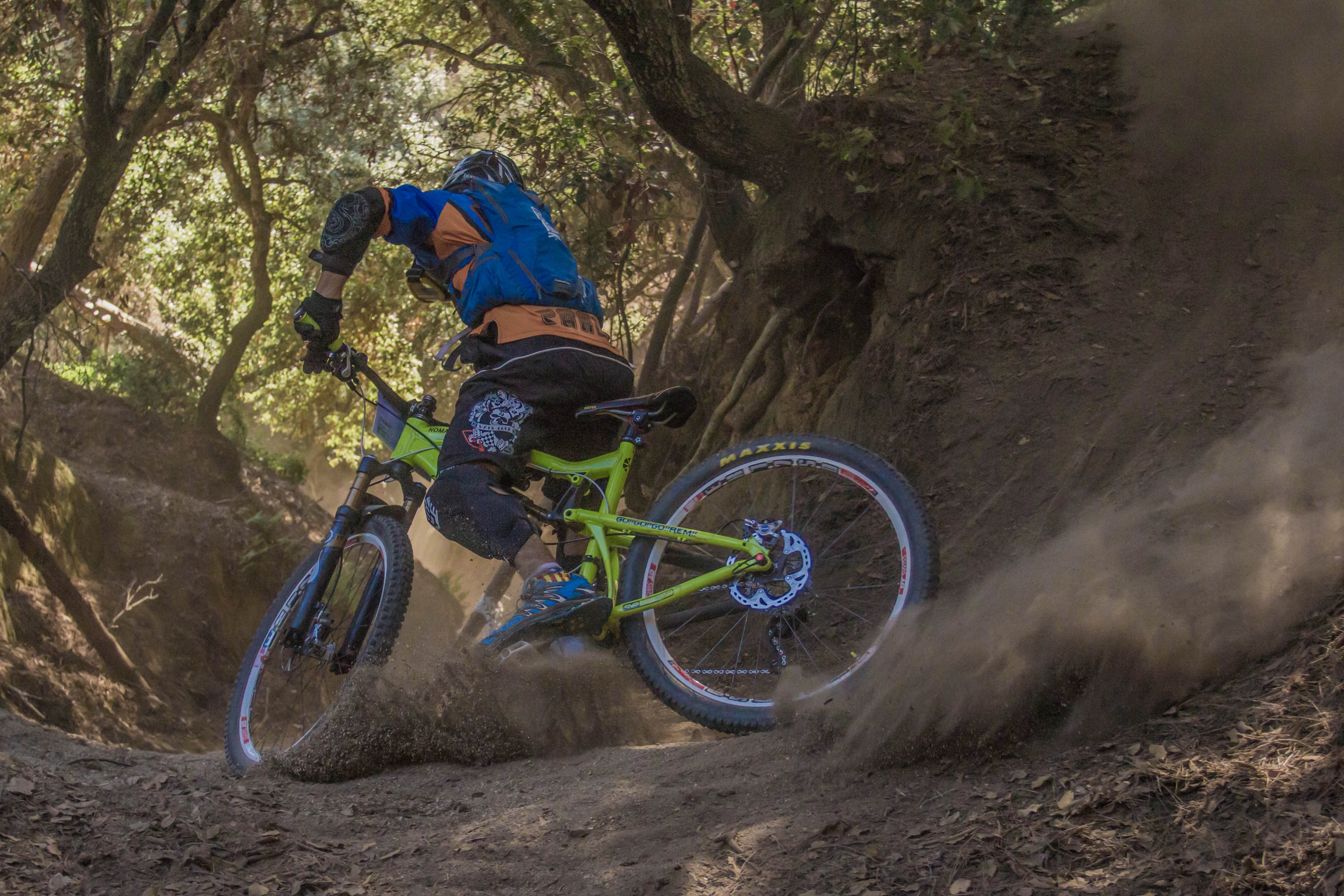 To conclude, lens color affects the amount of shade, definition, and vision enhancement. If you choose not to go with a transition lens, you should definitely have multiple colors and change them depending on the condition you are in. Many brands offer a supply of two lenses with your pair of frames. If you have one set of sunglasses, you should choose one lens for brighter conditions and one lens for darker conditions. In any case, having the right gear out on the trail can give you the confidence to push your limits, so make sure to choose what is best for you!
Get Your Prescription Mountain Biking Sunglasses Online at SportRx
Need prescription mountain biking sunglasses? Done. When you shop with us, you'll find video guides and tooltips throughout the build process as you customize the perfect pair. An answer to all your questions is at your fingertips, and if you want to chat with an expert, Contact Us. We'll put you in touch with one of our friendly in-house opticians who can help you build your prescription mountain biking sunglasses.
Ditch risky online shopping with the See Better Guarantee. Try your sunglasses for 45 days. If you're not satisfied, send them back. Get a full refund, exchange, or credit towards a better pair. And return shipping? Covered. Get your pair of prescription mountain biking sunglasses at SportRx today!